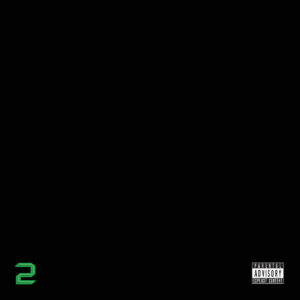 Dean Blunt
Black Metal 2
ROUGH TRADE
8/10
Like smokey incense wafting in a carpeted room, Dean Blunt's music feels faint and ethereal, but nonetheless maintains a subtle dominance. The Hackney, London musician blurs the lines between indie rocker, rapper, and modern art provocateur, playing the role of '70s Miles Davis for the Google Chrome age. Arriving seven years after its predecessor, Blunt's latest, Black Metal 2, is some of the multidisciplinary creative's most psychedelic work to date. Played alongside the original Black Metal, though, the sequel finds him flaunting his chops, reminding listeners that he's the kind of artist who can drop collaborations with A$AP Rocky and chef up party beats with Delroy Edwards.
Clocking in at under 25 minutes, Black Metal 2 is less than half the length of Black Metal. The record is brief, and it's Blunt's most streamlined and flippantly authoritative effort since his work with the duo Babyfather. "DASH SNOW" and "LA RAZA" embrace laidback, kaleidoscopic funk, playing like the work of Connan Mockasin or Ty Segall. Blunt's usual sonic palette may be chilly and digitized, but there's a Californian sunniness to many of the moments on Black Metal 2 that has never before been so present on a Dean Blunt release. While the bleak, singed tones that defined albums like The Narcissist II and Soul on Fire still beam through the album's cloudless soundscapes, with Black Metal 2, Blunt serves up some of his airiest tracks to date.
With a cover that pays homage to Dr. Dre's 2001, Blunt's musicianship on the album is indebted to rock music, but his penchant for aloof swagger is more present than ever. Opener "VIGIL" finds Blunt calmly rapping over a minimal, string-driven beat. "She will never see her son again / I can / 'Cause no one's gonna save me," he deadpans before Joanne Robertson's angelic vocals turn the song into an Enya-esque take on PBR&B. Meanwhile, "SKETAMINE" is a southern-fried slice of zonked-out hip-hop. Blunt tranquilly lays down bars that wouldn't sound out of place on a latter-day Earl Sweatshirt tape.
For every beat that evokes the grit of Inner London, there's a cut that keeps things carefree. "the rot" is a lilting folk ballad that recalls early Alex G, while "MUGU" features an acoustic riff that wouldn't sound out of place if strummed at a drunken beach bonfire. At once earthy and metropolitan, Black Metal 2 is as enigmatic as the best records in Blunt's discography.
Seemingly over as soon as you hit play, the record is supremely digestible and pleasantly abrupt. It doesn't capture the same freewheeling inexplicability that makes Blunt's most prolific work so captivating and fascinating, but it's the rare Blunt record that would hit if played in a normal social setting. "Y'all know me / Always ready / In the cut / Shooter dirty," he placidly intones on the dogged "SEMTEX." The avant-garde artiness of the albums that came before it isn't gone. Black Metal 2 is just the type of Dean Blunt exhibition you could take your mom to.