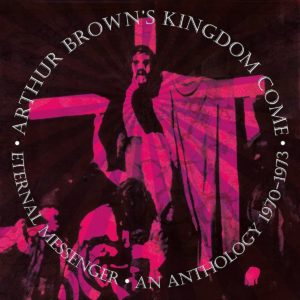 Arthur Brown's Kingdom Come
Eternal Messenger: An Anthology 1970-1973
ESOTERIC/CHERRY RED
8/10
Before there was a mascara-dripping Alice Cooper tearing at the fabric of rock theater with elements of the grotesque and tattered glamor, there was The Crazy World of Arthur Brown. A British R&B and unsubtle rock singer of quiet renown before hitting the U.K. and U.S. charts in 1968 with the stoned, loud, organ-filled psychedelia of "Fire," (produced by Pete Townshend, no less) and a stage schtick that found him wearing demonic robes and flaming headpieces, it's what Brown did next that was even more incendiary—and, of course, the subject of a fractured, fascinating new box bet, Eternal Messenger.
Brown, a drugged-up acid head by 1970, found himself on the right side of another great British sound—rough-hewn art rock with a twist—when he hooked up with the crew behind Kingdom Come. Featuring some of rock's earliest use of lo-fidelity synthesizers and lumpen drum machines within its furious full-band sound, Brown's debut album with Kingdom Come, Galactic Zoo Dossier, and their third album, Journey, were experimental jam-rock masterpieces filled with menacing, operatic opuses ("Space Plucks") and winding keyboard reveries ("Time Captives"), as well as crusty, elongated space/world music test patterns ("Gypsy"), all through which Brown added a primal animalistic vocal howl and impromptu mind-bent lyrics. If the quaint elegance of pop-psychedelia didn't die before these three albums, a brazen Brown & Co. killed it off, hard, then forged another eerily emboldened (and blazing) aesthetic based upon its smoldering embers.
What's neat about the new five-CD box set is that it actually digs up two lost and gorgeously era-appropriate projects: Jam – The First Sessions 1970 and At the BBC 1971-1972, as well as 13 additional bonus tracks of monstrous singles, studio outtakes, and mixes, all of which are creepily reminiscent of Roky Erickson's transition from Texan dirtball overlords the 13th Floor Elevators to spacy psych-garage god. Even better is that a new, lengthy interview with Brown is part of the box set's extensive, art-filled booklet, therefore making Eternal Messenger a double-trouble must-have.