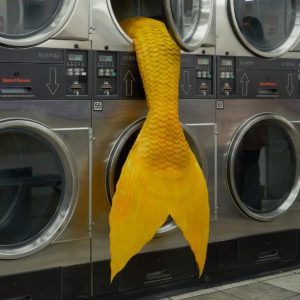 Olivia Kaplan
Tonight Turns to Nothing
TOPSHELF
7/10
Give Olivia Kaplan's debut album Tonight Turns to Nothing a casual spin and the nuance in its layers may not make itself apparent. The LA-based singer-songwriter took her time writing the record's 11 songs, letting the album come to life slowly, instead of sitting down and composing in bulk. Any piece of art born from patience demands forbearance from the consumer, and Kaplan's work is no exception. Lush, subtly mixed instrumentation breathes life into the spaces between the record's soft, acoustic-oriented arrangements. Tonight makes for great background music, but when examined under a sonic microscope, a gripping preoccupation with adulthood and self-aware neurosis churn through its subtext.
Kaplan's influences and peers are easy to pinpoint, and members of some of those acts make appearances throughout the record's 41-minute runtime. Sharon Van Etten drummer Jorge Balbi lays down percussion on all but one of the tracks, while Spoon's Alex Fischel delivers some withdrawn-but-excellent key performances. Without context, Tonight risks playing like a Big Thief knockoff, but that might be because the band's own Buck Meek lended his chops to the bouncy single "Wrong." Kaplan manages to stand out within a crowded niche of wispy, mature artists—although she's content to work day jobs in food service and teaching, her intelligently personal slowburns are as good as the work of any musician who pays the bills with a guitar.
Californian angst is the theme that ties together many of the best moments on Tonight. With lyrics that read like a drunkenly scribbled Joan Didion essay, Kaplan's fixation with the empty fulfilment of the West Coast dream hits home for someone who has lived in California for nearly half a decade. The record opens with the lines, "Spill me out on the floor / I don't want to be drunk anymore / Bent over on the side of The 5 cause I can't afford the hundred-dollar fine" on "Spill." On "Still Strangers," Kaplan calmly-but-cynically sings, "You said Southern California / Nobody ever warned ya / That she'd wrap you in this sadness." Inspired by the dismal, sun-faded grit of the City of Angels, Tonight Turns to Nothing feels more indebted to Hollywood's dingy strip malls than the city's striking nature or artistically inclined rows of technicolor businesses.
Although Tonight is Kaplan's first released recording, it plays like the work of a songwriter deep into their career. "Long Con"'s faded production and lilting melodies bring to mind the work of immortalized aughts alternative acts, falling somewhere between the sounds of Death Cab for Cutie, Broken Social Scene, and Rilo Kiley. Meanwhile, "Ghosts"'s patchouli-tinged bohemia plays like the perfect soundtrack for driving from the city into nature. Kaplan even dabbles in mid-tempo dream pop on the elastic "Seen by You." While the record's musical palette is largely coy and toned down, the myriad of feels that make up Tonight show that Kaplan has honed a distinct sound, but she's no one-trick pony.
In a scene dominated by musicians who frequently lean on cryptic poeticism to build their mystique, Tonight Turns to Nothing is a refreshingly direct and honest release from an artist who clearly isn't shy about telling things how they are. The ugliness of getting older in the city ties the record together, but it's often obscured by synthesizer-driven ambience and delicately strummed guitars. "You've got no will to say it like it is / But you're limited by a temporary thing," Kaplan placidly, vaguely intones over sparse percussion and swung chords on the closing track "Temporary Thing." The characters in Tonight's world are often meek and timid. Kaplan's verve comes from the fact that she isn't afraid to call them out for it.