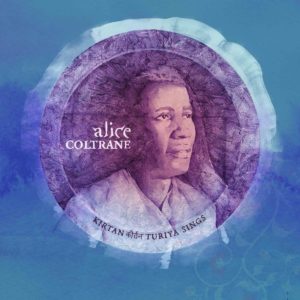 Alice Coltrane
Kirtan: Turiya Sings
IMPULSE!
8/10
We can bandy around glowing religious terms such as "transcendental" and speak of her music as holy and purely from the heart—and all that is true of Alice Coltrane, of course; the wife of saxophone colossus John, who was in her own right his equal when it comes to the innovations of the jazz aesthetic far beyond its traditions, be it singing or playing piano, organ, and harp.
Treating Lady Coltrane solely as a cosmic oracle and a spiritual avatar, however, often throws off a scent necessary to appreciate her very real musical skills and their application. Take the newly released Kirtan: Turiya Sings, a freshly found, 1981 set of devotional recordings for voice and Wurlitzer, and a companion piece to her iconic synth-driven effort, Turiya Sings. The largest part of its goal, according to Coltrane, was to guide the listener through chant-based meditational sessions and/or the treatment of life itself as a series of rolling devotionals. Based on Hindu invocations (bhajans), the composer pulls from tender, prayerful moments with her usual higher plane sonic expanses intact, and the solo sound of voice and Wurlitzer electric organ is remarkably immense, vividly in-your-face, and awe-inspiring within that ideal.
Yet the minimalism of paring everything down to organ and voice and its nine songs' open, spacious demo qualities (it is, remember, the spare sister to Turiya Sings' effortlessly elegant synthetic orison) allows the listener to concentrate on the slow, free music's tactile, textural qualities—the feel of an electric organ's softly stinging hot breath and gentle fingerings where you can still feel its calluses (add to this the cool, easy breeze of her baritone vocals, sung in Sanskrit). Deceptively simplistic, in spots there's a Nina Simone–like quality to Coltrane's voice on moments such as "Prandhana," and a mesmeric density (and implied rhythm) to her organ playing on the epic "Rama Katha," as she dedicates her soul to Krishna and her melodies to the goddesses of unrestrained song.