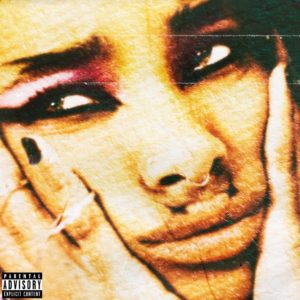 Willow
lately I feel EVERYTHING
ROC NATION/POLYDOR
7/10
It's not surprising that Willow Smith created one of the most exciting pop-punk releases in recent years. What is surprising is that it took a pandemic to do so. The musician has zig-zagged from psychedelic pop music to neo-soul and now punk rock—in under 27 minutes, Willow contemplates inner truth, fighting her own battles, and defusing noxious relationships on her fifth album lately I feel EVERYTHING, which combines her existential lyricism and ablazen vocals haloed in distortion and calamitous drum roar. 
In the same way it took another big pop star some time to find their pocket in the rock sound, Willow has found a zone that highlights her vocals in a vibrant, lighter-fluid-lit glow. Her voice hits an operatic urgency on "Gashlight," and the way she cavalierly switches from silvery verses to a robust plea on "don't SAVE ME" demonstrates Willow's awesome control over her voice. There's comfort in the contrast of her octave-shifting vocals on "Lipstick" and the doomy drums that circle like hungry vultures. No matter how noisy the background gets, nothing distracts from her power, making the short album (maybe not by punk standards) an exhilarating punch in the gut.
Strangely, the longest track on EVERYTHING feels like the perfect place for the album to end. On the Weezer-reminiscent "Come Home" with Ayla Tesler-Mabe, Willow sings about getting closer to love. "A force in the room, of course they're confused, you're stunning," she sings, the final syllables bouncing off each other. Not even three lines in, while capturing another person's ability to fuck up the gravitational pull in a room, she hits a run I want to hear on repeat for eternity. 
The final four songs, which show the widest range in pop-punk subgenres, feel like bonus tracks. The saccharine pep talk of "G R O W" teeters between fun and annoyance, something like a Disney Channel theme song. Early-aughts pop-punk forebear Avril Lavigne joins in an intergenerational meet-cute, a nod from Gen Z to the current nostalgia explosion. Similarly, it's exciting to see underground acts like Tierra Whack and Cherry Glazerr assist Willow in romps of grunge and nu metal, even if it doesn't seem to make sense in the album's order. 
Despite the awkward tracking, lately I feel EVERYTHING still feels like a major success. For an artist whose first single was an ode to headbanging, Willow feels more comfortable with herself than ever before while screaming about embracing imperfection and growth. And no, it's not a fucking metaphor.