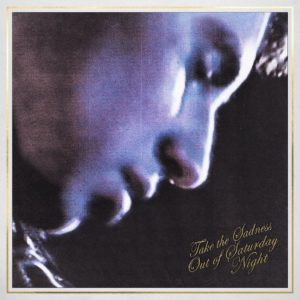 Bleachers
Take the Sadness Out of Saturday Night
RCA
5/10
The line between homage and pastiche is often perilously thin. As such, it can be all too easy to cross over from the former to the latter, for influence to metamorphose into imitation. That, of course, has been a continuous thread throughout the history of rock music—reinventing the influence of your idols to create something fresh while still paying tribute to the heroes that inspired you. If you're doing it well, that is. If you're not, then you may just end up with an album like Take the Sadness Out of Saturday Night.
The third full-length from New Jersey's Bleachers—the project of Jack Antonoff, fun. guitarist—is a record that doesn't just fail to assert its own identity, but also ultimately feels devoid of heart and soul. Antonoff, of course, has done production work with some of today's best-known musical stars, including Taylor Swift, Lana Del Rey, Lorde, and St. Vincent, but here, his own songs falter and flounder, fizzle and fade forgettably into the background—a bland hum coming through the PA of a busy bar that adds nothing to its atmosphere and has little of interest or import to say.
That's most evident on "Chinatown." One of the record's dual lead singles, it features none other than Bruce Springsteen—without a doubt the biggest influence looming over these 10 songs—but even The Boss can't rescue it from sounding like a half-finished idea, a cover band's cover of a cover band's cover. That's generally the case here. "How Dare You Want More" transforms from an innocuous barroom stomp-along into a poor "Sherry Darling" rip-off; "Big Life" is an anemic Dire Straits wannabe rocker, and "Stop Making This Hurt" is a color-by-numbers Talking Heads replica. All of which is fine and inoffensive, but also thoroughly uninspiring. Even Lana Del Ray's appearance on the solemn acoustic lament "Secret Life" can't elevate the song's plodding melody into anything that resembles emotion.
Ultimately, that's the crux. There's very little feeling in these songs, very little heart, very little of the sadness Antonoff is trying so hard—too hard—to conjure up. There are, to his credit, some flashes of lyrical brilliance—poignant and poetic lines that say more than his delivery allows them to convey—but ultimately Take the Sadness Out of Saturday Night is an exercise in little more than mediocre songwriting. Nothing rams that home more than the affected ache of closer "What'd I Do with All This Faith?," a song that asks a question but is unable, in any way, to deliver an answer. Instead, it finishes abruptly, with no sense of resolution—the silence that follows only amplifies the promise of the heroes hiding in this record's shadows and its inability to do them justice.