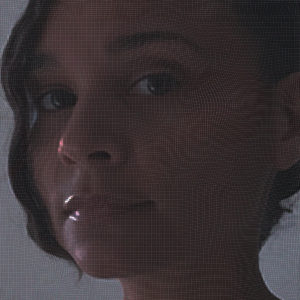 Erika de Casier
Sensational
4AD
8/10
By Erika de Casier's own admission, there's nothing technically special about her vocals. And the Portugal-born, Copenhagen-based artist's crisp beats on her sophomore LP Sensational reference de Casier's longtime love for early-'00s R&B—sparkling guitar, classical strings, and even bird noises twinkling lushly throughout the album create a vintage soundscape that verges on kitsch, especially when put to lyrics dramatizing the jerks she's dated and the kind of romance she really craves. But as easy of a listen as Sensational presents, the sensuousness of de Casier's whispers and her quiet lyrical self-assurance push the album out of the realm of the purely retro and usher us into a fully evolved world of de Casier's making.  
The sort of clean disdain you get from the lyrics on TLC's classic hit "No Scrubs," or the easygoing strength of Erykah Badu's "On & On," are the sort of formative sounds that find their way into de Casier's mini melodramas. On "Polite," she puts it right out there—as a satin-gloved main character in her own music video to boot—"You don't show a lot of class… If you wanna be my type / You better start being polite." It's catchy and glittery, but the way de Casier keeps it low-key reflects her own quiet confidence in her romantic independence. There's a danger infused into her honeyed tones and spidery whispers, warning a lover on "All You Talk About" not to try to buy her love, accompanying the same brand of atmospherics found on "Insult Me," where she promises, "I can pave my own way without you… I'm stronger than I look."
The same sentiment could be said for her breathy delivery: If de Casier's lyrics explore the dramas of romance, and at times reject it outright, her ultra-soft singing implies the warmth of intimacy. In spite of the fact that she barely rises above a whisper on Sensational—she's explained in interviews that it's a habit she picked up in college, when she was learning to make beats while trying not to disturb flatmates—her voice, like her choice to reference a bygone era of R&B, plays up the power in her untouchability and the sexiness of getting the last word in. "I've written not only from personal experience but also included fantasies of how I would have wanted to react to a certain situation," she told Loud and Quiet. "Instead of being like, 'OK I was a victim in this story,' I'm like, 'No, no, no—I ruled that situation.'"
Despite the intentional kitsch of her beats and sickly sweet, self-directed music videos, Sensational is anything but cliché. If de Casier was any less refined, the album could fall into being something to play in your bedroom as background music for its Y2K sound. That de Casier can create an intensely interior lyrical world set to an unsubtly nostalgic sound without being tiresome in the least points to how well she nails a Millennial aesthetic—and storyline—that'll pull you in for a deeper listen. And that's worth it: she may be quiet, but she won't be a well-kept secret for long.