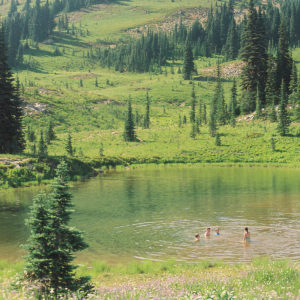 Skirts
Great Big Wild Oak
DOUBLE DOUBLE WHAMMY
7/10
On Skirts' debut album Great Big Wild Oak, singer-songwriter Alex Montenegro makes a whispering yet memorable entrance. Lush with acoustic guitars, moving harmonies, and slightly inaudible vocals, the album that follows feels like a sudden reminder to take a seat every once in a while. In the vein of labelmates Lomelda and Hovvdy, Skirts's soft-pop kick, mixed with a smidge of twang, is a refreshing fusion of genres that proves the artist's malleability. It's music that cements itself as a fresh breeze after a hot and still day, or a crisp early morning walk in the woods. The listener is placed in an almost dream-like state, as the tracks have a magical ability to temporarily separate themselves from the bustling confines of an inevitably fast-paced life.
Montenegro's debut feels less like a singular statement and more like a collection of moving parts and instrumentals guiding a smooth journey. In the 10-song set, there's lots of versatility—for instance, a tinge of alt-folk twang lives on "Sapling" alongside delicate lullabies, while "Swim" is fragrant with the tip-toed reverb of a piano, styled with lap steel guitar and what sounds like banjo peeking through. "Always" comes alive with drums, trickling piano leads, and quietly distorted guitars. The breakdown at the end is somewhat surprising, given the volume of the rest of the album, but perfectly fitting, showcasing Montenegro's ability to write both carefully and expressively.
Great Big Wild Oak is as impressive as the title suggests, and as vivid as its cover art; imagine floating on your back in the midst of an open lake without a soul in sight. The sun's warmth is close—but not too close—caressing your forehead. Small drops of sweat begin to fall down into the water. Just remember to take a breath in the midst of all of it.