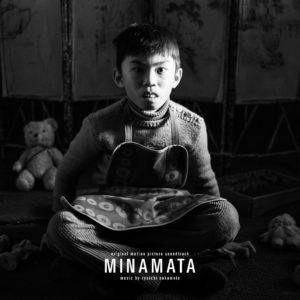 Ryuichi Sakamoto
Minamata (Original Motion Picture Soundtrack)
MILAN
7/10
Somewhere between an Eric Satie still life and Jerry Goldsmith's noir-jazz score for Chinatown exists the coolly emotional and subtly effervescent yet earthen music for the film Minamata from composer and instrumentalist Ryuichi Sakamoto. Starting with its gently halting piano opening theme and traveling through quietly whining atmospheric battles between sequencers, breathy voices, and real-time strings ("Landscape," "Chisso Co."), tonic glitch-hop riffs ("The Boy") and their sinister equivalent ("Hidden Data"), opulent cello runs ("Boy and Camera"), and burnt-edged, electro-ambient (with squeezebox) scowls ("Into Japan"), the sonic monologue behind the true-life events of aged American war photographer Eugene Smith (played by Johnny Depp in director Andrew Levitas' gritty film) documenting the effects of mercury poisoning on a coastal town in Japan is exactly what we've come to expect from latter-day Sakamoto.
Far beyond his historic, ethnographic co-penned score for Bernardo Bertilucci's The Last Emperor (for which the composer won an Oscar), and more moodily along the lines of his intimate, textural 2017 studio album async and his recent soundtrack for Black Mirror: Smithereens, Sakamoto shows off a mind and a taste for menacing, tactile music which meshes the oceanic-winded scale of the elements, be it the organically orchestral or the sumptuously synthetic, with cricket nattering glitches for physical punctuation. If you didn't think a score emulating the effects of industrial pollution and one man's dedication to portraying pain and beauty could find a composer, you've missed the point of Sakamoto's long career's aesthetics.
Though the final track contains every trick in Sakamoto's kit bag and pulls from his electronic dance past (its thumping, sequenced rhythms), "One Single Voice" was recorded by Welsh mezzo-soprano Katherine Jenkins (famous for a beloved Christmas episode of Dr. Who) after Sakamoto's involvement in the project. The lush grand finale features all of the self-empowered heft and fine-boned focus of Celine Dion without a hint of the haughty or the saccharine.
Find the vinyl edition of the soundtrack pressed on a pair of 180-gram black vinyl discs and housed in gatefold packaging with liner notes from Levitas, for what the director calls Sakamoto's talent to "represent both the absolute best of humanity as well as the worst."