While working on songs for his new album, Isaiah Rashad asked a difficult question. The Chattanooga, Tennessee–raised artist wanted to know what his team thought of his material. He didn't like the answer. But rather than retreat, the Top Dawg Entertainment artist regrouped, recalibrated, and rededicated himself. Released in July, the resulting album The House Is Burning stands as one of 2021's most momentous rap projects. 
The acclaimed album arrived five years after Rashad's The Sun's Tirade. In between the two projects, he battled personal demons and took time to process his personal evolution. When he resumed making music, he turned to a wide range of collaborators—SZA, Jay Rock, and 6LACK, to name a few—and channeled some of his favorite music growing up. 
In our Q&A, Rashad discusses the musical choices he made while crafting The House Is Burning, accepting critical feedback, and representing Southern rap icons. He also talks about his special live stream concerts through Moment House August 18 and 19.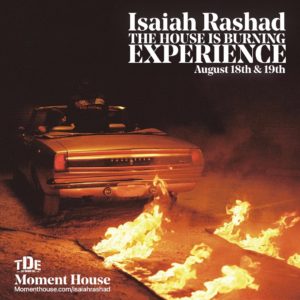 The music on The House Is Burning has a lot of sonic variance. As you think of what you want to do artistically, how have you found you've been able to pick such drastically different things and still make it sound cohesive?
When you put it like that, I'm like, "Damn, it is a decent soundscape." We were just making what we wanted to make that day, and we were trying not to make what we made yesterday. That's how it went. If we were like, "We already did this shit," then it was like, "Let's do something else."
When did you develop the desire to not be redundant?
Toward the onset of the project, I was talking with one of my managers, Keaton. We were having a conversation about the music. I was like, "Do you like this?" He kept it real. He said, "It's kind of boring." Keaton's a little bit younger, too, so I kind of took that to heart. Not in a way where it messed up my shit, but I was like, "Alright, how can I make this more appealing to everybody around me?" So I started just dipping into other sounds and trying shit that I wouldn't usually put out, like the music I used for "Score" and "Claymore." I actually would put them out, but they were so fully committed R&B songs compared to, like, "West Savannah," which is like a chant.
"Dungeon Family—it's timeless, everlasting… I just want to help keep that shit alive the same way people try to keep '60s soul alive. I take what they did as an extension of jazz, soul, and rock and roll. They just put it in a way that you could rap to it."
With The House Is Burning, why did you keep the songs shorter and have "HB2U" dramatically longer? 
In reflection, I was like, "Maybe we should put the second part of 'HB2U' as another song," but I didn't like 17 tracks on the tracklist. I just didn't like the way it looked visually. On top of that, it seemed like a loosie. It wasn't a song I was fully committed to, that I felt like people would get. I've been surprised by the reception, honestly.
On the second part of "HB2U," you say, "You are now a human being," which is a very strong statement. What do you remember about when you came up with that line, and why did it resonate with you?
I couldn't come up with a rap that day, so I came up with a mellow singing song. It's usually how it goes on the days I can't come up with a rap. I feel like I could at least make something, so it's usually singing on those days. The days I'm rapping are the days I don't feel like singing. Sometimes those days mesh into each other and you come up with songs like "Headshots," or "HB2U."
"Headshots" really reminded me of a Dungeon Family type of vibe. Also on "THIB," you reference Goodie Mob's "Cell Therapy." In 2021, what do those groups mean to you compared to when you were first getting exposed to them?
I think Chattanooga is like an hour and a half, maybe two hours from Atlanta. I grew up with that sound deeply embedded in my roots. Rico Wade and Sleepy Brown and the rest of the Dungeon Family—it's timeless, everlasting. It's like a soundscape that I always wanted to adapt and adopt. The shit they did in their run in the '90s… Besides OutKast you had TLC and all these other acts that they've contributed to. I just want to help keep that shit alive the same way people try to keep '60s soul alive. I take what they did as an extension of jazz, soul, and rock and roll. They just put it in a way that you could rap to it. I think it's a genre within itself.
Some of The House Is Burning kind of reminded me, in that regard, of "Liberation" from Aquemini.
Yeah, but you can't remake that. That's one of my favorite songs by them, period. It's between that and "Stanklove." The ends of those OutKast albums always had something phenomenal. But I can't remake those. It's not even a harsh reality. It's like kids from the '70s and Star Wars. How many fuckin' sci-fi movies got made off that shit? So you've definitely gotta pay homage to great ideas and where they came from and keep that shit alive.
"I like performing, so when Moment House told me I could do some shit, I'm like, 'Fuck yeah.' It feels like some hood Broadway shit, but without a big script going on. It's a cool conceptual thing."
You've got the Project Pat sample on "RIP Young" to represent Memphis. It's amazing that people are using so much of their music from the 1990s and 2000s today. Why do you think it took so long for people outside the area to catch up to what they were doing?
It never went away. When A$AP Rocky came out, it was alive and it was alive during the whole Florida movement that was happening with SpaceGhostPurrp. It's been alive with artists like Young Dolph, even going back to Yo Gotti and how he touched base with 8Ball & MJG. I think we've all done our due diligence to keep that subgenre of rap together and keep that sound expanding. You can hear that shit in everybody's shit, probably in Kendrick Lamar's shit. You can hear it in the samples and sometimes how things are pitched down. 
You also have the live stream concerts with Moment House August 18 and 19 where you'll be performing The House Is Burning for the first time. What made you want to do that?
They came to me and were like, "Do you want to do a live performance?" I was like, "How are we going to do it?" They wanted me to recreate shit I did while I was making The House Is Burning. That was it. I like performing, so when they told me I could do some shit, I'm like, "Fuck yeah, let's go do that shit." It feels like some hood Broadway shit, but without a big script going on. It's a cool conceptual thing. It's like a live experience. FL