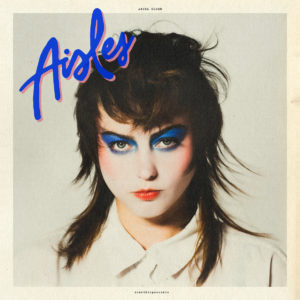 Angel Olsen
Aisles
SOMETHINGCOSMIC
6/10
When Angel Olsen began recording Aisles, she said she wanted to have fun with the process by covering various songs from the 1980s she'd heard while walking through the aisles at her local grocery store in Asheville, North Carolina. While "fun" may not be the best way to describe the five moody covers contained within, Aisles is a neat, compact, and moderately entertaining collection of recordings decorated with Olsen's signature eccentric flair. 
Sonically speaking, the five-track EP is solidly fabricated, with Olsen, producer Adam McDaniel, and engineer Alex Farrar ushering a rotating cast of players through some of the decade's most cheesily beloved arrangements. Almost every track has an industrial, shiny sound to it, but with a tonality rarely heard on songs of that generation. On "Eyes Without a Face," Olsen takes Billy Idol's synth-pop ballad and turns it into a twinkly, tripped-out wash much more suited to her silky voice. Her renditions of Alphaville's "Forever Young" and OMD's "If You Leave," while slightly less melodically impactful than the originals, are still faithful to them. 
On one hand, Olsen's takes are strange and wonderful, breathing new life into 35-year-old cuts—but on the other, they don't provide enough of a compelling alternative interpretation to warrant considering them as wholly new arrangements. The record's flow isn't unpleasant by any means, but just seems to establish a droning, slow-tempered template, proceeding to force all subsequent songs into it. After it's all said and done, Olsen is one of indie's most compelling and resourceful songwriters, and Aisles' relative tepidness shouldn't be taken as a blemish on her creativity or artistry. At the best of times, her round of covers is simple and agreeable to those already familiar with the originals—it just isn't completely up to snuff with the imagination we've come to expect from Olsen.