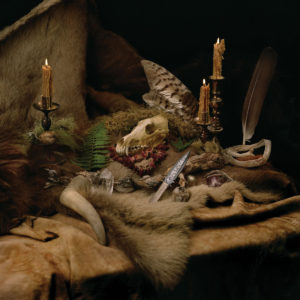 Wolves in the Throne Room
Primordial Arcana
RELAPSE
8/10
Wolves in the Throne Room's Primordial Arcana is like a black metal fantasy soundtrack. Previous releases from the Olympia, Washington group, like their most recent album Thrice Woven, offer hints of fantasy, with otherworldly textures inspiring both wonder and woe—but the degree to which Primordial Arcana explores that in conjunction with traditional black metal sounds feels unique for them. As the album title suggests, there's a primeval quality to this record. Channeling ancient forces from days of old, Wolves open their album with "Mountain Magick"—an initiation of sorts, with the familiar hissing vocals and stormy instrumentation unleashing the sense of chaos controlled and challenged by magick that goes on to define the rest of the album.
Music, like narrative storytelling, is grounded in a setting and place. As natives of Washington, Wolves in the Throne Room channel what feels like sounds of the Pacific Northwest into their releases. Primordial Arcana was recorded, produced, and mixed at Owl Lodge Studios in Olympia—and it does feel like the mountains, trees, earth, and water of the region made their way onto the record. The traditional instrumentation in particular on tracks like "Spirit of Lightning" gives the music this energy. There's also a sense that Washington is a gateway accessing other realms as heard on "Through Eternal Fields," where there's a rustic and pastoral quality amongst the darkness and shadows, between black metal and something more otherworldly.
On Primordial Arcana, Wolves in the Throne Room use and subvert the conventions of black metal to create a new and ethereal world. "Underworld Aurora" presents tones and textures that sound like a fusion of Northern Europe and non-Western music, while "Masters of Rain and Storm" gives off a medieval, sword-and-sorcery fantasy vibe. These two disparate elements work so well together that it feels like Wolves have unearthed something old yet undiscovered. As on the rest of the album, moments of ambiance and tranquility—counterbalanced by epic yet brutal melodies—inspire a sense of amazement from the listener. The record is a call to adventure, and like fantasy stories promising transformation and reward, it's worth the undertaking.