With the release of Year of the Spider, Shannon & the Clams continue their steady, decade-long transformation from late-'00s West Coast garage rock staple to a soul group recording under the Easy Eye of Dan Auerbach, who prove almost unrecognizable from the ensemble who brought us 2009's breakout debut I Wanna Go Home. Yet in addition to the general sense of anachronism that's followed them to the present day, the more specific pull of dual vocalists Cody Blanchard and Shannon Shaw provide a solid through line over the years—as if either singer's inimitable vocals were merely swapping their surf-rock wetsuits for a more Nashvillian get up.
Simply calling Year of the Spider "soul," though, severely sells its 13 tracks short—the album pings back and forth from doo wop influences to those more native of their Easy Eye Sound recording space in Nashville, while that vital strand of early garage-rock ruggedness still hangs on tight. While some of the inspirations that informed the record are easy to identify, we asked all four members of the group—Shaw and Blanchard, along with Nate Mahan and Will Sportt—to throw together a playlist of specific sounds they cited when writing the album. Listen to Year of the Spider here, and find the playlist and explanations for each pick below.
Cody Blanchard
The Stylistics, "Pieces"
This was a big inspiration for "All of My Cryin'." I wanted to create a similarly dark and desperate disco song. Very unusual tempo and style for the Stylistics, one of their rare non-ballad tracks. 
Hank Williams, "Ramblin' Man"
One of my favorite spooky Appalachian-style dirge ballads. This was an inspiration for the song "Snakes Crawl," a bleak and spooky acoustic creeper. It was also an inspiration for "Midnight Wine," which I originally wrote in a similar style before we took it to the glam and fuzz world.
Norman Greenbaum, "Spirit in the Sky"
I wrote "Midnight Wine" originally in the style of an Appalachian kind of murder ballad, but I wanted to do something more fun and rockin' with it. I tried a few different things, and the one that stuck was to play it like a kind of dark, minor-key, sped-up version of "Spirit in the Sky" with the little verse riff going down instead of up.
Electric Light Orchestra, "Can't Get It Out of My Head"
This was an inspiration for the original version of "Flowers Will Return," which was quite different from the final version. I wanted to do something in that zone between baroque pop and disco and prog pop that ELO treads better than anyone else, the kind of quiet moody verses with acoustic guitar, big choruses with harmonies and disco drums.
Shannon Shaw
Los Zafiros, "He Venido"
Haunting, atmospheric, and a glorious outro. I felt very inspired by the space and depth. The layers just slowly build to the most beautiful crescendo.
Creedence Clearwater Revival, "Effigy"
This song makes me feel like fall is coming. That inspired me to want to try and see if I could inspire the vibe of autumn, this writing leaves fall again.
Joyce Heath, "I Wouldn't Dream of It" 
I think the recounting theme with the songs I chose is barren, spacious songs with very little accompaniment. I love to see how far something can go with just a voice. I tried a similar approach with "Do I Wanna Stay."
Marisol, "La Luna y el Toro" 
Marisol has one of those voices that we all want. It's able to evoke sweet innocence as well as machismo and joy. There is so much life in it the entire time, no moments lack unique character. This is something I strive for.
Lee Hazlewood, "Friday's Child"
Smokey, jabbing backups sync perfectly behind his slippery, ashy voice. I'm always inspired by the play between lead and backups and using the voices as instruments.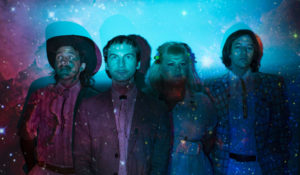 Nate Mahan
The Reputations, "Neighborhood"
Seth Gibbs was a dear friend who created his own brand of Texas pop music for many years, a well-known name in the Austin area. He tragically passed from cancer not long after this record was released in September 2018; here he is taking lead on a track produced by Jody Stephens of Big Star.
Dick Stusso, "Modern Music"
Ol' Dick and I go way back—his knack for melody and guitar prowess match his sardonic off-brand humor. Recorded in an old church lacking running water and helmed by the eerie production of Greg Ashley, this track feels like a great mix of what I love about Oakland. 
Shannon Shaw, "Lord of Alaska"
Sometimes when you live amongst very talented people, you may forget just how much power and creative energy they can possess and it can be very exciting when they take it to a new level. Shannon breathes life into this song backed by powerhouse Nashville players. Dan Auerbach's production is so on-point, and this whole record is just a gem!
Bobby Jealousy, "Rainbow"
One more taste of Seth Gibbs: I listened to more of his music than anything else in 2019. Here's a classic topped with great vocal harmonies, Sabrina Ellis giving us a taste of her magic as she continues to do in A Giant Dog and Sweet Spirit.
Will Sprott
Emahoy Tsegué-Maryam Guébrou, "The Last Tears of a Deceased" 
For the past few years I've listened to the solo piano recordings by this woman more than I've listened to anything else—and I never get tired of them. I'm sure she's lurking in the corners of all my piano playing at this point.  
Mort Garson, "Space Walker" 
Early synth wizard from when synths were giant, very expensive machines. I like keeping that in my mind when I hear how scrappy and raw these songs sound.  
Zapp, "Computer Love"
A timeless classic that just gets better with age. 
Beachwood Sparks, "Canyon Ride" 
I used to listen to this record all the time back in the day and I still like to break it out now and then. I like this sort of classic country piano tinkling.