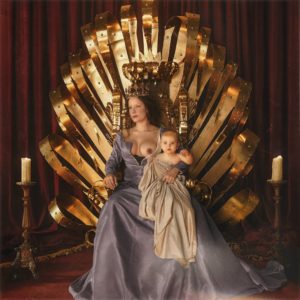 Halsey
If I Can't Have Love, I Want Power
CAPITOL
7/10
When Halsey unveiled her fourth album, If I Can't Have Love, I Want Power—"a concept album about the joys and horrors of pregnancy and childbirth," produced by Trent Reznor and Atticus Ross, accompanied by a lush, Renaissance-inspired cover photo of the electropop queen on a throne with a baby on her knee and a breast defiantly exposed—it raised a lot of questions: How did an unyielding sonic perfectionist with a notorious aversion to anything resembling "selling out" end up working with a former Chainsmokers collaborator known for radio-friendly pop-EDM and a frankly mercenary attitude toward pop success? Was Halsey rebranding herself as a post-industrial performance artist with a baroque aesthetic a la Lingua Ignota and Eartheater? And if so, was there anyone out there dying for Halsey to go through a dark, post-industrial rococo performance-artist phase? Besides me?
For the first few tracks, the partnership and the lofty aesthetic promised by the album's visuals coheres. The piano-driven opener "The Tradition" is elegant and spooky. "Bells in Santa Fe," with its pulsating analog synths, is as taut and sensuously formal as a corseted gown. After that promisingly dark and dramatic beginning, though, the unhinged Pharmakon-esque feminine body-horror masterpiece that I was (probably unrealistically) hoping for never emerges. The production is sonically ambitious, and mostly Reznor and Ross pull it off, filling every available space with precisely sculpted analog synths and noisy sound design. But the closer Halsey and Reznor stick to the script, the weaker the results—like "1121," where the droning synth arpeggios and sappy vocal melody seem to be pasted from two entirely different projects, or "The Lighthouse," which struggles to conjure up a mood of grinding, bluesy evil that just comes off as a cringey Spirit Halloween version of itself.
But once I got over my disappointment in not getting the album I was fantasizing about, I was able to appreciate the album that we got: a noise-saturated, heavily textural pop album packed with nods to avant-garde composers from Aphex Twin to Beverly Glenn-Copeland, that's almost guaranteed to do Top-40 numbers. And honestly, it's probably better than Halsey doing Lingua Ignota for 13 songs.
Halsey and Reznor (working alongside Ross, TV on the Radio vet Dave Sitek, and a handful of other collaborators) are a better fit than they might seem on the surface. Halsey's been dropping aggressive, industrial-inspired music alongside her poppier stuff since her 2015 debut Badlands (also a concept album), and lyrically, her arena-sized mega-smash "Without Me" is as vitriolic and spiteful as anything on Pretty Hate Machine. And Reznor's always had a huge, faintly guilty-seeming pop streak—there's a reason why you can walk into any karaoke bar on the planet and find someone doing "Closer."
Where the pair really seem to come together is in a shared love for late-'90s alternative pop, a sound that Reznor had a big hand in shaping. The trip-hop throwback "Lilith" and shoegazey "You asked for this" sound like sincere tributes to sounds that were well outside the Reznor brand back in the day, while the breakbeat chaos of "Girl Is a Gun" feels like a direct descendent of "Perfect Drug." 
Halsey and Reznor clearly intend for If I Can't Have Love to challenge audiences, and it will. It's probably the most recklessly ambitious pop album of the year besides Donda, and for sure one of the catchiest. The barrier between pop music and the avant-garde has never been thinner and more porous, and the fact that IICHL will be a direct connection between Top 40 listeners and artists like Glenn-Copeland and Lingua Ignota is incredible. But the album's biggest dare—and I'm guessing probably its biggest hit—comes when the artists behind it challenge themselves to step outside of their own comfort zones. "Honey" is subtle in ways that Halsey usually isn't, catchy on a level that Reznor's never been—a flawless, transcendent alt-pop gem swirling with gothic atmosphere that lights up every sonic pleasure center in my brain all at once. I can't wait to listen to it a million more times.