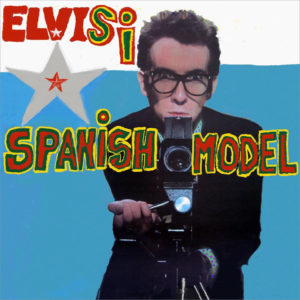 Elvis Costello
Spanish Model
UME
7/10
In his most recent quest to tackle his massive back catalog, the inimitable and inventive Elvis Costello crossed borders and boundaries when it came to reliving his second album, 1978's This Year's Model. Rather than a simple set of past rarities, demos, and live tracks, Costello and co-producer Sebastian Krys have stripped the old Model down to its instrumental tracks from The Attractions and gone en-Español with a fresh cast of characters singing and speaking Elvis' words in Spanish and other languages within the Latin continuum. With that fresh, inclusive prospect—even when the mix of romantic voice and '70s punk/new wave jitters doesn't exactly work—it's still a bold experiment and a project that fits neither new or reissue album categories comfortably. Challenge made and met.
One thing I found interesting about Spanish Model is that my previous comment about the romanticism of the voices—say, Sebastián Yatra, who tackles "Llorar" ("Big Tears")—is that it toughens like a callous across what was Costello's snotty melody. Yet there's still a sultriness to be voiced in the way Yatra sways and soars, something more hopeful than Costello's ire-filled plea. Juanes, and the whole of Colombia, takes "Pump It Up," rejiggers Bruce and Pete Thomas' bass and drum kicks, and serpentines through its pulse rather than its catty melody. Costello's old backing vocals remain on the chorus, along with fashioning a new finale—a fired-up guitar tangle with Costello and Mick Jones of The Clash.
The usually menacing Draco Rosa—a Puerto Rican-American rock legend—chews up "Yo Te Vi" and spits back out something not as loopy as Costello's version, but something with its own weird pacing. Classic Draco. And while some artists, such as Argentine songwriter Fito Páez, chose to re-write Costello's lyrics—blasphemy, right?—on a sacred EC text such as the castigating "Radio Radio" to include some new and richly humorous, others such as Chilean sensation Cami turn Costello classics on their head just by changing their gender perspective. "This Year's Girl," known here as "La Chica de Hoy," takes the old-school masculine gaze and re-inspects and reinvents it through a woman's eyes. Good on Costello and all concerned for taking something that could have been formulaic and plain—another reissue from another time—and spicing it up with relevance, guts, innovation, and heart.