For the past decade, The World Is a Beautiful Place & I Am No Longer Afraid to Die have been known as a band with a long name and a lot of members who make expansive and inventive post-rock. However, the band's fourth full-length, Illusory Walls, is their most ambitious effort yet. Having shed two members following the release of 2017's Always Foreign, TWIABP's current lineup—vocalist/guitarist David F. Bello, guitarist/vocalist/bassist/programmer Chris Teti, bassist/vocalist Josh Cyr, vocalist/synth player Katie Dvorak, and drummer Steven K. Buttery—spent the past few years painstakingly constructing an album that's difficult to categorize in all the best ways. 
From the the lush overtones and hypnotic groove of "Invading the World of the Guilty as a Spirit of Vengeance" to the dark, orchestral beauty of "Your Brain Is a Rubbermaid," the album sees the band pushing their musical and lyrical boundaries to create something that brings to mind everyone from Sunny Day Real Estate to Minus the Bear. The album, which was produced by Teti and his recording partner Greg Thomas, is teeming with small details that only unveil themselves upon multiple listens—lyrical references, hidden melodies, and ambient flourishes that makes Illusory Walls an album that won't fade from your memory any time soon. 
We caught up with Bello and Teti to discuss how Illusory Walls came together, what it was like constructing the 20-minute-long finale "Fewer Afraid," and why Teti was so freaked out at points during the making of the album that he literally lost sleep over it. 
How did COVID impact the process of making Illusory Walls? 
Chris Teti: We definitely had more time because we didn't have the normal touring constraints. On our past two records it was like, "OK, you're going to do the record for three or four weeks, it's going to have to be turned in a few weeks after you finish tracking, you're going on tour immediately afterwards, and you're going to be on tour for two years. Then when you finish that, you're going to write the next record immediately and do the same process again." This time around we were really able to break it up. We were able to do vocals remotely: Dave and Katie had their own recording setups, and I was able to do my guitars on my own time. I'd say the process was better because we had more time to play with ideas and send them back and forth.
"It's definitely the most intense record I've ever been a part of. I work on records every day; I can't think about the amount of hours that went into Illusory Walls, but I think it needed to happen for us." — Chris Teti
There's so much going on with this record sonically. How did it come together in terms of production and arrangements? 
CT: We definitely had more time to play with the arrangements because in February of 2020 we did live demos at my studio. We were also writing, but I basically recorded us live so I had separate tracks for everything. Dave also played guitar on this album, but technically I was the only main guitarist as opposed to the other records where there's three or four people… 
Dave F. Bello: I kind of just filled it out while we were doing live writing sessions, but when it came time to record it was all Chris. 
CT: That was pretty daunting for me, but I had a month or two where every night I was just working on rewriting my stuff before I started tracking. That happened to be before the lockdown, but because I have a studio and I know how to record, it was easier for me to do demos. I would send the band ideas about shifting the song structures and all of that stuff was pretty remotely done. But it's definitely the most intense record I've ever been a part of. I work on records every day; I can't think about the amount of hours that went into Illusory Walls, but I think it needed to happen for us. I felt like the last record was rushed, and I actually kind of felt like Harmlessness was rushed. 
DB: Yeah, it used to be that we would finalize the arrangements and everything during that month of tracking and then during that time, while people are doing takes with guitar and bass, I'd be rewriting lyrics. This time, because it was so spread out, I had months to write lyrics, revise, and that sort of thing. I was able to make sure I was happy with them and send them out and get everybody else's thoughts, so it felt like there was more work put into the revisions.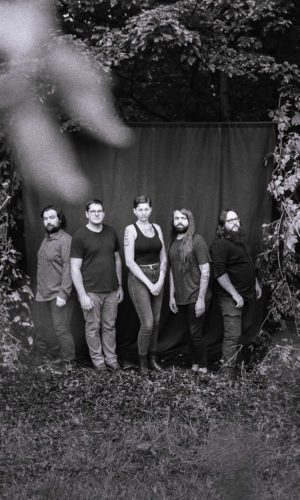 Dave, how did you approach the lyrics?
DB: With the extra time I was definitely able to structure it all together in my head. I was able to listen to it any time I wanted and have days and days to really focus down on one little thing. I was able to conceptualize it all in the same mental universe where it all fits together. 
CT: We even did a vocal change on the first single, "Invading the World," literally the week it was getting mixed. It had to be turned in on Monday and on Thursday I was like, "Wait, can we just cut this one line and have something repeat?" 
DB: I feel like if we had rushed, we would have done it the first way and maybe later down the line thought this would have been better if we did this, but we actually had the time to make those calls. 
CT: It's easy to get stuck in this endless loop of "Oh we have all this time," and I think we were good at managing that, but we also delayed the record five times. There were a lot of calls from our manager going, "Epitaph wants to hear something from the record, it's been five months, so can they hear something? And we need it by this date," and it's like, "I can't do that." Because we had a thing where Katie got injured and couldn't sing for a couple months. 
"It's a lot easier to communicate with everyone and be productive when all the criticism is constructive and there's not really a lot of logistical things that you have to worry about. We're all just peaceful, so we can get to work." — David F. Bello
How did you both approach the 20-minute closing track "Fewer Afraid?" I imagine writing and mixing that song were huge tasks. 
CT: That was fucking daunting. A 20-minute song… 
DB: Usually I'll listen to the song on repeat and by the tenth time I've heard it, I'll have a pretty good idea of something—but to listen to that song ten times is a whole afternoon. I would just listen to that song on walks and have it on repeat and listen to it maybe four times or something, and by the time I'd come home I'd have some ideas. Just the sheer number of repeats of that song was taking up a week at least [laughs].
CT: That song really solidified the record getting delayed multiple times because it was so much work. From a writing standpoint, that's like a whole EP worth of stuff. The amount of lyrics for that was fucked up, the amount of string stuff we had to record with it was crazy. It took me three days to go through Dave's demo and give notes. What happens is Dave will do vocal demos and then send them to the band and we'll bounce ideas off each other. We rewrote a lot of the stuff two or three times. 
DB: I think it's the beginning 13 minutes—for that whole section I had hundreds of words in a doc and I was just shaping them around. I had enough lyrics to go from beginning to end and just worked on that, and then we realized we'll give it some structure, give each individual section some meaning. I don't even know how many other things got deleted from it. I mean, that song could have been an hour long [laughs].
CT: Yeah, it took me, like, three days to track guitars for that song because there are a lot of tempo builds. Even though it's long, there's really no copying and pasting that could happen. Dave, when you brought back the vocals from the last song on Whenever, If Ever at the end, once I heard that I was like, "Oh, this song is worth it." Because I kept being like, "Did we fuck up? This is maybe ridiculous."
Once I heard that, I was like, "This is going to build this as a payoff in the end, it's not for no reason." I like the self-referential stuff that we have, and so there's that. We also brought back Chris [Zizzamia], who's the spoken-word artist on our EP Between Bodies, and that only happened in the last two days of turning in the record. So everything was by the skin of our teeth, even the strings. For the strings we had to go to a second arranger and he had to come in at the last minute to get the strings done for us because we couldn't record all of them in the time that we initially had. 
"It was daunting as fuck for me, personally. I couldn't sleep. I had this thing where I was like, 'If I fuck this up, I fuck it up for everybody.'" — Chris Teti
You had two fewer members making this record. Did that change the way you approached anything? 
DB: I think it made it a lot more comfortable. We're kind of just down to people who are nice to each other [laughs]. It's a lot easier to communicate with everyone and be productive when all the criticism is constructive and there's not really a lot of logistical things that you have to worry about. We're all just peaceful, so we can get to work.
CT: I'd say looking back on the Harmlessness process, it felt like there was a confetti cannon blowing in my face at all times because there were so many people around. When you have to deal with nine or 10 people in the studio all at once, people get antsy and it's like a domino effect. Illusory Walls was definitely more concise. It was daunting as fuck for me, personally. I couldn't sleep. I had this thing where I was like, "If I fuck this up, I fuck it up for everybody." I remember during one of our writing sessions I was watching a Foals or Meshuggah album documentary and I was trying to get my head into the mindset of writing and I just couldn't sleep for the rest of the night because our drummer Steve was like, "Man, we'll see how tomorrow goes because we can't fuck this up." I feel like through the whole process, I got confidence as it went. But did I sleep well during a lot of early parts of it? No. I can't speak for everyone else, but I was freaking out. FL