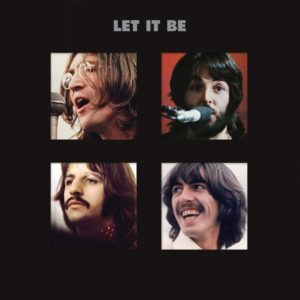 The Beatles
Let It Be [Super Deluxe]
CAPITOL
9/10
Whether we call it The Beatles' last or their penultimate album, the actual story of the bittersweet fall and finale of the Fab Four that is Let It Be need not be repeated here. The poetry of emotion overtold on behalf of a band's breakup? That's why God invented Peter Jackson and a streaming service that will recount their once-sorry tale over six long hours in documentary form next month. For our purposes, only the music counts: a curt album originally released in May 1970, and now epically expanded by Giles Martin—son of legendary producer George Martin, who was but one of the men behind the boards for its initial run, along with Glyn Johns and Phil Spector—to include rarities and live cuts.
Commenced as a way for The Beatles to find their way back to their rock and roll roots and the camaraderie they knew in their youth, the release of Let It Be, now, is fascinating as Mick Jagger and Paul McCartney bitchily fight among themselves. While McCartney has labeled the Stones little more than a "blues band," it's that rootsy groove and elemental sound that makes an unadorned Beatles track worth hearing. For what is the raw husk of Lennon and McCartney's songwriting across side two—"I've Got a Feeling, "One After 909," "Get Back," and even George Harrison's blowsy "For You Blue"—if not stripped-to-the-bone blues? Even the plaintive ballad title track is based upon the simplest gospel-blues feel, a straightforwardness that was removed from Spector's mix for something opulently Phil and his patented Wall of Sound.
However, simplicity was not meant to be for the world's biggest band, especially as The Beatles had decided to film their return to their working-class roots. The pressure of being up for the cameras while live writing and recording an unconventional album, as well as running a business (the Apple label) and all that went with it, certainly showed its strains. Perhaps it was that strain that made emboldened Lennon's bugged and shuffling "Dig a Pony" and Harrison's nervously electric "I Me Mine" reach past the casual feel for which they had hoped and planned.
Getting to the meat of the six-CD/LP Super Deluxe box, we find Giles Martin not so much trafficking in The Beatles' aspirations and enervations (again, let's save this for Jackson) or even bolstering the elegant opulence of rainbow tones and arrangements as he's done on his Super Deluxe take on The White Album. Martin's job here is more of a curatorial role, cleaning and presenting the warm chocolate 1969 mix that Glyn John's prepared for the band (of which three rejected and called Spector), with oddities such as McCartney's humorous "Teddy Boy" peeking through, as well as sharpen its fuzziness. That Martin also chooses to make brighter Spector's overly orchestrated "The Long and Winding Road" is a surprise, but probably a good one considering its more naked mix sounds shockingly soulless when presented back-to-back with Phil's saccharine strings and stately brass.
On the loosey-goosey alterna-take-filled "Apple Sessions," it's valuable to hear the jokey foursome who filmed Help! playing around with a pitchy Drifters cover "Save the Last Dance for Me," The Everly Brothers' "Wake Up Little Susie," and opening the elegiac "Let It Be" with a slip of "Please Please Me." Other songs recalled for their presence on (then) future Beatles efforts—solo and on their actually-last-recorded album Abbey Road—are Paul's roughhouse versions of "Oh! Darling" and "She Came in Through the Bathroom Window," along with a movingly poignant practice take on George's "All Things Must Pass." 
Valuable to completists (though there are boring bootlegs with far more lost tracks and rehearsal tapes than here) and those curious to hear McCartney's recent dis on the blues of The Rolling Stones contradicted, the Let It Be Super Deluxe box burrows deep and handsomely below the surface—The Beatles' well-kept elegance and beautifully toned orchestrations—to find the world's most famous foursome acting like a bar band while assessing their end game.