This article appears in FLOOD 12: The Los Angeles Issue. You can purchase this special 232-page print edition celebrating the people, places, music and art of LA here.
As U.S.-born children of immigrants, Marvin Lemus and Linda Yvette Chávez aim for twofold significance with every move: to honor the sacrifices of those who raised them while carving out nooks of expression to dissect their interstitial reality. Each step forward affirms that their own stories and those of their loved ones have intrinsic (if still underappreciated) value.
Like many of the characters they devised for their web-series-turned-Netflix-show Gentefied, which launched its second season in November 2021, the creative duo have struggled with questions about the intersections of identity, intergenerational trauma, and existing on a bicultural plane. Laughing through the pain of introspection, and courting both humor and pathos, they use Gentefied as a way to delve into fictionalized versions of their shared experiences.
Boyle Heights, a traditionally Latino neighborhood in Los Angeles that has resisted rapid gentrification, brought these Southern California natives together on the page and later on-set. Gentefied, the bilingual fruit of their labor, tells the story of an immigrant trying to hold onto his worldview while his Mexican-American children pave pathways of their own.
Originally from Bakersfield, the son of a Mexican mother and a Guatemalan father, Lemus moved often as a kid. But it was only when he settled in Boise, Idaho—where he and his brother were two of only three Latino students at their school—that he learned he was brown, and thus seen as different. Confusion about his divided selfhood accompanied him for a long time after.
"There's subconscious messaging that there's something wrong with where we come from, that there's something wrong with being poor, something wrong with being Mexican. Especially when you watch TV and the only time anybody looks like you, they're being made fun of."

— Marvin Lemus
"There's subconscious messaging that there's something wrong with where we come from, that there's something wrong with being poor, something wrong with being Mexican," Lemus says. "Especially when you watch TV and the only time anybody looks like you, they're being made fun of. They're making jokes at my expense or at that of somebody that looks like my dad or my tía or my abuela."
Turning a blind eye to his culture, Lemus became preoccupied with conforming to the mold of the so-called "model citizen," a self-preservation tactic in a society that tacitly rejects who he is. Filmmaking as a career course, however, was less of an ideological uphill battle. Unconditionally supportive of his aspirations, Lemus's mother—an undocumented woman who found professional success as an on-air radio host for KLVE, one of LA's most popular Spanish-language stations—bought him his first mini DV camera. Years later, his loving grandmother cooked pozole to feed the entire crew of his undergraduate thesis film.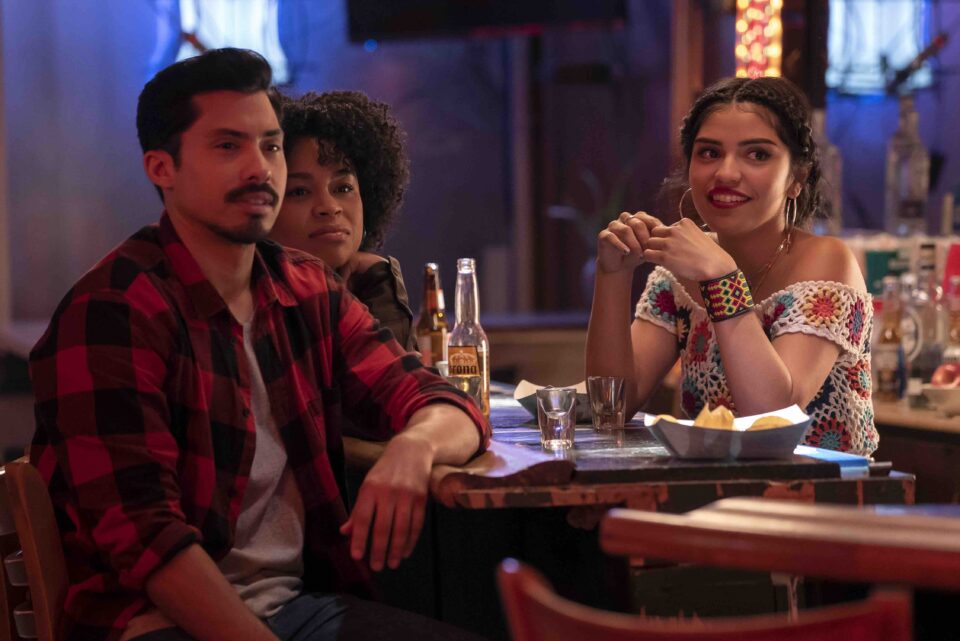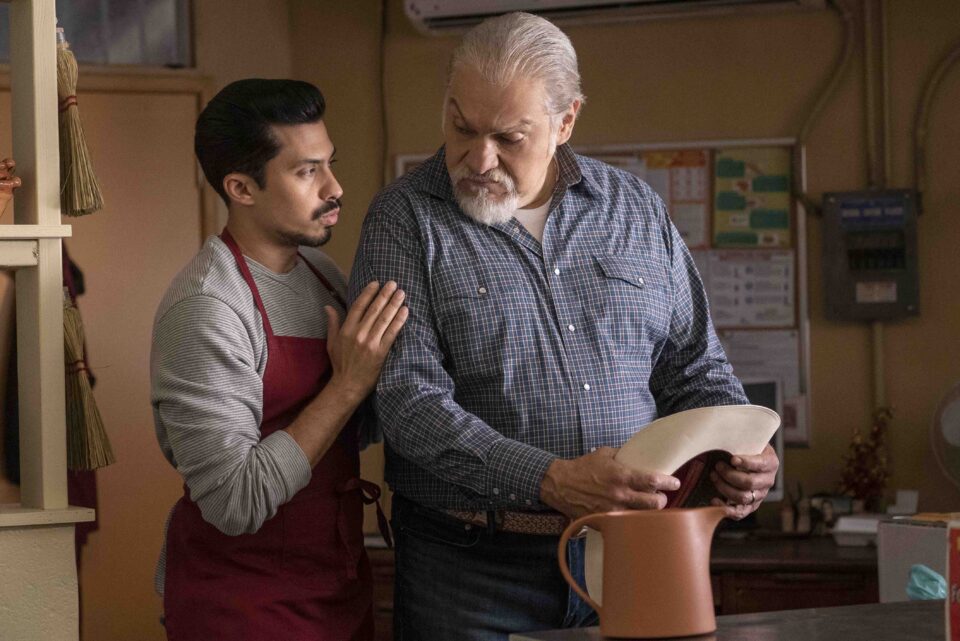 Chávez grew up in a Mexican household located in the city of Norwalk, where her aptitude for writing was acknowledged and encouraged early on. However, as with the unconscious insecurities young Lemus developed, she couldn't see her artistic endeavors as a viable career. "I didn't know that anyone that looked like us could be the people behind the camera," she recalls. "I didn't really think that was an option."
That changed while she attended Stanford. Studying under Chicana author Cherríe Moraga, Chávez was introduced to texts by diverse authors who thrived on sharing their intimate and specific worlds—August Wilson notable among them. A Master's in Screenwriting at USC followed, but even with that badge of validation her objectives still appeared distant. Meanwhile, Chávez's mother worried for her ambitious daughter's financial stability.
Before breaking through with Gentefied, both Lemus and Chávez honed their skills in digital media. Viral content and publicity campaigns made for a sustainable but ultimately soul-crushing source of income. As Chávez puts it, such work stood in the way of the "profound and important stories" they had set out to pursue separately at first and eventually as a unit. The realization that he'd gone to film school to follow in the footsteps of Robert Rodriguez instead of churning out ephemeral tasks also nagged at Lemus. Fortunately, as they sought to transition into more inspired work, they joined forces through a mutual contact after having individually partaken in initiatives by Film Independent, an organization that fosters and celebrates innovative perspectives in cinema and television.
"I didn't know that anyone that looked like us could be the people behind the camera. I didn't really think that was an option."

— Linda Yvette Chávez
"We had a lot of the same traumas and we had similar goals," says Chávez. "We wanted to tell the same stories in the most authentic way and also in the most prestigious way. It took us four months to write those [first] eight episodes [of Gentefied], and in that time we got really close."
Together, Lemus and Chávez intended to push back against the hurtful media oversimplification of Latino lives, which are often reduced to a multitude of lazy tropes that are simultaneously checked off and perpetuated. "I was like, 'I can't see another thing like that. So let me go make some Spike Lee shit. Let's make a Do the Right Thing, but with Chicanos in East LA,'" Lemus remembers. "At the time I was coming into my own identity, my own politics, understanding my Latinidad, what it meant to be first-generation, and always being stuck in between worlds. No matter where and how much I work toward accepting and owning my identity, I still can end up being an outsider just because of being born here."
In creating Gentefied, Lemus and Chávez were especially preoccupied with their treatment of Boyle Heights, a community that is rightfully protective of its stories and of how it's depicted, following decades of less-than-accurate on-screen portrayals of life there. Moreover, the pair understood that their representation of Latinos through their Chicano lens wouldn't encompass the full complexity of such a racially, linguistically, and culturally disparate community. In recognizing their limitations, they advocate for more on-screen narratives that can offer others a chance to see themselves reflected in their own unique versions of Latinidad.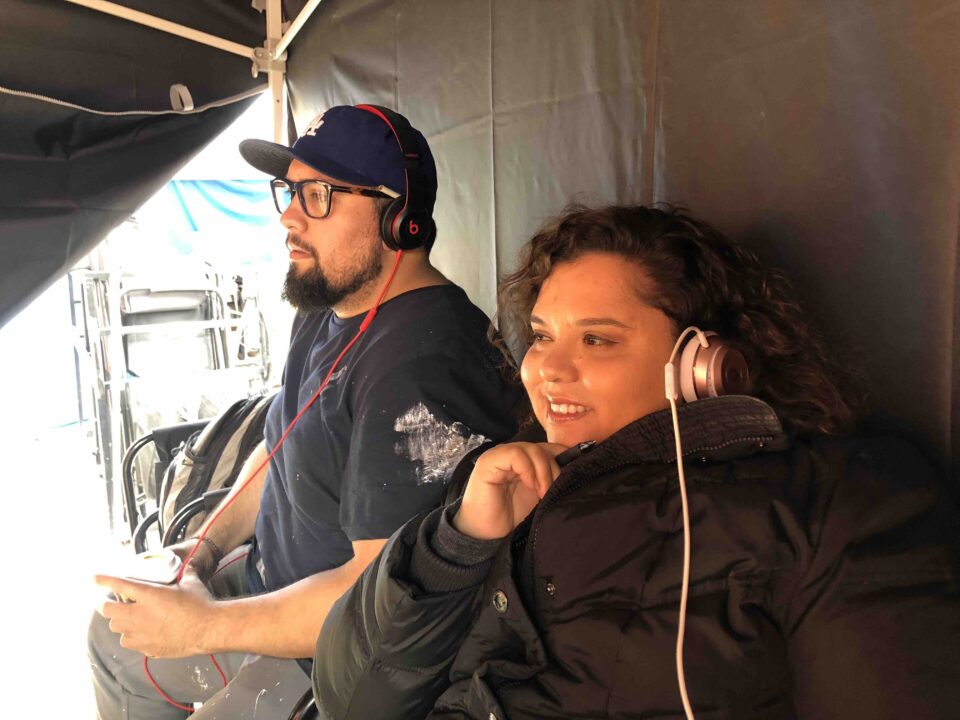 "I don't know how to make pupusas," says Chávez. "You're trying to do all the things for all the people. There comes a point where you have to accept, 'I cannot be everything for everyone. I will do my best and I'll speak from my experience. Then I'll do the extra work of creating spaces for other creators and writers and directors so that they can come up—which again, white, cis, hetero creators really don't have to do if they choose not to.'"
With MACRO—a production company focused on underrepresented artists—on board to produce the digital series, and actress America Ferrera attached as an executive producer (she later wound up directing multiple episodes in both seasons), Gentefied turned into a tangible production. A premiere at the Sundance Film Festival and a subsequent deal with Netflix finally put the pair on the right trajectory.
For the creators, the show's first Netflix season, which debuted on the streaming platform in early 2020, remains an ethereal memory, one of invaluable learning and of dreams made real. Messages from Latino viewers moved by what they had authentically accomplished flooded their inboxes just hours after the first batch of episodes was released. Gentefied's protagonists, the Morales family, a mixed-status Mexican-American clan, was brought into the episodic landscape with the utmost care for the spaces they inhabit, the food on their table (Chávez was very serious about the look of the tortillas on camera), and, most importantly, an emotional truth to the contentious but always affectionate dynamics of people finding common ground amid their sometimes-incompatible views.
"These immigrants literally brought you this show, through their children, through their sacrifice."

— Linda Yvette Chávez
Season 2 of the series was green-lit and shot during the pandemic, surviving the streaming giant's cuts. This time around, Lemus and Chávez, who had been shadowing a veteran showrunner for the initial season, were now stepping into the role without a chaperone. Showrunning, including putting together a writers' room, proved daunting. However, considering the state of the world at large, the team chose to take all challenges with a relaxed mindset, only prioritizing safety. In the grand scheme of things, the show—obstacles and all—was a blessing. Furthermore, even before the global crisis, their worries were constantly put into perspective by thoughts of what Lemus and Chávez's parents endured to get them here.
Built on bricks of labor held together with hope, the future they envisioned for Lemus and Chávez had no predetermined form other than their wish for them to access what they couldn't. Lemus recalls that his mother, who doesn't always comprehend what the work he's chosen entails, has never been more ecstatic than when he won a free trip to Switzerland to receive an award for a video sketch at the 2013 Montreux Comedy Festival. Her humble satisfaction at his achievement taught him a lesson in gratitude.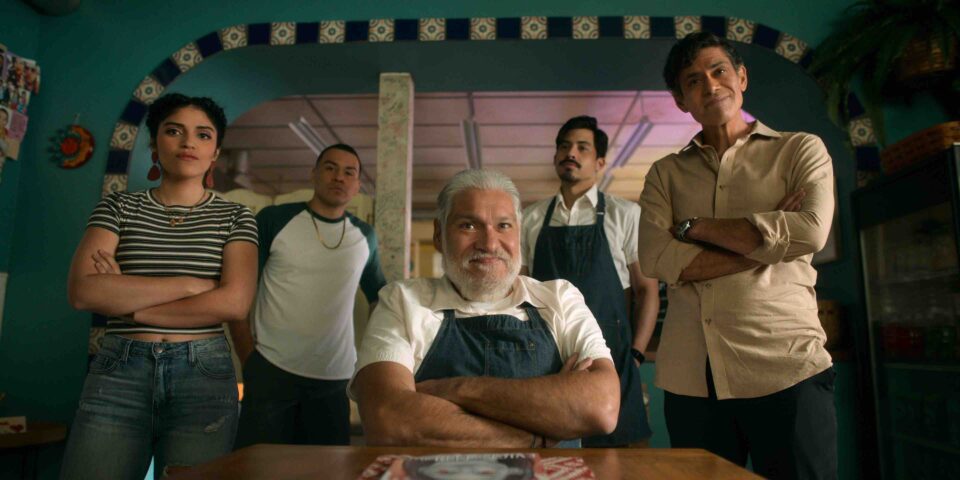 For the pair behind Gentefied, their parents and relatives who ventured into the unknown for the promise of something better are heroes who "this country treats like vermin, like terrorists, like aliens." Thus the essence of their plight in storytelling is to retroactively dismantle those notions in the most visible manner possible.
To that end, Lemus crafted episode seven of Season 2 as a beautiful meta tribute which concludes with Pop, the show's patriarch (portrayed by accomplished Mexican actor Joaquín Cosío), breaking the fourth wall to deliver an impassioned speech. As his heartbreaking words land with indelible intensity, shots of those who gave everything for Lemus and Chávez grace the screen. For Chávez, the message is clear: "These immigrants literally brought you this show, through their children, through their sacrifice."
"The only way that I could humbly show the proper respect and love was to put my lens on them," adds Lemus, holding back tears. "I wanted to emphasize this by putting our real parents and the real immigrants in our lives, the people that have inspired everything, on screen. It was a very simple way of just being able to say, 'I see you.'" FL