In a remarkably well-lit room in the middle of Manhattan, writer, director, cartoonist, and actor Owen Kline (The Squid and the Whale) and actor Daniel Zolghadri (Eighth Grade) are here to discuss their new film Funny Pages. In his directorial debut feature, produced by A24 and the Safdie brothers' Elara Pictures, Kline brings us the grimy underbelly of the disgraced New Jersey comic scene. The film follows 18-year-old Robert, a gifted cartoonist who abandons his spoiled-rotten suburban life and education plans in a misguided search for a truer artistic path. 
In this interview we discuss the film, casting Zolghadri and his co-stars Miles Emmanuel and Matthew Maher, Kline's new programming series at Lincoln Center, comics (the drawn-art kind as well as the stand-up kind), Jerry Lewis, glycerin, perms, and sweaty basements.  
Patrick Devitt: Let's start broad—Owen, what have you been up to since [2005's] The Squid and the Whale?
Owen Kline: Oh my god… [Laughs.] I went to high school, I went to college. I drew some comics; I played in some stupid novelty bands; I made some films—shorts, a bunch of shorts…
Ben Mendillo: When did you begin to make films?
Kline: High School. A cool school called Columbia Prep. There was a really great comics club; they had a comics publication that I helped edit.
Mendillo: If you had to choose between comics and film, what would it be?
Kline: I wanted to draw. I always focused on three panels and a punchline. I really like comedy. I like humor in movies, and I like humor in comics. I also like drama in movies and comics, but I always liked funny stuff. 
"I think I was like the farthest you can be from this world. I come all the way from California, and this movie is such a tri-state area thing."

— Daniel Zolghadri
Devitt: What about you, Daniel? How did you find yourself playing a couch-surfing aspiring comic book artist?
Daniel Zolghadri: I sent a tape in, and then [Owen and I] met for an audition.
Kline: Yeah, I saw him and immediately knew.
Mendillo: Did you audition most of the cast, or just for the character of Robert?
Kline: A lot of the other characters were written for people—like in the basement, for example, Cleveland Thomas Jr., with whom Daniel's character Robert shares a bedroom.
Zolghadri: I think I was like the farthest you can be from this world. You know, I was from California. Everybody else in this movie is drawn from people that [Owen] has met over the years… 
Kline: …but you had a somewhat isolated existence, right? 
Zolghadri: Oh, right. I just mean that I come all the way from California, and this movie is such a tri-state area thing. 
Devitt: I feel it's safe to assume that you had Miles Emanuel, who plays Robert's childhood friend, in mind when writing his character? 
Kline: Absolutely. We've been workshopping that character, his world and dialogue, since Miles was probably 13. Now, he's 22.
Devitt: When did you initially meet?
Kline: He was a kid who came into the video store where I worked, Reel Life in Park Slope. He was just a smart kid in a parka with some wireframe glasses that was returning Ingmar Bergman's The Hour of the Wolf on video with his babysitter. He was religiously going through the 1,001 Movies You Must See Before You Die book. At the time, he wouldn't take my recommendations. I tried to recommend something like Bobcat Goldthwait's Shakes the Clown, and Miles would go, "Not in the book!"
"Working with [illustrator Johnny Ryan], you give him a list of fucked-up drawings he could potentially do and give him the framework of what the context is; then, you get a bunch of drawings a couple hours later, and it's kind of like magic."

— Owen Kline
Mendillo: This Friday is the start of your week-long programming series, Animating Funny Pages, at Film at Lincoln Center, featuring a range of films that inspired Funny Pages. Some titles include Frank Tashlin's Artists and Models, Robert Downey Sr.'s Greaser's Palace, and Mike Judge's Office Space—all on  35mm prints. What went into selecting these films? 
Kline: There were about 15 films in my head when I started this movie, and different aspects of them I was thinking about when I was writing it. The series pretty much resembles what's on that list, minus a couple titles like Tom Schiller's Nothing Lasts Forever and Better Off Dead, which was a really important '80s comedy for me. For this series, I just focused on whack-job comedies in general. 
Devitt: The series kicks off with "Owen Kline's Mystery Reel," which the screening notes describe as a "one-time-only screening made specially for this series, this hour-long, evolving 35mm print of film clips, commercials, trailers, and other surprising miscellany was handpicked and assembled by Owen Kline." What can you tell us  about this project? 
Kline: Compiling the mystery reel was ultimately an excuse to rummage through my friend Bob Furmanek's archive in his house. He was Jerry Lewis' archivist in the '80s and has a ton of incredible, never-before-seen Jerry Lewis oddities and outtakes. For example, there's an outtake reel of Jerry Lewis doing promotional materials for Jerry Lewis Cinema, which failed miserably, unfortunately.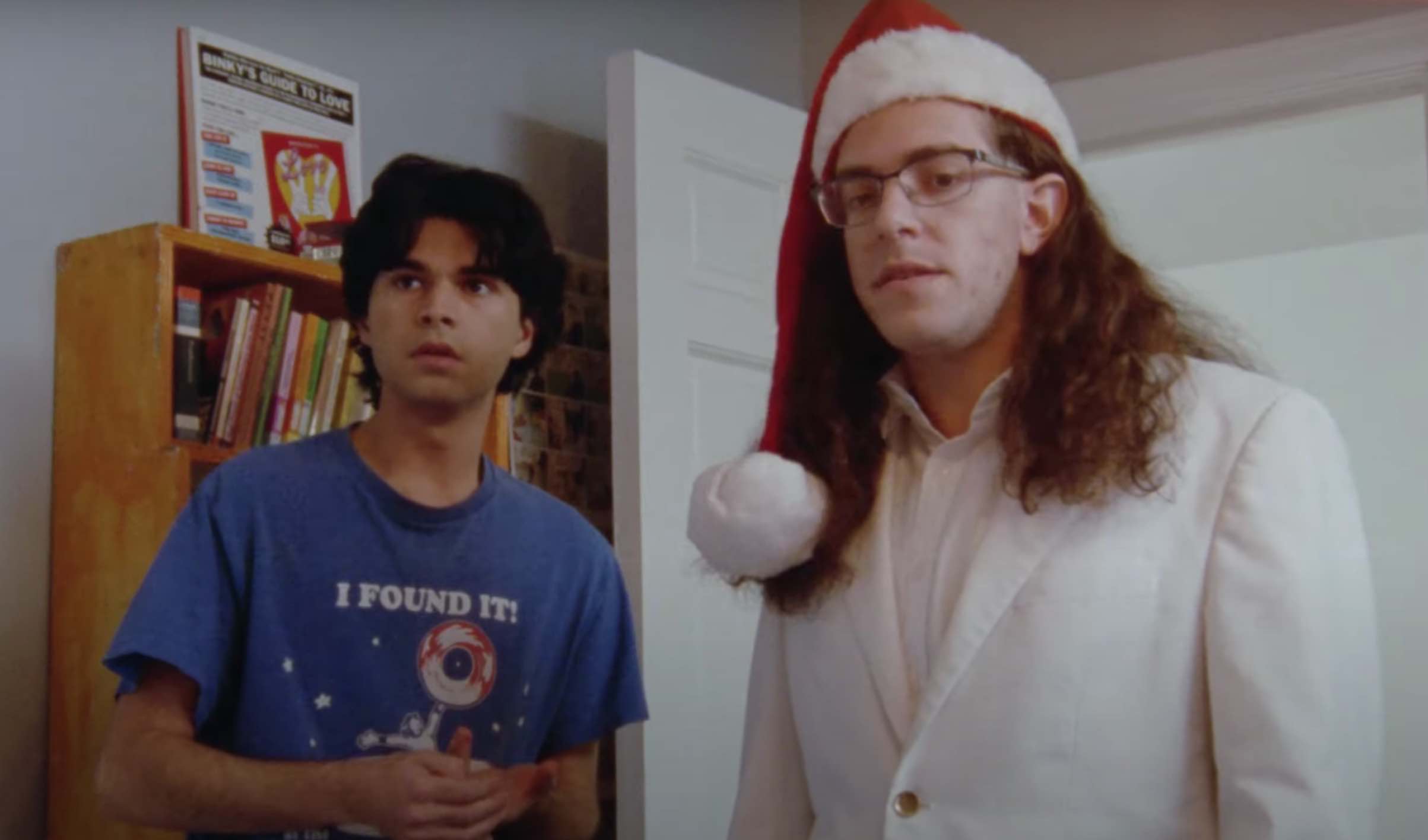 Devitt: What was Jerry Lewis Cinema? 
Kline: It was this whole scheme he kinda lent his name to—that people could open it up across the country. It was sort of like a 7-Eleven or something where you can invest in the brand and open your own Jerry Lewis Cinema in your town. The concept was that if one man could direct and make a movie and write it and storyboard everything, then one man could run a theater…he was absolutely wrong. One person shouldn't rip the ticket. The person shouldn't be projecting, cleaning the theater, giving you popcorn, and all those elements.
Devitt: I look forward to checking out the promotional material for the Jerry Lewis Cinema on Friday night.
Kline: Yeah, it's him falling out of his chair and going, "Cut!" There were these really funny takes for the Jerry Lewis Cinema like, "Hi, my name is Gregory Peck" — just silliness. I don't want to  ruin too much, but some excerpts are adjacent to The Three Stooges—other '30s, '40s, and '50s short subjects that feature charmless, ugly men playing doctors, dentists, and butchers who are inept…and slapstick ensues. So there's a sort of focus on ugly people at the forefront of slapstick [laughs]. 
"I really tried to write the characters genuinely and think about their internal worlds... I tried being cartoony with them; you want to go to the ceiling, but keep it grounded and still feel authentic."

— Owen Kline
Devitt: On the subject of inspirations in film, let's talk about the inspirations in comics. During the credits, you list three artists who did the drawings. Could you talk about how you selected those artists?
Kline: Johnny Ryan felt essential to it. I was reading Angry Youth Comix when they came out; I wrote letters to him that he ran in the comic book. With his natural style and sense of humor, we just ran it to an even more juvenile degree than his natural gears, because we created the art and portfolio of a high school student, you know? He could loosen up and be a bit crude with that, and because of that he's already prolific—he cranks 'em out. So working with Johnny, you give him a list of fucked-up drawings he could potentially do and give him the framework of what the context is; then, you get a bunch of drawings a couple hours later, and it's kind of like magic. And I inked all of his stuff. [Johnny] penciled it, then it gets scanned, and finally inked.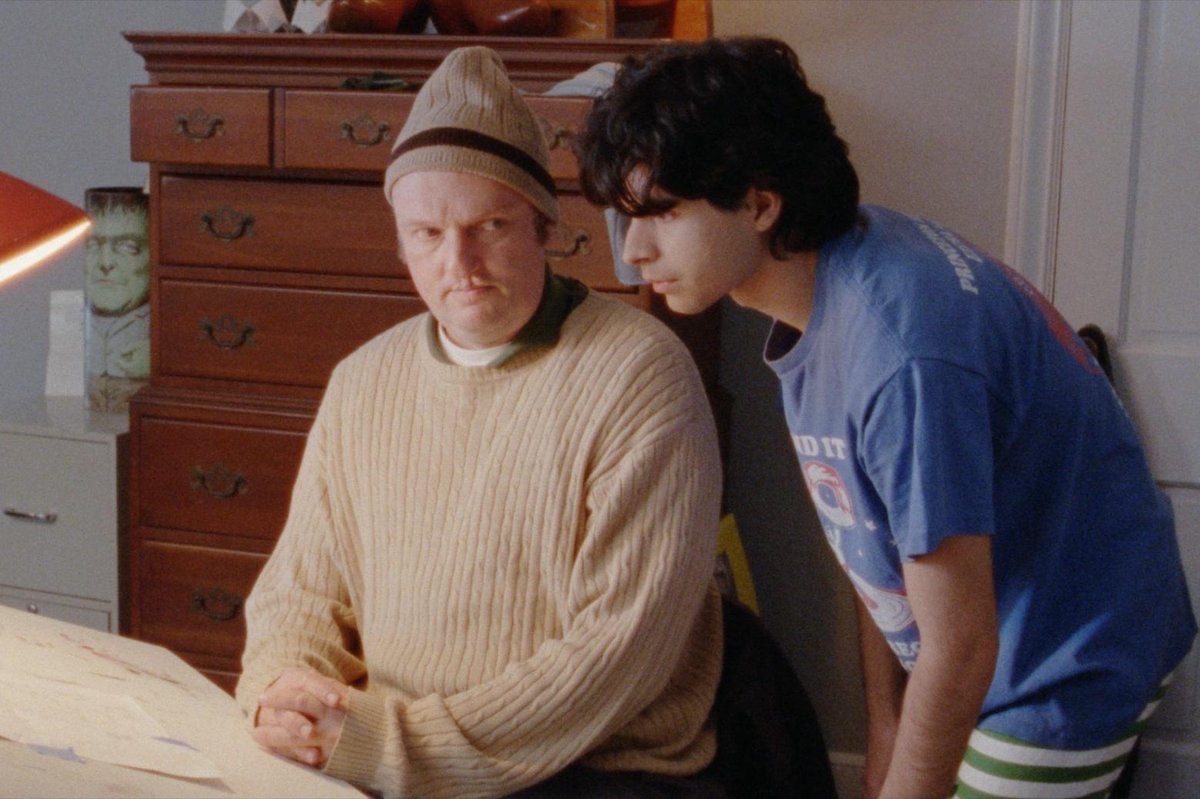 Devitt: Hopefully when you did the inking for it, you didn't get yelled at like Wallace [played by Matt Maher] yells at Robert in the movie. Speaking of Matt Maher, it was great to see him in a more dynamic and substantial role; did you always envision him as the "mentor" character?
Kline: I always imagined the character as an angry, neurotic Jewish guy who was a little bit off the rails. But he became kind of the most interesting idea, and he brought this kind of snottiness and prissiness that countered the dangerous-convict element. It just felt kind of funny that he's a little bit of a…well, he's particular, but he's unchained. It was just a funny concept we came upon, and Matt could tap into that and make it his own in a way that was kind of astonishing. I spent so much time just working on the Wallace rants and trying to get it to feel like there's an internal logic there that makes sense to an audience but is deeply wrong. Still, there is a logic to how he uses Robert in the pharmacy, for example.
Mendillo: From Robert's perspective in the film, all these characters he draws are kind of like vile, transgressive, almost cartoonish-looking people. Did you consider this when you were casting in terms of how people look physically, or did that arise in production? 
Kline: I really tried to write the characters genuinely and think about their internal worlds and their ideas about the world and how those were kinda rubbing up against each other. But, you know, different things for different people—like glycerin, fake sweat, really helped in the basement for everybody. Or like Cheryl [Marcia DeBonis] deciding that maybe this woman would have a perm. I tried being cartoony with them; you want to go to the ceiling, but keep it grounded and still feel authentic. FL