This article appears in FLOOD 12: The Los Angeles Issue. You can purchase this special 232-page print edition celebrating the people, places, music and art of LA here.
Kira Roessler has traveled far and wide over the course of a lengthy music and film career that included a stint as the bassist for the iconic hardcore-punk band Black Flag. But for her, one of the most precious places in the world is a shady dog park in the San Fernando Valley. She's there regularly with her three fuzzy little dogs: Hank, Jim, and Madison (a.k.a. Stinky).
"Do I seem to have a type? They're off-white," says Kira, in electric blue hair, who often goes only by her first name as an artist. "They go to the dog park and they're real dogs—they don't stay white for long."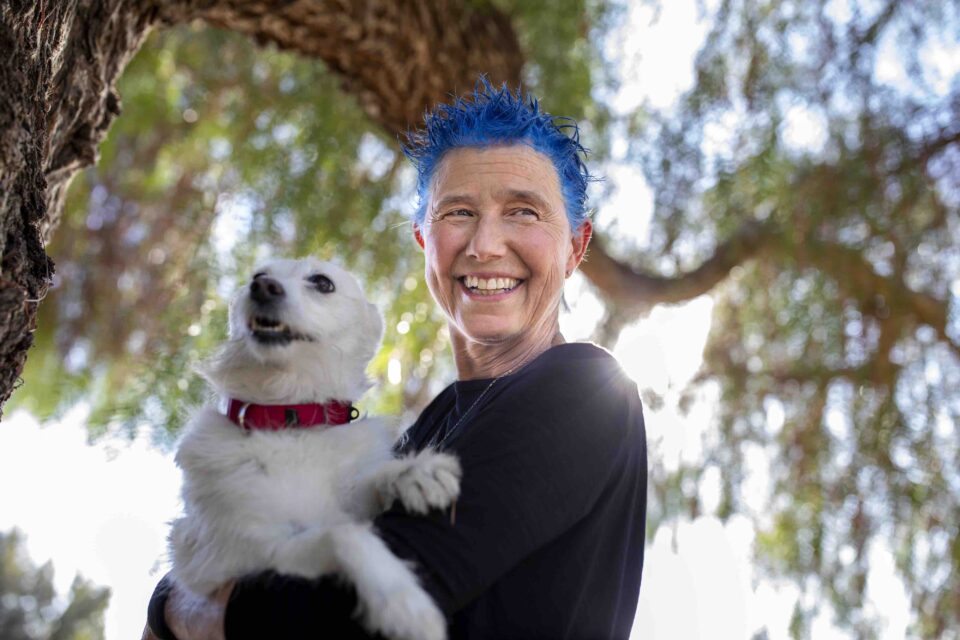 The park was a favorite spot for another beloved dog of hers, a Bichon Frise named Hombrito, who died at eight years old in 2013. Some of his ashes were scattered under one of the trees here at the Sepulveda Basin Off-Leash Dog Park, while others remain in a small metal vial on a chain which Kira wears around her neck everyday. "He used to come here," she says, her voice cracking as she remembers him. "So you see, this park has a lot of meaning for us."
"Do I seem to have a type? They're off-white. They go to the dog park and they're real dogs—they don't stay white for long."
Hombrito also appears on the cover of the bassist-singer's first-ever solo album, Kira, a collection of songs built from the bass up, equal parts punk rock, jazz, and avant-garde in the uncompromising tradition of Black Flag and other essential acts from the most active years of their label, SST Records (Minutemen, Meat Puppets, Sonic Youth). Partly inspired by her beloved pet, the music is layered with sadness and beauty. "The record tells a story of love and loss," she explains. "These are universal ideas, but for me in the moment I was writing the story, the story was about a particular dog of mine."
The sound and approach are in a similar spirit to her work in dos, her two-bass duo with former husband and Minutemen bassist Mike Watt. Dos has released several records since their self-titled 1986 debut, a mostly instrumental collection played entirely on their basses. "We just didn't feel like there was room for anyone else, frankly," Kira explains now. "We don't feel that it's an instrument that has to have a supporting cast." Aside from those recording projects, her main work is as a successful sound/dialogue editor for film and television. She's won Emmys and was part of the sound team that brought home an Academy Award in 2016 for Mad Max: Fury Road.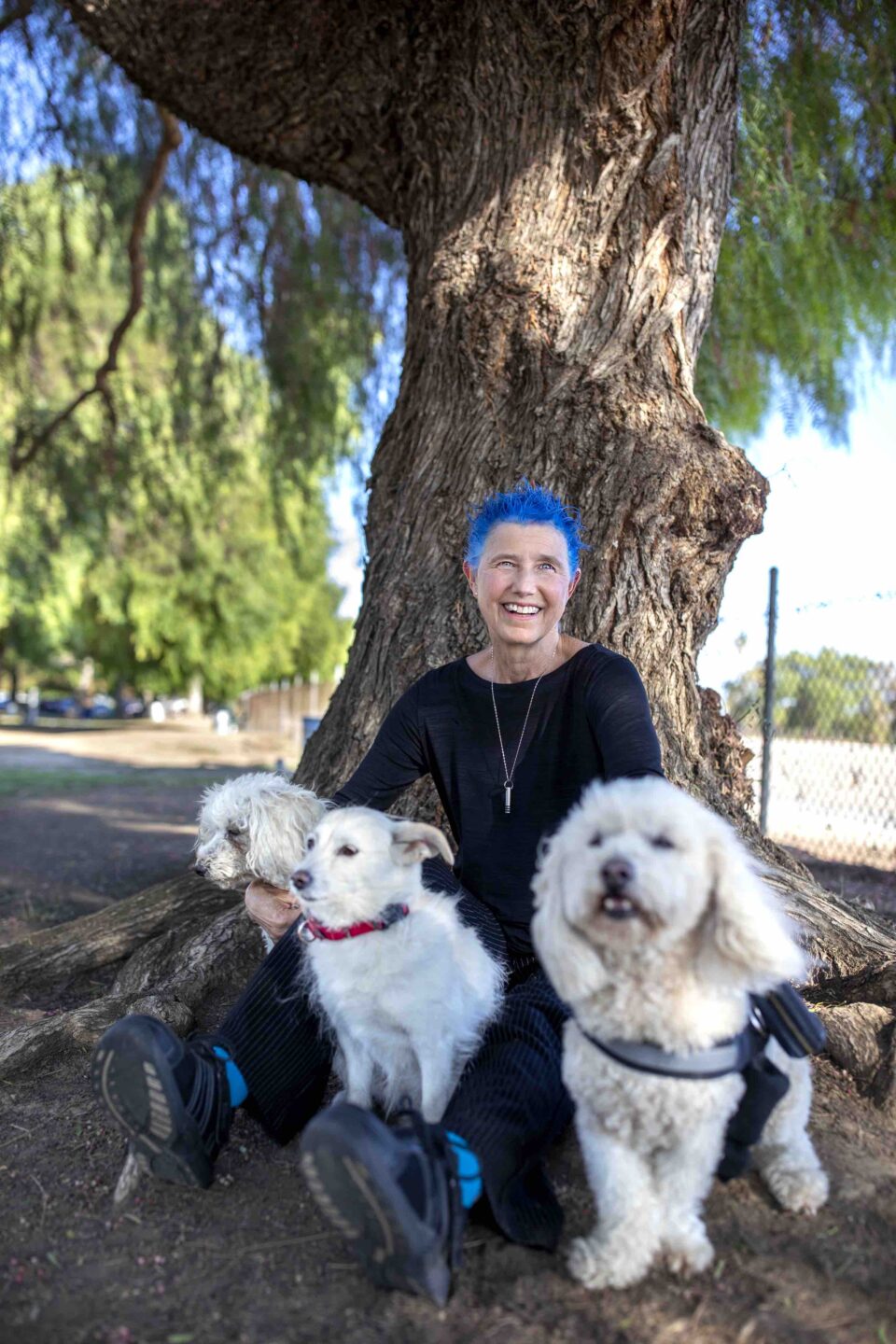 Kira was born in Connecticut and lived there for eight years followed by a few years in the Caribbean; her family finally landed in Los Angeles when she was in junior high. She then went to UCLA to study computers, and was still a student when the chance to join Black Flag unexpectedly arose. That makes her an important figure in a historic, ground-breaking band, but punk rock wasn't recognized as anything positive by mainstream culture back in the '80s. "To society at large, it was just something that was scary and unknown and dark," she says. "Nowadays it's very accepted. I don't know if people think of punk rock the same way I do, but I think of it as being a nonconformist, doing things that aren't like everything else."
"To society at large, [punk rock] was just something that was scary and unknown and dark. Nowadays it's very accepted. I don't know if people think of punk rock the same way I do, but I think of it as being a nonconformist, doing things that aren't like everything else."
For Kira, a perfect day in LA begins at home in Studio City with a dog walk in the morning, followed by a cup of green tea, a bite of something, and a bit of bass playing. From there, she can often be seen swimming laps at the outdoor pool at Van Nuys/Sherman Oaks Aquatic Center. "Your fingers get kind of wrinkly in the pool," she says. "You'll shred 'em if you play bass right after swimming."
For an early evening dinner, she'll often land at Sushi Dan in Studio City. "They call themselves 'Rockin' sushi,' but really, for me, the important part is the freshness of the fish."
When not going to the Sepulveda Basin dog park, a special trip for her three pets is Leo Carrillo State Beach in Malibu. There, she and the dogs can visit the 1.5 miles of beach, including areas welcome to leashed dogs. There are tide pools, coastal caves, and reefs, with sycamore trees for shade. The experience can be especially exciting for city dogs, she says, "with those smells going down to the water. Their eyes light up, and their heads go up in the air, and they smell the smells." FL