During an appearance on The Howard Stern Show yesterday, Seinfeld's Jason Alexander explained why the show killed off George's fiancée Susan, played by (professional ukulele player!) Heidi Swedberg. Alexander apparently couldn't figure out how to adjust to Swedberg's performance, and, despite his continued efforts, never felt that he was able to make the characters gel.
According to Alexander, Jerry Seinfeld and Julia Louis–Dreyfus were having similar difficulties figuring out what to do with Susan—a problem whose every intricacy and complication we can only imagine were discussed ad nauseum by the three actors as they stood around a moderately furnished Manhattan apartment, only to be interrupted by Michael Richards bursting through the door. "Don't you just want to kill her?" Alexander remembers Louis–Dreyfus saying, to which the show's co-creator Larry David responded "Ka-bang."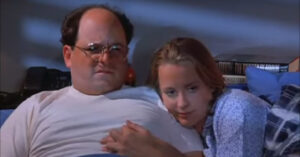 Now, though, Alexander has taken to Twitter to explain his statements, and to clarify that it was his inability to play off of Swedberg—and not Swedberg herself or her performance—that caused the problem. "I and the cast really liked and like Heidi," he said.
She is a kind, lovely person who undoubtedly worked really hard to create Susan and that character was clearly what Larry and Jerry wanted her to be for George. I just felt I was on uncertain ground in how to play off that character and I was always concerned that it wasn't working. […]Heidi would always ask if there was anything in the scenes she could do or if I had any thoughts. She was generous and gracious and I am so mad at myself for retelling this story in any way that would diminish her. If I had had more maturity or more security in my own work, I surely would have taken her query and possibly tried to adjust the scenes with her. She surely offered. But, I didn't have that maturity or security. […] To Heidi, I personally apologize. You are a sweetheart. I actually launched into this on Stern to defend you. But this is why I'm not a lawyer.
Read the rest of Alexander's statement here, then, on June 24, stock up on muffin tops and blocks of cheese and start watching every episode of Seinfeld on Hulu.
(via Mashable and The AV Club)