Surprising approximately no one, Apple unveiled their long-awaited streaming service Apple Music this week, and instead of offering almost anything new, they simply chose to do everything that the other services are doing and hope that good design and name recognition is all people need to make the jump.
And we all will, probably. As WIRED points out, Apple currently has around 800 million credit card numbers on file, and given that they put that U2 record in your iTunes without asking, don't think for a minute that they're not going to stuff the streaming software onto your iPhone and subsequently bother you until you try it out (you know, just like they have by forcing the Apple Watch app onto your iPhone).
https://www.youtube.com/watch?v=Y1zs0uHHoSw
Ironically, one of the only things separating Apple from the pack at this point is, in fact, a long trial period. When it launches at the end of June, they'll be offering a ninety-day advance membership for free, after which it'll be $9.99 a month. Notably, they will also offer a $14.99 family plan, allowing up to six people to use the account (though you'll need to activate the iCloud Family Sharing setting, so it won't be as ubiquitous and easy to share as, say, a Netflix login. Unless you really believe that your bros are family).
Other than that—Drake and Weeknd appearances aside—it seems that this is a far cry from the level of innovation we expect from Apple. You've got your "human curated" playlists (a troubling business model, to be sure), your artist interaction tool (TIDAL is doing that better), and your gigantic swath of available music (Spotify has the same amount), but nothing to push the conversation forward in any useful direction.
Or, as the Spotify CEO Daniel Ek summed up in a (now deleted) tweet: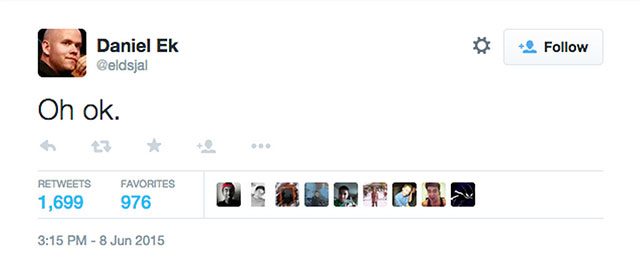 But Apple's stance might be exactly what they want it to be right now anyway. Since the 1980s, they've never been first at anything, really—they've always simply been the best. Given the state of the current streaming competition, that shouldn't be very difficult for them to accomplish here. And whatever happens, if recent reports turn out to be true, there's more than one way to the top anyway.
(via The Verge)