As we brace ourselves on the West Coast for whatever the hell El Nino actually is, California garage king Ty Segall is continuing his torrential output, seemingly preparing for the end of days by holding out in a bunker of noise. And though it may have been almost a year since his last solo album Manipulator, Segall's been busy with a recent live album, a mysterious new band called Broken Bat, an upcoming reissue of his two T. Rex covers EPs, and now the return of his beloved supergroup of sorts, Fuzz.
Made up of Charles Moothart (Ty Segall Band) on guitar, Chad Ubovic (Meatbodies) on bass, and Segall on drums, the sludge-trio trade vocal spots (and solos), and have been playing shows and dropping singles sporadically since their self-titled debut in 2013. Staying true to their influences, Fuzz are numerically moving forward with II, a fourteen-song set, from which you can hear the tracks "Pollinate" and "Rat Race." The whole thing will drop in October, just as the rain and mud begins to seep into your garage.
Fuzz are also setting out on a massive tour this fall to celebrate the record. Those North American dates, along with the gnarly album art and track listing are below.
II track list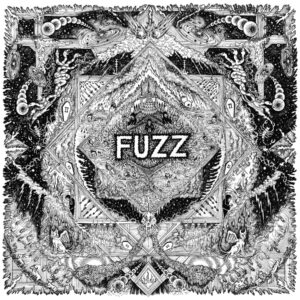 1. Time Collapse pt. II / The 7th Terror
2. Rat Race
3. Let It Live
4. Pollinate
5. Bringer of Light
6. Pipe
7. Say Hello
8. Burning Wreath
9. Red Flag
10. Jack the Maggot
11. New Flesh
12. Sleestak
13. Silent Sits the Dust Bowl
14. II
Fuzz tour dates
October
16 – Sonoma, CA – Gundlach Bundschu Winery
17 – Crystal Bay, NV – Crystal Bay Casino
18-19 – San Francisco, CA – The Chapel
20 – Los Angeles, CA – The Regent
November
3 – Santa Ana, CA – Constellation Room
4 – Tucson, AZ – Club Congress
5 – El Paso, TX – Lowbrow Palace
6-7 – Austin, TX – Fun Fun Fun Fest
8 – New Orleans, LA – One Eyed Jack's
9 – Memphis, TN – Hi Tone
10 – Nashville, TN – Mercy Lounge
11 – Atlanta, GA – The Earl
12 – Asheville, NC – Grey Eagle Tavern & Music Hall
13 – Washington, DC – Black Cat
14  – Philadelphia, PA – Underground Arts
15 – New York, NY – Bowery Ballroom
16 – Cambridge, MA – The Sinclair
17 – Montreal, Quebec – Le National
18 – Toronto, Ontario – The Hoxton
19 – Detroit, MI – PJ's Lager House
20 – Chicago, IL – Thalia Hall
21  -Omaha, NE – The Waiting Room
22  -Denver, CO – Bluebird Theater
23  -Salt Lake City, UT – Urban Lounge
II is out October 23 via In the Red Records.