Before Light Up Gold made its case to be this generation's Slanted and Enchanted, Andrew Savage of Parquet Courts was simultaneously in Fergus & Geronimo, another excellent—but significantly different—Brooklyn via Texas band (to give you an idea, their most recent album is titled Funky Was the State of Affairs). That project has been put on hold of late, but Savage and Chris Pickering, a member of F&G's live act, still run a label together known as Dull Tools, of which the latest release is the debut album from Pickering's new band (along with Jason Kelly, Brit Boras, Heather Strange, and Jake Pepper) known as Future Punx.
Doubling as a title and proclamation, This Is Post-Wave has already revealed itself to contain an intriguing and contagious litany of styles and influences via the first single "Ever You Go," and now we have the second track, "Any Other Way," to elaborate on what "Post-Wave" means in the catchiest way possible. Sounding like it would slot nicely in between "Life During Wartime" and "Computer Age" at a sweaty summer party in a city apartment, the track is all the explanation you'll need as to why Future Punx function as self-described "musical omnivore[s]."
 
Fittingly enough for a conversation about semi-futurist topics, we talked via email with Future Punx guitarist/singer Jake Pepper (and writer of "Any Other Way") about the band's aesthetic and approach. That conversation, along with the This Is Post-Wave album art (done by Andrew Savage, who's been busy in the visual medium lately) is below.
---
Future Punx is tough to categorize in terms of genre. How would you classify the freaky funk that the band is making?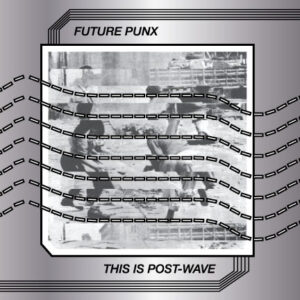 Jake Pepper: I appreciate the compliment. We categorize our music as "Post-Wave" which is our personalized non-genre/way of life. It's an obvious pun on "post-punk" and "new wave," indicating our love of those genres and declaring our intent to create something new by bringing some of their ideas into the future, though we don't strictly limit ourselves to influences from those styles. Genres are useful as descriptive terms, but can easily become constricting when it comes time to create or when used to define one's personal or social life. Future Punx embrace an open mindset and intend to evolve as we go, so we're very glad to not be categorized too easily. The main goal is to make music and put on shows that excite us and turn people on, so whatever that might require, we're interested in trying.
There's a Silver Jews song where David Berman says "Punk rock died when the first kid said 'Punk's not dead.'" Is there a future for quote-unquote "punk"?
JP: These terms are highly loaded these days. It's hard to even talk about "punk" without putting it in quotes. It may help to differentiate between the musical genre "punk rock," which is sonically somewhat limited, and the aesthetic defined as "punk," which can be a useful, more general term for describing a certain ineffable attitude or a kind of openly passionate expression of the boundless, restless creative energy available within us all. With that said, I think there is a future for both punk rock and punk, though I'm currently more interested in the latter, as in, what happens when "punk" ideas are applied outside of a strictly "rock" context. As Berman also said, "All my favorite singers couldn't sing."
I hear a lot of Fear of Music on "Ever You Go" and "Any Other Way." Is it fair to cite Talking Heads as an influence? 
JP: Talking Heads are a definite influence. I'm glad you spotted Fear of Music in particular. It's my personal favorite Heads LP. I love its weirdly thin, gritty, live-yet-treated sounding production, and the anxious, edgy overall tone. As with much of Eno's classic work, it's an ideal of what I'd call "mid-fi" production, in that it's a well-recorded major label record that deliberately avoids many of the tropes of what you'd assume a "well-recorded major label record" would sound like, and ends up sounding like it's own unique little world. "Any Other Way" in particular was also very much influenced by the style of songwriting on that album: short, funky, dark little pop tunes with weirdly catchy guitar leads and almost comically paranoid lyrics.
What are your thoughts on the New York/Brooklyn scene right now?

JP: The scene is thriving right now. I've been here for fifteen years, and it's been very interesting to watch the scene evolve. Currently Bushwick is loaded with excellent places for bands to play, like Alphaville, Silent Barn, and Palisades, and I look forward to the impending reopening of Market Hotel. It's been great to see all these spots start to pop up and make up for the losses of several great Williamsburg venues last year (though Williamsburg is still holding it down with Baby's All Right, one of our favorite places to play).
There's too many great bands around to list, but we're proud and grateful to consider ourselves part of a larger family of exciting bands and artists in Brooklyn right now. We've been taking a little time off from playing out as we gear up for our European tour, and I've taken the opportunity to go out and just watch and take in some shows for a change. Just last weekend, I saw WALL, MPHO, Bambara, Honduras, and Pill all play a variety of inspiring sets within walking distance from my apartment, and the week before Crazy Spirit blew me away opening for Total Control, and I hope to catch Pop 1280 this weekend. It's a really exciting time to be a music lover in this part of the world.
---
This Is Post-Wave is out August 28 via Dull Tools and available for preorder here.