There is no better way to test a young band's mettle than to stick them outdoors, under a blazing hot sun, and turn up the real-feel humidity to ninety-nine percent. This is how I first encountered Wolf Alice—the toast of North London alt-rock—all sweaty, bouncing and flouncing across a stage along a pier in Philadelphia, playing a multi-band gig for that town's modern rock station and sounding like a kiddie Siouxsie and the Banshees for their troubles.
"It was weird seeing people doing that game with the net while we were playing onstage," says Wolf Alice singer and guitarist Ellie Rowsell, talking about what I think was a volleyball match. "It was too hot to do anything, let alone do that."

As part of their summer of discontent, the feral, now-five-year-old Wolf-en ensemble will endure more than their share of odd afternoons now that their debut full-length album, My Love Is Cool, has been released. A long-awaited recording from a formerly folksy duo (with fellow guitarist Joff Oddie) turned '90s-inspired quartet (once drummer Joel Amey and bassist Theo Ellis joined), My Love Is Cool finds Wolf Alice going beyond the fuzz-toned fizz of its initial EPs (2013's Blush, 2014's Creature Songs) into something harder, darker, and immensely hummable. My Love Is Cool is 4AD's Cocteau Twins and Matador's Cat Power meets Sub Pop-era Nirvana—the latter a noted influence upon Wolf Alice. "We like Nirrrrrrrrrrrrrrvana," Rowsell says, sounding more bored than buoyed. "White Stripes, Strokes, Green Day." Ho hum.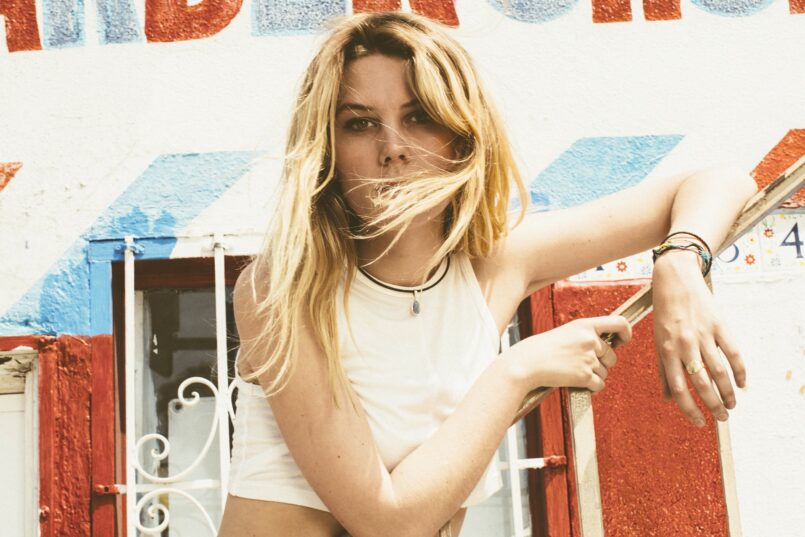 It's amazing that Wolf Alice dig such typically plebian stuff yet sound so refreshingly outré and outlandish, with a sophisticated edge and a folksy intimacy. "There's pop in our diet, like P!nk and Kelly Clarkson, and gentler folk music such as Laura Marling and Nick Drake. We never cared what was cool or if people were listening to what we liked. It could be The Offspring one minute and Carole King the next."
The lone-lady-behind-the-mic antics of King are truly the best place to start when discussing the beginnings of Wolf Alice. Naming themselves after a short, fable-like story by British feminist and magical realist author Angela Carter, Rowsell and Oddie met on the web and started playing out on the open-mic circuit of North London.
"We were just two people looking to play music with somebody, both wanting to do their own stuff, so we each went looking on the Internet and found each other," says Rowsell. "When I saw Joff in person he seemed to be a somewhat normal person, for whatever that's worth—more so than some of the other people I've met online. So we had a go at it. But—but, but!—there was no initial sense of what direction it would take. It was all just testing out the waters until we landed upon something."
Rather than waste money and hours in rehearsal spaces or makeshift bedsit studios, the Wolf clan pragmatically spent time playing free shows, as it was the only way that they could hear what they were doing as songwriters, singers, and players with any sort of real immediacy, to say nothing of cost efficiency. They could gauge reaction to their early songs like "Every Cloud," "Wednesday," and "Destroy Me," which wound up on the duo's eponymously titled 2010 EP.
"You didn't have to elaborately set up anything to be heard," says Rowsell. "Also, quite frankly, when we started playing, we honestly didn't know if we would completely get along or if we would even like each other. We didn't know what we were doing or how to do it. Also, I didn't know anyone else who did open mics or even went to them. I didn't have to worry about anyone I knew hearing me test out my songs. That would have been a nightmare. If I didn't like something, I could erase it from history—no promoters, no managers, no one to know anything. Just come bring your guitar and sing out. It was perfect."
Once the Wolf Alice lineup was completed in 2012 (except for the window dressing of further, fuller instrumentation), little had changed in the songwriting—Rowsell and Oddie were still its core. "We were more twee at the start," she says ironically, as early quartet songs such as the BBC Radio 1 hit "Leaving You," the bold "Heavenly Creatures," and the caustically comic "Fluffy" were far from timid or lighthearted. They moved and grooved with the force of spiky garage-punk touched by the silken sheen of electro-pop. Why they didn't get around to making a full album sooner simply comes down to Wolf Alice's writers and singers being patient and careful about their future. Reasonably, two years ago, My Love Is Cool wouldn't have been the same work that it is now. "We definitely weren't ready before this," Rowsell says. "Two years ago it would have been a rush and whatever. We had to grow into an album—get ready to put our best face on."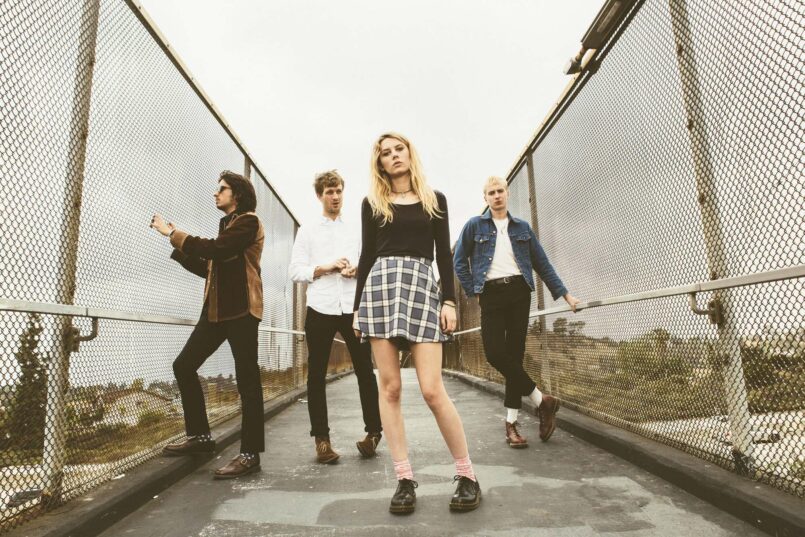 Rowsell says she speaks for the band when she states that there is no one song that truly and singularly defines Wolf Alice on My Love Is Cool. Waiting three years to go full-length meant that their first album would be wide-ranging in terms of its inspirations and that so many of their early EPs' signature moments, such as "Fluffy" and the cinematic "Giant Peach," would figure into the mix as an introduction to American audiences. "We're fresh to you guys. England is tired of us by now," she says with a laugh. One song, however, does stick out for its blend of the literally comic and the poignant: "Moaning Lisa Smile." Once used in a particularly looming episode of HBO's The Leftovers, the track's romantic sense of forward motion was inspired by what Rowsell imagined the life of The Simpsons' Lisa Simpson would be like when she grew up.

"We all love that show, but I just pictured the cartoon Lisa as an older girl—something funny and yellow—but with an idea that could be applied to any teenager," she says of an over-achiever chasing her dreams. "That's real life to me." FL