Los Angeles freeways have a reputation for being channels of isolation. Anonymous commuters travel in their separate  pods from home to work and back, their interactions with neighboring drivers limited to flips of the middle finger or honks of the horn. Graphic designer Lawrence Azerrad has a sharply divergent perspective. He views the 10, the 110, the 405, and the rest of LA's main thoroughfares not as loathsome tracks of confinement but as essential threads that stitch together the city's colorful patchwork of diverse neighborhoods and cultures.
Azerrad also sees the overlapping freeways as a neat encapsulation of Red Bull Sound Select's 30 Days in LA, the month-long music festival currently sprouting from various spots in the city and featuring acts as varied as Big Sean, Grimes, and No Age.
Azerrad and his company LAD Design created the festival's principal poster art, which features shadowy freeway ramps crossing over one another. They're tinted with a purple-sunset palette and there's a palm tree planted beneath the festival's title for good measure. "The artists are playing at different venues covering the city—downtown LA, the Westside, Silver Lake, Hollywood—and that informed my thinking on that piece," Azerrad says. "The idea that we're connected through our separateness made sense."
To a similar end, Azerrad curated an eclectic lineup of budding LA–based artists, including friends and new acquaintances, to create unique poster art for each of the thirty concerts. He notes that the performers all approved the posters for their shows. "It was important that the posters worked individually on their own, to reflect what that particular musician was about," says Azerrad, who crafted six of the show-specific posters with his four coworkers at LAD. "But when you see them all together on a construction site, you can see how they're unified by their differentness."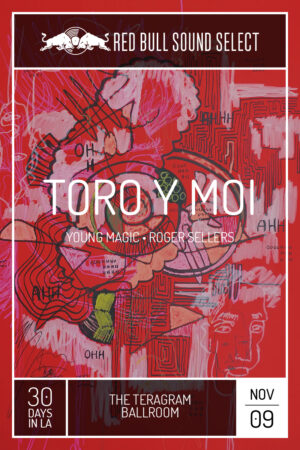 That spectrum includes work from Omar Juarez, an Azerrad collaborator who created the cover for Dan Auerbach's recent record with The Arcs. For 30 Days in LA, he made a Chicano–style poster tied to KCRW DJ Chris Douridas' "School Night" showcase. Matt Manos, whom Azerrad calls "a techy brainiac," handled the poster for Toro y Moi's show at the Teragram Ballroom. Frank Maddocks, Vice President of Creative Services at Warner Bros. Records, made street art for an undisclosed show.
And while plenty of the artists were able to find common aesthetic ground with their subjects, some dug a little deeper. Emi Tamu, a Japan-born designer who earned a master of fine arts from LA's Otis College of Art and Design, says she relied solely on iOS apps to make her artwork for R&B singer/songwriter Tinashe's concert at the Regent Theater. "While I didn't find myself being the biggest fan of her music, I was hooked by her attitude and the way [she] carries herself," Tamu says. "I wanted to translate that 'I'm cute but don't you dare mess with me' demeanor and air about her into my work."
Seconding that notion is another Otis College grad, Rachel Fishman, who made the poster for soulite rapper Raury's show at the Sayers Club. Fishman says she delved into Raury videos, interviews, and music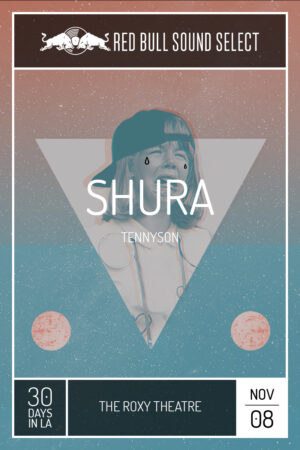 to ensure that her complex, layered artwork was infused with his spirit. "It was important to incorporate the artist's visual presence in the poster as well," Fishman adds. "For example, a signature hat that he wears became the foundation and central theme of the poster's concept."

Nasera Alayon has an even stronger attachment to her subject. Alayon is a queer female designer who handled the poster for Anglo-Russian singer Shura, whose "Touch" video features couples of all gender combinations making out. Alayon also created the poster art for No Age's show. The artist recalls: "One late night I stumbled upon archived photographs of infatuated, crying Beatles fans from the 1960s. I was hooked. Both posters started off with a basic element to represent the artist that was then elaborated on compositionally through digital collage."
Unlike some of the other artists involved with 30 Days in LA, Jordan Darby—owner of graphic arts company Studio Beebo—says he finds it challenging to encapsulate the artistic depth of a musician in a single poster. " I hoped to convey a glimpse of what I perceived their projected interests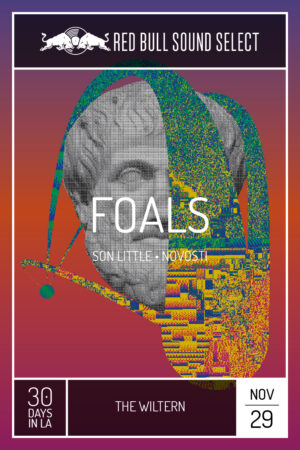 to be," says Darby, who tackled posters for hip-hop star Joey Bada$$, Grimes, and indie-rockers Foals.
"Each poster I did has to do with a sort of clash between nature and technology," he says. "Joey is eclipsing the newest image of Pluto; Grimes is a series of stilled, abstracted nuclear explosions; Foals is an Aristotle bust being circumnavigated by a glitched, comet-like orb. That and the sunny disposition of the project called for big colors, gradients, and alternative image-making."

More fully, Darby explains, his artwork captures the noise that permeates Los Angeles. "The 30 Days project is essentially about noise—an organized chaos manifested as music and art," he says.
As unwieldy as staging thirty concerts in thirty days may sound, the company and its Red Bull Sound Select artist development program are managing to pull it together for a second year. And with Azerrad, his team of artists, and the LA freeways helping facilitate 30 Days in LA, the project could unite a notoriously fragmented city.
If not, at least it'll get people out of their cars for a little while. FL