Today's subject: Bruce Springsteen's River Tour, and deciding what merchandise to canoe away with.
In support of The Ties That Bind—the massive deluxe reissue of The River that served as FLOOD's first-ever perfect-ten score—Bruce Springsteen is touring the world, making Courtney Cox–style dreams come true in the process. With his E Street Band, The Boss is all but undeniably the best live act in existence (sorry, Bono), and those lucky enough to attend are going to want a t-shirt. Two of our editors are in that lucky bunch attending, and in advance of their respective shows, we had them step off the backstreets to strategize about how to come home with the gear that will best mark the occasion. As always, though, Bruce says it best: "You learn to sleep at night with the price you pay."
---
https://www.youtube.com/watch?v=vn4MEKfQTAg
Bailey: Alright, new tour, old album. New/old merch is a must. How else can you prove you saw Bruce take the demons out of you for three-plus hours. Can a cotton tee do that?
Nate: A cotton tee and some holy water, sure. Though I have less faith in tour paraphernalia that doesn't have any mention of being from an actual tour. Why would you want a generic t-shirt to signify a specific event?
Bailey: Well, that's why the best tour tees are really the bootleg ones that you get outside of the venue. They just copy and paste that tour list and slap it right on the back of a really pixelated image of your favorite band.
Nate: And on the cheapest shirt material known to man. Alas, we don't know what wonders we have in store for us outside the venue, but we do know what will be inside, thanks to the wonders of the Internet. Having peeked at the official River Tour merch, do you know what you're getting?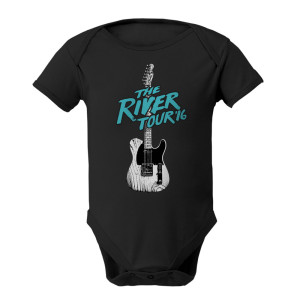 Bailey: Well, as someone who has the pleasure of having seen The Boss before, I've already got one generic "Bruce Springsteen & The E Street Band" shirt, so I'm looking to get a little crazier with my "Ties That Bind" tour goodies. Definitely has to feature that excellent font from The River cover, though. You?
Nate: I want to take this opportunity to formally apologize if I offended your generic "Bruce Springsteen & The E Street Band" shirt. That could be like throwing shade on a child. Speaking of children, I'm obviously getting one of those onesies.
Bailey: But which one? Would you rather go for the all-purpose "New Jersey" one to remind all other infants that Bruce is from the Garden State? Or stamp your child as a fan of The River and The River alone right from the get-go?
Nate: I think it's important to brand your toddler as having selective taste, thus it would be The River onesie. But let me clarify: I don't have a kid. The onesie is for me. Now if they don't have one that fits (a problem I've encountered many a time before), I'm just gonna do what I do at restaurants: order the first thing on the menu. In this case, the all-purpose River Tour shirt with him shoving his crotch in my face will have to do.
Bailey: Ah! Almost as important as Bruce's home state. His infamous crotch. Perfect for diving into cameramen as well as hypnotizing fans in old photos.
Nate: If only we could get a depiction of his crotch shaped into the state of New Jersey, now that'd be a t-shirt! OK, I have a question.
Bailey: Shoot.
Nate: What's your stance on these "tour personnel" shirts? Funny, or blatantly deceptive?
Bailey: Can I choose a write-in candidate?
Nate: Of course, this is America.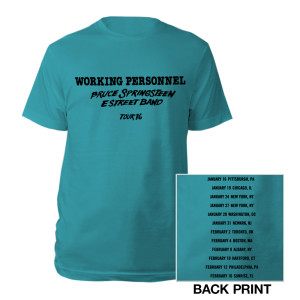 Bailey: L-A-M-E. Unless you look like a grip or a roadie, you are not backstage personnel, and this "vintage" tee does not fix that. If anything, it makes it worse. I would love to see someone try to get backstage with one of those on, though.
Nate: *Clip of Wayne and Garth flashing their backstage passes plays.* Personally, I like to imagine that those shirts are the actual ones worn by the roadies, and on the first stop of the tour they saw their shirts in the merch stands and were like, "Oh."
Bailey: They just Sharpied "For Real" on the front and figured they were good to go. Bruce doesn't really seem like an uptight and controlling guy, right?
Nate: I dunno, Blue Collar means union laws right? Clocking in, clocking out, bagged lunches, and so forth? He might come down on his roadies real hard and we just don't see it through all the crotch-slides.
Bailey: And I guess the term "Boss" does seem to mean he likes to be in some sort of administrative position. Do you think he designs these things himself? How much of a boss is he really?
Nate: If that's the case, I would certainly like a word with Jefe about those atrocious "Hungry Heart" shirts.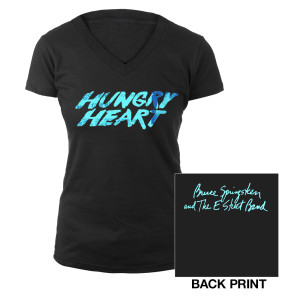 Bailey: Oh yes. The standard deep V-neck with a sassy (read: sad) lyric plastered across the front. Should these people be excited to pay thirty bucks to tell someone they're sad? As catchy as "Hungry Heart" is—and it is so catchy—it's a pretty depressing song.
Nate: Yeah, that dude went out for a ride and he never went back…to his family… That's pretty much The River in a nutshell, though: sounds like fun, but it's murky. People seem to forget that Nebraska was next up.
Bailey: I can't really imagine what a Nebraska nostalgia tour shirt would look like. Just a sad face. But if I was going for a basic shirt, I guess I would class it up and go for the ringer tee. Black white and teal goes pretty well together.
Nate: (I imagine if there was a Nebraska tour, the merch stand would just be a row of shot glasses.)
Bailey: (And maybe a copy of Malick's Badlands.)
Nate: I could get down with the ringer tee, but I feel like we're forgetting the most tempting purchase available. That ridiculous plaid button-down.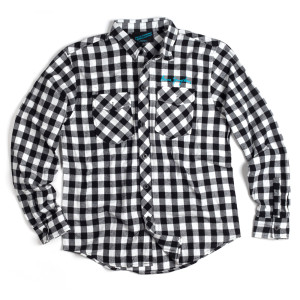 Bailey:  Oh you mean every dad's birthday/Christmas gift this year? He could even wear it to church on Christmas Eve and remind everyone who is really the second coming of Christ.
Nate: Heck, and if you want to have an impromptu picnic in the park—boom—that's a tablecloth.
Bailey: Oh, but it's not just any tablecloth. It's got so much more to it: "The soft flannel has it's own special 'The River Collection' tag sown on the neck." Also, did they spell "sewn" wrong on Bruce's website?
Nate: Little Steven's got enough going on running this site on his own to worry about stuff like spelling. Maybe if you point it out to him, though, he'll send you a pair of those sweet shades.
Bailey: Honestly, I'd rather have Lilyhammer sunglasses. But I am intrigued by the classy promise that "Each pair of sunglasses comes with a sunglass bag." That's the kind of commitment to detail that one should expect from a rock legend's merch. Which is why I'm actually leaning really hard towards buying one of these embroidered hats.
Nate: It's just a shame that they don't come in oversized beanie form like vintage Boss would've worn…
Bailey: Oh yeah, but the amount of people who have enough curls to shove under that dumb floppy hat and make it look good is so small compared to the straight-haired posers who would just wear it like Homer wearing that rasta hat. How many Bruce-inspired narc hate crimes do we need, Nate?
Nate: Hey, we can't all be too cool for this planet. Which brings us to the grand finale: the bomber jacket. Is anyone cool enough to pull that off?
Bailey: Absolutely not. But I can feel you thinking that you can actually do it…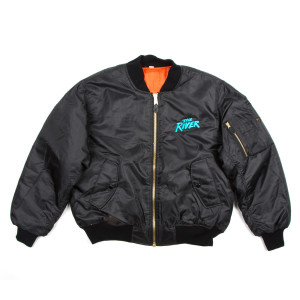 Nate: It's all about having the right attitude, Bailey. And really big shoulders… Two qualities that I don't really have. OK, no bomber jacket for me. But when I see some silver fox rocking the hell out of it, I'm going to awkwardly take a picture of him and send it to you.
Bailey: I think that if either of us sees anyone rocking the bomber jacket, a photo exchange is necessary. Really, in the end I'd just take a whole bag of official "Made in America" River Tour shot glasses because no song makes me want to do shots more than "Out in the Street."
Nate: This would also be the most economical purchase given the price of these tickets. But then on your way out you could throw the shot glasses at the people selling bootleg shirts outside, and simply make off with a bunch of those instead.
Bailey: As long as what they have features the "iconic teal of The River," I'm in. FL