By now, seeing LCD Soundsystem's name on the first line of a festival poster shouldn't be too shocking. But LA's FYF Fest, which last year managed to flex a Kanye West set when Frank Ocean dropped out at the last minute (wherefore art thou anyway, Frank?), has a big surprise on its top line: Grace Jones.
The Jamaican-born singer, who rose to prominence in the 1980s on the loping back of her highly sensual music and distinctive visual presentation, will be shutting down one of FYF's main stages on Sunday, August 28. (She's also reissuing 1980's Warm Leatherette this June.)
Joining Jones at the top of the heap are LCD Soundsystem, who as previously reported will reintroduce themselves to Southern California at Coachella next month, along with Kendrick Lamar and Tame Impala; looks like someone's been reading our mail.
Also making noise outside of the Coliseum on August 27 and 28 will be Air, Beach House, ANOHNI, Grimes, Hot Chip, Father John Misty, Explosions in the Sky, Blood Orange, and many more. You can check out the entire lineup below.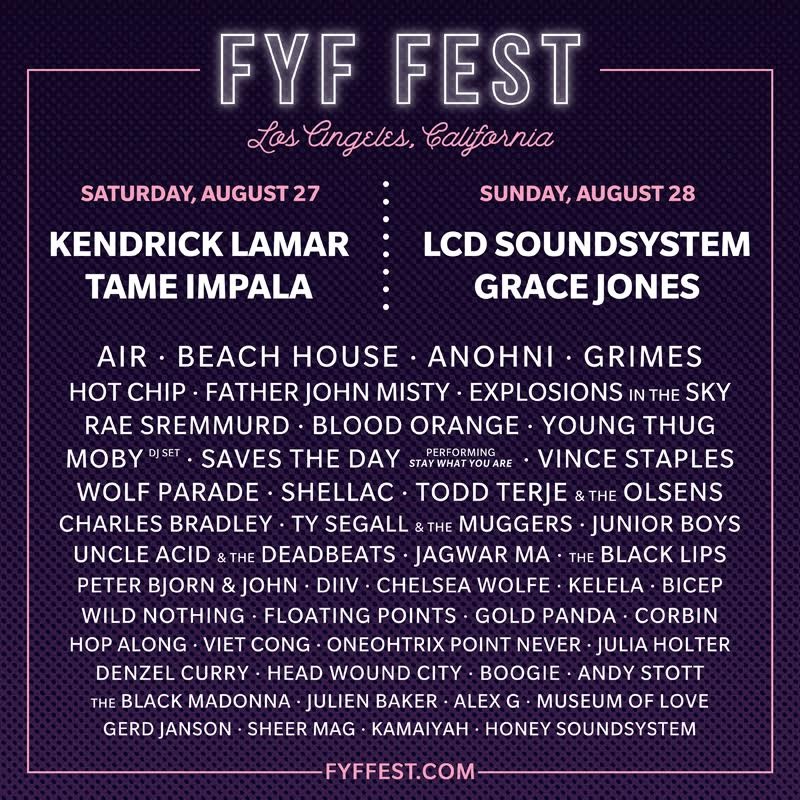 FYF Fest goes down on August 27 and 28 at LA's Exposition Park.