"I'm not a person who walks outside and people know who I am," says Andrew Savage, singer/guitarist of what is by many accounts one of the most important rock bands around: Parquet Courts. The idea of an anonymous rock star may be counterintuitive, sure, but intuition hasn't guided the music industry since, like, 1987 (if ever), and we are talking about recognition in New York City, after all—a town where David Byrne is still able to buzz by on a bike without being noticed, where David Bowie was able to convince people for twenty years that he was merely a Greek dude who happened to share a passing resemblance to an aging Ziggy Stardust.
"The climate of music today is a bit different than you might see on an HBO show about music," says Austin Brown, also a singer/guitarist in Parquet Courts. "I mean, my band's played on television like four times now, and I'm broke."
Maybe you saw the band's most recent television performance—ripping through "Berlin Got Blurry" on Conan—except you probably saw it on your computer the next day, after being linked from a music blog in your Twitter feed. Playing on a cable network version of a basic cable show, the quartet (rounded out by Andrew's brother Max on drums and Sean Yeaton on bass) once again greeted the opportunity to fit the mold of the mainstream by showing up in jackets too big and hats too small.
If you did happen to hear about that performance via Twitter, it certainly wouldn't have been attached to the band's official account, since they don't have one—or any other social media profiles for that matter. "I think there's a weird expectation of people that are consumers of culture or whatever, that feel like that's part of being someone in the culture—to have that sort of communication," says Savage, responding to their distance from what feels like an all-but-required component of being a band these days. "For me, the communication with fans is the music. That's all you need. This really is not a point of symbolic protest for us—it's not a cross that we bear, it's not something that we go around bragging about. It's just a choice we didn't take."
Given that the concept of relying solely on music is becoming increasingly tenuous with each year, it would be reasonable, then, to expect the group to operate carefully in regard to the accessibility of what they share with fans. And in hearing Human Performance, their just-released fifth LP (or fourth, depending on how much of a stickler you are for spelling), that expectation seems validated. Except if you were a fan last November, what you got was an acerbic EP of experimental noise-rock known as Monastic Living. Want to join the monastery of Parquet Courts? You're welcome to knock, but it's not an open house.
"My band's played on television like four times now, and I'm broke." — Austin Brown
"It was all part of a bigger picture," says Brown, who acts as the informal producer on Monastic Living and Human Performance. "Those two records, although they mean and represent two very different things—we were making them at the same time—it was the sound of us finding that order, and restructuring the group and refiguring out what we were capable of in some ways."
Much more so than in the past, time was a major factor in crafting that bigger picture. Whereas Light Up Gold, Sunbathing Animal, and Content Nausea were all recorded rapid-fire, Human Performance was the result of a full year of work. The band recorded in three different studios—Sonelab in Western Massachusetts, Dreamland in Upstate New York, and Wilco's Loft in Chicago—and had over thirty songs finished at the end of the year, only thirteen of which were selected to be lathed onto record.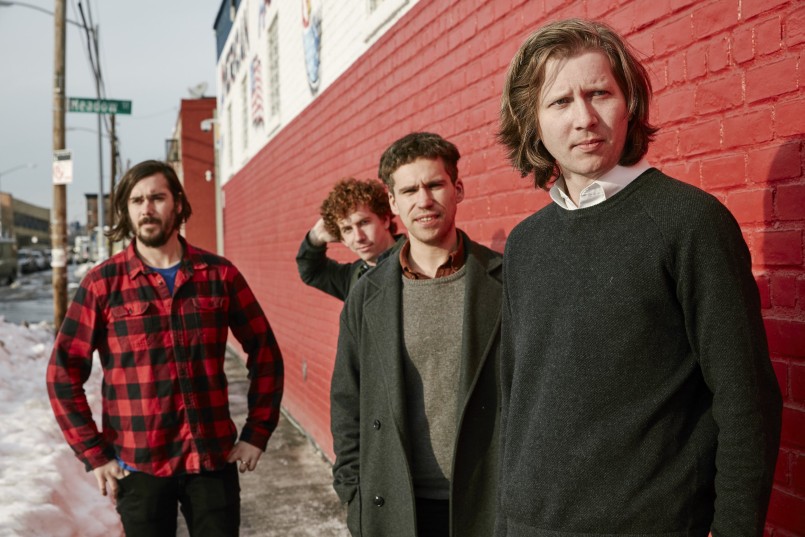 "The ones that made it onto Human Performance tended to be the ones that were a bit riskier," says Brown. "The ones that we liked but maybe made us a bit nervous." Savage describes it as a more "vulnerable" album, and "maybe more intimate."
Both songwriters do bring a side of themselves not previously revealed—particularly Brown, who's served as something of the band jokester in the past, as those who can't make it through "Master of My Craft" without cracking up will know. His slicing tune "Keep It Even" is perhaps the most touching song on the album ("There's a phone with a number that I try not to call but it's ringin' / For someone I've tried to keep to myself but I'm singin'"), and it reveals a level of maturation not only in content, but also in arrangement and production. Jeff Tweedy, who contributed to the song, can be thanked in part for that.
"It was something I had written, and I brought the chords and the lyrics [to Chicago]," Brown recounts. "I remember sitting down in the kitchen at the Wilco Loft and saying, 'Here's this song,' and playing it for Jeff—and that was nerve-wracking enough. But he's super easy to get along with, and was just like, 'Let's record it.'" Tweedy then turned on a drum machine and laid down the acoustic part that you hear on the final product. Next, he had them build it all up before tearing it back down again. "That was something Jeff was able to kind of guide us through—to show the band that if you use the studio in a certain way, you can pull out the soul of the song by going through the backdoor, which I think was really invaluable," Brown explains.
https://www.youtube.com/watch?v=TUADigaeFs4
Independently, Savage uses the exact same phrase as Brown—"part of a bigger picture"—in response to the question of the change and growth that's coming through in their new music. "I think that definitely it's not just a band's songs that make them interesting," he says, "but kind of the trajectory through their lifespan that can be a work of art in itself."
With considerations like these making them one of the most intellectually engaging acts in music, the paradox (or is it simply the distinction?) of Parquet Courts is that they're a band with an agenda, but also a band that has no intention of—and are actually quite averse to—stepping upon any kind of soapbox. In fact, the anti-soapbox stance was recently etched in ink toward the end of an introductory mission statement provided with the Monastic Living EP. In block capital letters, a line reads: "WE'RE JUST A BAND."
"You have bands that might put out one record that was fairly decent and then the next thing you know you're seeing them write think-pieces on all sorts of blogs," Brown says. "All of a sudden because Pitchfork gave their record a good review then their opinion counts for more than their body of work. Why are you writing a think-piece? Fucking write a song."
"So many people try to do everything. I would rather just be in a band." — Andrew Savage
And that's exactly what Savage did on "Two Dead Cops," a Human Performance cut that's as political as anything Parquet Courts have ever released ("Protect you is what they say / But point and shoot is what they do"). If you're listening, there are statements being made. They just aren't the type of statements that can be summarized or supplemented with an op-ed.
"So many people try to do everything," says Savage, a hint of exhaustion in his voice. "I would rather just be in a band."
Wants and intentions aside, making a push for Brooklyn City Council isn't really an option anyway. "I've got a criminal record, I can't run for office," Brown laughs. In the words of Socrates, "Fuhgeddaboudit." FL