Julianna Barwick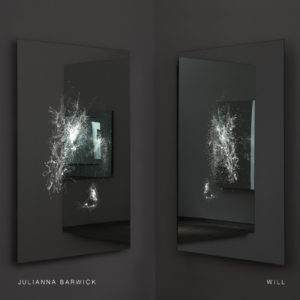 Will
DEAD OCEANS
6/10
Ambient music is sometimes described—derided, more like it—as being something of a palette cleanser; it's a casual, backhanded way of saying that the music is more like an interlude, a transition, either the soundtrack or lead-up to the main activity. Julianna Barwick flirts with this idea in music that celebrates stasis and formalizes tranquility, and yet it's hard to dismiss her music as anything but a thing unto itself: in its purity and its catharsis, an album like Will feels somehow like its own element. Like oxygen or nickel, it's something too simple to be broken down into smaller pieces, too true to itself to be disregarded as ephemeral.
Perhaps it is a palette cleanser, then, but only in the sense that it offers refreshment, suggests renewal, and gradually changes the weather in the room: with Will on the stereo, you can imagine the paint slowly peeling from your walls, one hue shed like a snake's skin to unveil a fully other, more primal color underneath.
If you've ever spent time immersed in a Barwick record before, you know basically how they work: she creates loops, washes of voice and sound, each track an endless layering of crescendos; her singing—warm and welcoming, and in this case mostly wordless—celebrates the human voice not as a conveyor of information but as a signifier of shared human connection.
Like Miles and Monk, she understands the importance of space; each resonant note and each distinct sound is chosen judiciously, allowing each one to echo with even greater power. That may indicate a looseness that's not quite here, though: Will works with the precision of classical music, to the point that when distinguishable words do arrive on "Someway," you couldn't care less what they're saying. The song's cathedral swell conveys transcendence long before the words arrive, in a language in which Barwick's already made you fluent.