Kaytranada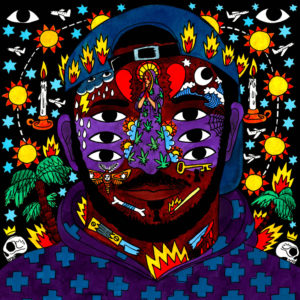 99.9%
XL
7/10
Haitian-born Quebec DJ Kaytranada (real name Louis Kevin Celestin) is only twenty-three, but 99.9%, his first proper studio album on XL Recordings, sounds like the work of a seasoned artist. Like many artists coming up in the Internet age—bolstered by access to seemingly infinite varieties of styles—Kaytranada seems genre-proof, equally at home spinning psychedelic club jams as he is exploring jazz, hip-hop, and soul.
Following breakout remixes and production on material by Mobb Deep, Freddie Gibbs, and Katy B, Kaytranada seems intent on making multiple statements with 99.9%, demonstrating bounding versatility. Teamed with frequent collaborator Vic Mensa he explores booming trap with "Drive Me Crazy"; working with R&B singer Craig David, he crafts mellow, radio-ready soul with the sultry "Got It Good." He's got jazz chops, too, with "Bus Ride" (featuring drummer Karriem Riggins) echoing the glitchy bop of Flying Lotus's Brainfeeder collective and "Weight Off," which finds him draping smooth synths over funky live band instrumentation by Toronto's BADBADNOTGOOD.
Celestin's sense of history is evident—"Breakdance Lesson N.1" is vintage electro, while "Despite the Weather" feels like it could've been pulled from an unheard Dilla session—but it's not overpowering or "retro." It's not a "cohesive" record, either, but then it never aspires to be. Still, its best moments come when Kaytranada synthesizes multiple forms, as on the sleek dance number "You're the One," with its far-off vocals by Syd tha Kyd of The Internet, and the throbbing, profane "Glowed Up," which finds breakout star Anderson .Paak recalling CeeLo Green's weird, pre-pop star freakiness before it shifts into a driving new wave jam propelled by melodic lead bass. Even with the anything-goes spirit, the fifteen songs here feel natural and balanced, but Kaytranada's bright exuberance is the most powerful draw.