Band of Horses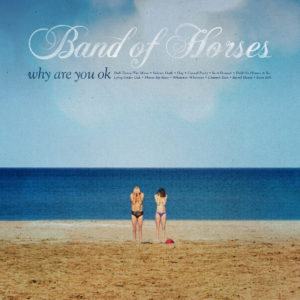 Why Are You OK
AMERICAN/INTERSCOPE
8/10
Why Are You OK, the fifth full-length from South Carolina's Band of Horses, opens with a low, humming synth, programmed drums, and giant washes of Pink Floyd–esque electric guitar. "Dull Times/The Moon" rides this spacey vibe for a solid four and a half minutes (digressing into a sample of film director Robert Altman as he discusses the fleeting nature of popularity in Hollywood) before a rangy, distorted riff takes hold, and the band shifts into a thrashing, post-rock banger, led by drummer Creighton Barrett's crashing kit. The whole thing takes seven minutes, and it's a statement of purpose: Band of Horses is ready and willing to get ambitious on Why Are You OK, and the album is all the better for it.
A decade ago, discussing Band of Horses' debut Everything All the Time, singer/songwriter Ben Bridwell told MAGNET he originally envisioned  "…an ELO-sounding record, with strings and keyboards and synths," before opting for a more straightforward album, positioned somewhere between Tom Petty and The Shins. More or less, Bridwell and Co. have stayed that that path ever since, plying open heartland rock and hazy, gentle folk-pop. With 2012's Mirage Rock, the band aimed to galvanize its classic-rock appeal, working with Glyn Johns (Led Zeppelin, The Rolling Stones, Ryan Adams) to craft a sound that ultimately ended up smoothing out much of the charm that lit albums like Cease to Begin and Infinite Arms. There were outliers—like the well-meaning but clumsy political rocker "Dumpster World"—but mostly Mirage erred on the side of polite sameness.
Teaming with Grandaddy leader Jason Lytle, the band confidently turns the wheel in another direction with Why Are You OK. There are crowd pleasers—like the ebullient "Solemn Oath," the thumping Americana jam "Throw My Mess," and the power pop of "Casual Party"—but there's more here which reconfigures the formula than cements it. "Hold on Gimme a Sec," a minimalist synth interlude, leads into "Lying Under Oak," which feels like it could be an outtake from Grandaddy's Sumday. Single "In a Drawer," which features guest vocals from J. Mascis of Dinosaur Jr. and Sera Cahoone, employs deep twang guitars, evoking Angelo Badalamenti's Twin Peaks soundtracks before lurching into a coursing chorus reminiscent of primetime Broken Social Scene.
It's a deeply textural record, layered with triple guitars and keys. In many ways, it's that ELO record Bridwell initially wanted Band of Horses to make, and the more it attacks expectations, the better it feels. "Can't go on, no I'll go on," Bridwell sings on "In a Drawer," and a decade in, the band offers plenty of reasons to keep doing so.