In a move that brings together two absolute legends in their respective fields, we've made Neil Young and Dr. Steve Brule the cover stars of our latest print issue, FLOOD 4. Click here to buy your copy, here to the read or download the Neil Young side of the issue, and here to read or download the Dr. Steve Brule side. And if you'd like to be sent future digital issues of FLOOD, sign up for that here.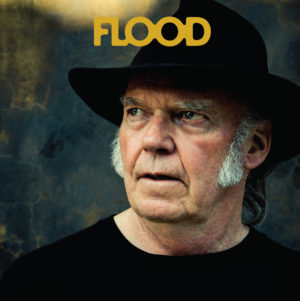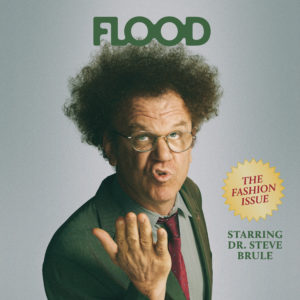 FLOOD 4 is picking up where FLOOD 3 (and, naturally, FLOOD 1 and FLOOD 2) left off, heading deep into the worlds of music, film, TV, sports, art, travel, and food—often at the same time.
Starting at the top, both of our cover stories can be considered something of a fashion guide, one just perhaps being a bit more literal than the other. On the green side, we kick off our first ever Fashion Issue, starring the stunning Dr. Steve Brule—star of Adult Swim's Check It Out! with Dr. Steve Brule—who gave us a primer on how to look cool and fashionable without breaking the bank (hint: it may be by stealing from your mom's closet). As a bonus, this special issue also features a one-of-a-kind paper doll (or praper drangus, if you will) to allow you to dress up Steven in your favorite outfits. Then, on the gold side, it's more of a musical and ideological fashion guide from Shakey himself, Mr. Neil Young, who spoke to our editor-in-chief about Pono, writing, his new album EARTH, and saving the world.
That's just the beginning of our Neil Young coverage. Beyond our cover interview—featuring exclusive photos from the eminent Michael Muller—we also have a complementary spread of classic Neil Young photos taken from 1966 to 1975 by Henry Diltz, one of the co-founders of the Morrison Hotel Gallery. And then after that, we have an extensive feature on the making of Human Highway, Neil's wacky 1982 road movie starring the likes of Devo, Dennis Hopper, Charlotte Stewart, and Russ Tamblyn.
But this isn't Trunk Show part two. Besides four more extended music features—a career retrospective on The Feelies, an Under the Influence lesson with Andy Shauf, a visit with Band of Horses, and a trip to the john with MUNA—we've also got an oral history of the early years of The Daily Show, a culinary tour of Chile, an art lesson with Seonna Hong, and drink recipes straight from the one and only Wrigley Field, home of the Chicago Cubs.
All this, and we still found room to fit in nine (!) Breaking profiles, which highlight new and emerging talents in various fields. This issue, the subjects are—deep breath—Whitney, Sir the Baptist, and Xenia Rubinos for music; John Gemberling and Charlene deGuzman for film and TV; and Karina Longworth (of the You Must Remember This podcast), restaurateur Brooks Reitz, Internet troll Ken M, and jewelry designer Polly Wales for art and culture. Exhale.
If you find yourself at an Ace Hotel, you're in luck: copies of FLOOD 4 are available in every room. Otherwise, click here and here to read or download either side of FLOOD 4, click here to buy a physical copy, and here to sign up to be sent future issues.