FLOOD's weekly Pop Culture Cure offers an antidote—or nine—to the most upsetting developments of the past week. (Because therapy's expensive, and entertainment's not.)
---
So The Night Of premiered this past Sunday and people are pretty into it. And by "people" I mean, of course, this person, this person, these tomatoes, and me. This is what God intended when, on the night of the seventh day, he first created Good TV. The show was created by Richard Price, it stars John Turturro and Riz Ahmed, and it uses sex, drugs, and a goofin'-with-blades segment in order to literally cover our protagonist in damning evidence. It is our great new Sunday show, and for that we should be grateful. What we should not be grateful for, however, is the two months it will take to get the answers we need. Procedurals hold our interest because every little turn of the gears contributes to the larger purpose—but that dynamic can be infuriating when the machinery is only in operation for one hour a week. This is that binge-y shit, so let's get back to binging.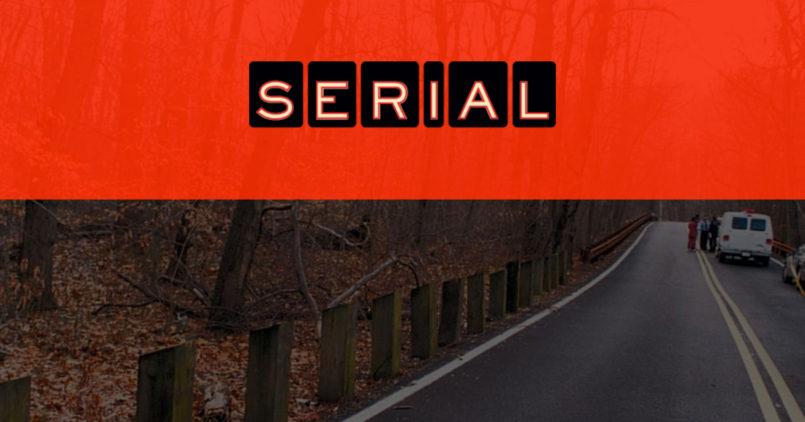 Serial, created by Sarah Koenig
The procedure in question: finding the truth.
The Night Of has more than a few things in common with last year's enormously successful podcast, Serial, and I do not think that is a coincidence. (In fact, it brings immediately to mind the logline: "It's Law & Order meets Serial!"—and I'm not the only one to think so.) The show itself, however, points to the BBC's (fictional) Criminal Justice series instead. Both of those shows wound up humanizing the alleged perpetrators and focusing on the inherent injustice of our societies' criminal justice systems. Serial, for all of its problems and inadequacies, comes thrillingly to life when it engages directly with the central questions of the case. The fact that Undisclosed went on to examine those same questions more comprehensively, and find many better answers, shows that Serial was, as its critics alleged, entertainment first and foremost. That said, Adnan has a new trial. And if you want to see how injustice really happens, this is a good introduction.
A Wilderness of Error, written by Errol Morris
The procedure in question: finding the truth, more rigorously.
Everything that Errol Morris has done is a procedural of sorts. He is always standing there in that great river of data, anecdotes, and evidence, always devoted, sometimes screaming, but always sifting, looking for gold. This book is a kind of sequel to Janet Malcolm's classic The Journalist and the Murderer, but where Malcolm saw a cause for journalistic scrutiny, Morris saw an oversight. The "murderer" in question: was he one? The Malcolm book is a great entry point into this question, and a great book period, but it can get a body down if a body isn't super interested in the question of journalistic ethics. Morris's book, though long, is short on concepts and long on people, places, and things. (It's also an amazing meditation on the perils of the concept of the psychopath, just FYI.)
Show Me a Hero, directed by Paul Haggis
The procedure in question: making positive political change on the local level.
Remember this show? It was good, it had a good title and a great pedigree, and it was about race at a time when people seemed to be gravitating toward shows that dealt with hard issues again, yet it was also pretty wonky, and so here we are. But Show Me a Hero's fault is also its strength. As a picture of local politics, it is revelatory, and the nuts-and-bolts portrait of structural racism makes it subtly powerful, despite its occasional heavy-handedness. A recent Atlantic article made the case that our political culture has become more toxic as our politicians' propensity for negotiation in smoke-filled rooms has declined (I'm paraphrasing); this show is a reminder that those compromises also depend on the people who are granted access.
Mildred Pierce, written by James M. Cain
The procedure in question: running a successful pie business.
Mildred Pierce is not James M. Cain's best novel by any means. Just the first line of The Postman Always Rings Twice is enough to render that the top spot available. And the fact that Mildred features a villain as odious as Iago, as ungrateful as Regan or Goneril, and as narcissistic as the average teenager, makes it less than ideal for beach reading purposes. But before the shit hits the proverbial Santa Anas in this novel, there is a section that I think is as close to heaven as it gets, and that's when the striving title character seeks a better future through her new pie shop. She does the math, she plays the angles, she makes the pies, and she makes it.
Then the winds pick up again and the shit flows back and god damn it we're all gonna die. But before we do, let us all remember those pies, and the canny woman who willed them into existence. (There's plenty of crime in this book, too, but the pie procedural section is where it's really at.)
Z, directed by Costa Gavras
The procedure in question: uncovering a conspiracy.
Z begins at the point in which a country has reached its moral perigee. The country in question is Greece, the crime in question is murder, and, in the late '60s, the criminals are everywhere. And it's hard to have a lot of hope for change when criminals have all of the power. Change does happen here, however, and justice prevails, but the challenge of stopping stupid people from doing callous things is beginning to seem poignant again, and this is a movie that shows how even despair can be a powerful motivator. (An important thing to bear in mind when the bastards are grinding you down.)
The Wire, season two, created by David Simon
The procedure in question: finding a place for blue-collar workers in the 21st century.
You know what's a word that we don't get to use enough anymore? Stevedore. The Wire season two is about stevedores, thank God, and these stevedores will stop at nothing to keep the stevedoring biz in bizness. Season two gets kind of a bad rap because it takes even longer than usual to hits its stride, plus it's pretty bleak, plus let's get back to the corner already, but if you can put those things aside, I think it's still top four as far as Wire ecosystems go. (Don't dwell on that.)
High and Low, directed by Akira Kurosawa
The procedure in question: finding the needle in a haystack.
Kurosawa's impeccable thriller High and Low opens with a kidnapping, but with the wrong kid being 'napped; the remainder of the movie is then dedicated to (a) getting that kid back and (b) punishing the culprit. (There is also the side issue of a corporate takeover.) But those big projects are broken down, ­Hidden Fortress–style, into a number of smaller problems: how to raise ransom cash on short notice; how to anticipate the payment scheme; how to track the money; how to follow the money; what to look for next; etc. The ransom payment sequence is particularly exciting, as viewers get to game out the plot and its ramifications along with the cops. As with any great thriller, you can find traces of this film all over the place today, but the original still holds up. I'm not planning on seizing control of a shoe company at the moment, or tracking down any kidnappers, but if I were, this would be my education.
https://www.youtube.com/watch?v=M-W-S6kQ1mc
The Staircase, directed by Jean-Xavier de Lestrade
The procedure in question: an American murder trial.
If you liked The Jinx, you will love The Staircase. Michael Peterson is the subject of this documentary from Murder on a Sunday Morning director Jean-Xavier Lestrade, and Michael Peterson… Well, there definitely appears to be something off about him. He does not have the infernal burps, but he's def got a case of the tics. And it seems like he's got cause for anxiety too—but I will not a spoil a thing here. Every episode contains insane revelations about an entire case of Peterson-orbiting characters, and the show ends with a bang, even if it doesn't end certainly. There's no hedging, it's just that hey, maybe an owl really did do it.
https://www.youtube.com/watch?v=IAVLvGP25uQ
Anatomy of a Murder, directed by Otto Preminger, based on the book by Robert Traver
The procedure in question: acquitting your client.
Robert Traver was the pen name of John D. Voelcker, a Michigan Supreme Court justice and fly fisherman hailing from the UP. Anatomy of a Murder is his masterpiece, and it's the great courtroom novel that you have either forgotten about or never heard of, despite the fact that it was also adapted into a nearly perfect film by Otto Preminger (starring Jimmy Stewart and Lee Remick, scored by Duke Ellington, judged by a real judge). The novel and the film have, at their center, a fly-fishing, jazz piano–playing lawyer who has just stumbled onto the biggest case of his life, and who is just about smart and diligent enough to win it, with almost no resources and almost no help. Jimmy Stewart's schtick has never been better, small town America has never been more appealing, and courtroom tactics have never flown so freely as they do here. Also: like any great murder story, it has a kind of ghost at its heart.