The word "muna" means a few different things. It's a female given name in Arabic. It's the Filipino word for "first" or "beforehand." In Icelandic, it means "to remember." In Los Angeles, it's a trio of musicians who met in college three years ago and have been making self-described "dark pop" ever since.
Twenty-three-year-old Katie Gavin, MUNA's lead singer and producer, recalls meeting rhythm guitarist Naomi McPherson, also twenty-three, and lead guitarist Josette Maskin, twenty-two, at USC in the way only someone who was recently in college can. "I met Josette [one] fall semester, and then I met Naomi [in] spring semester of that [school] year," Gavin says, "and then the following fall semester we started playing together." Every time they jammed, they ended up with a new song. Five of those songs made it onto a self-released 2014 EP, More Perfect, which the band has since scrubbed from the Internet. Still, while it was up, the EP got a bit of traction from UK blogs.
That was when MUNA realized the attention they could command if they got even more serious about music. Fortuitously, they all got internships in New York, and they spent a summer in the city working, playing shows, and writing the songs that appear on their current EP, The Loudspeaker, which is out now on RCA.
"We definitely had a lot of nerves on the day we actually signed," Gavin says about working with the major label. "It sort of came down to, 'Are these the right people for us?' It's never really been about whether it's a major label or management company, or a small one. It was based on vibes, for lack of a better word. They trusted that we're already doing the right thing and that we already have good ideas."
"Whatever I'm feeling, I'm not going to hold it back. I'm gonna express it and tell other people about it, because I have a sneaking suspicion that you're going through it, too." — Katie Gavin
In the chorus of the song "Loudspeaker," the EP's opener, Gavin declares, "If I feel real good tonight, I'm gonna put it high on the loudspeaker / And if I feel like crying, I won't hide it, I am the loudspeaker." If there's any one thing that MUNA is definitely about, it's creating a supportive community—both within the band and for their fans. "Sometimes we say our mission statement is encapsulated in 'Loudspeaker,' which is: 'Whatever I'm feeling, I'm not going to hold it back,'" says Gavin. "'I'm gonna express it and tell other people about it, because I have a sneaking suspicion that you're going through it, too, so let's just get it out there.'"
This is one of MUNA's specialties: the articulation of a feeling so familiar it induces shivers of solidarity during the high of a pop-song chorus. Their dance parties get personal. In the refrain of "Winterbreak," Gavin sings, "I think we both know this is the love that we won't get right / Still, if you said that you want it, I know we'll always have one more try." With those words, there's no way that someone, past or present, doesn't come to mind.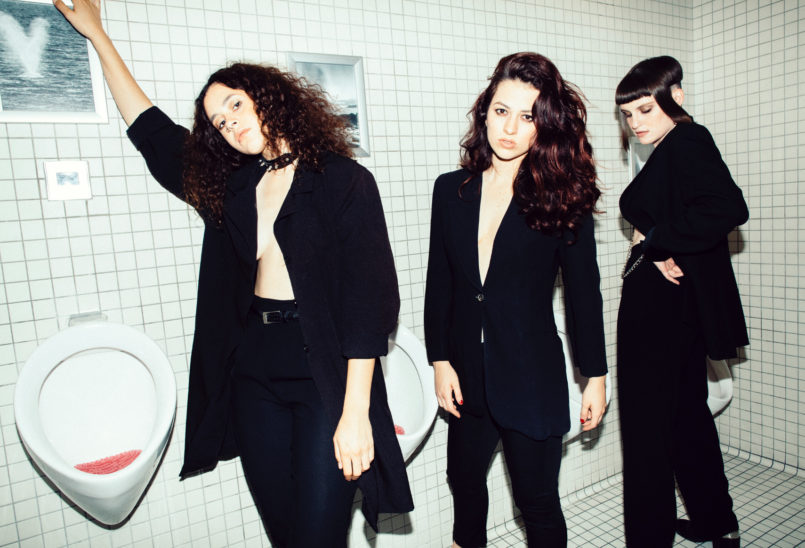 Gavin echoes this when talking about her songwriting. "When I'm writing, the main thing I'm trying to do is be honest, as if I'm having a one-on-one conversation—one of those really good conversations, where you're like, 'Fuck, are we on drugs?' Like, you're really getting somewhere with someone; you're really connected. I want that to be what's in the songs."
"When Jo and I first met, the first party that we went to together, we had a mental breakdown because we asked each other, 'What's your favorite Fiona Apple song,'" Gavin says. "And then it was like, '1…2…3… "Not About Love!"' And we were both like, 'Aaahhh!'"
"Denying yourself pleasure just to be cool is so stupid." — Naomi McPherson
"I feel like we don't exactly sound like all of our influences," says McPherson, whose parents are jazz musicians. At thirteen, she discovered emo and pop-punk, and then rock. "From there, I got into poppier music in general and realized that there's nothing wrong with enjoying a really amazing hook and a poppy chord progression if it makes you happy," she continues. "There's a lot of pretension, and I'm just not really interested in participating in that. I like what I like. Denying yourself pleasure just to be cool is so stupid."
When the girls of MUNA sit in a room together to talk about how they got to where they are now, they fact-check each other's stories, marvel at how much time has passed since college, and repeatedly explode into laughter. They say they're addicted to hanging out with each other, and it's easy to see why. "That's what's been the key to everything," Maskin says. "We believe in each other so much, we know how to get what we deserve. The people who end up surrounding us are the people who also see that and believe in it." For MUNA, that group of people is only going to keep getting bigger. FL
This article appears in
FLOOD 4
. You can purchase the magazine or download a free copy
here
.