Los Angeles–based visual artist Seonna Hong doesn't live in Silver Lake, Echo Park, or Venice. She's nestled away in Mount Washington, a secluded neighborhood in the San Rafael Hills some distance from those other hip urban hubs. Her living room is braced by tree-size wooden posts and dominated by a panoramic view of the mountains—a living work of art in its own right. And her nearly windowless studio, carved into a mountainside, has hidden compartments, cubbyholes, and a bookcase that, when pulled open, leads into a secret workroom.
"Welcome to my clubhouse," the artist says as she ushers me in on a peaceful, gray Sunday afternoon.
Hong, born in 1973 in Southern California, has never abandoned her imagination—and, in some ways, her childhood. As a kid, one of her first projects was making animals out of glued-together Fruit Loops and construction paper (and then picking off the pieces of cereal and gobbling them up). In elementary school, she recreated Hello Kitty and Strawberry Shortcake characters, and in high school she won over the jocks with photo-realistic drawings of Danzig.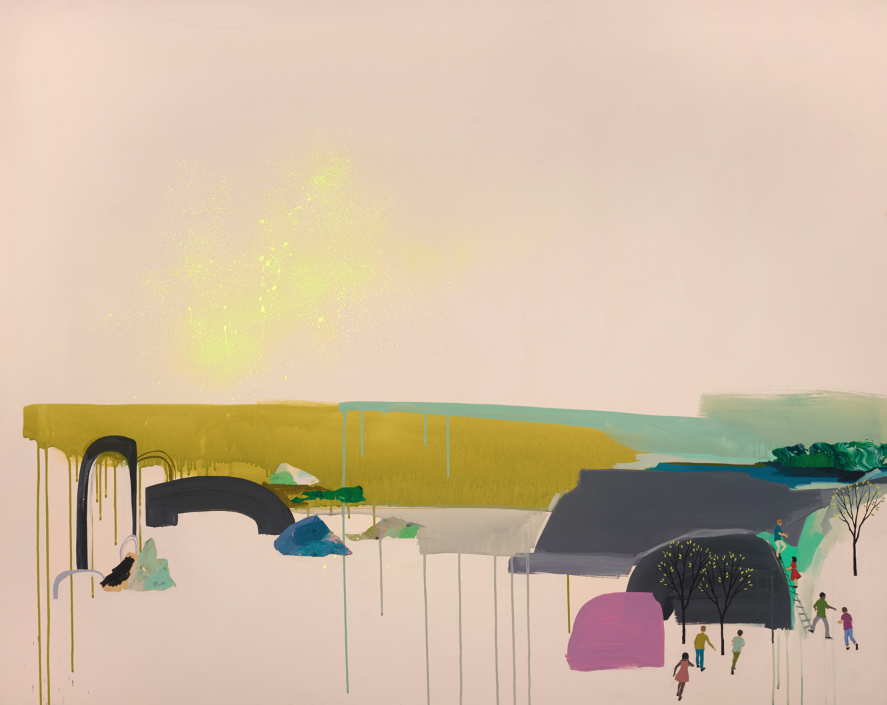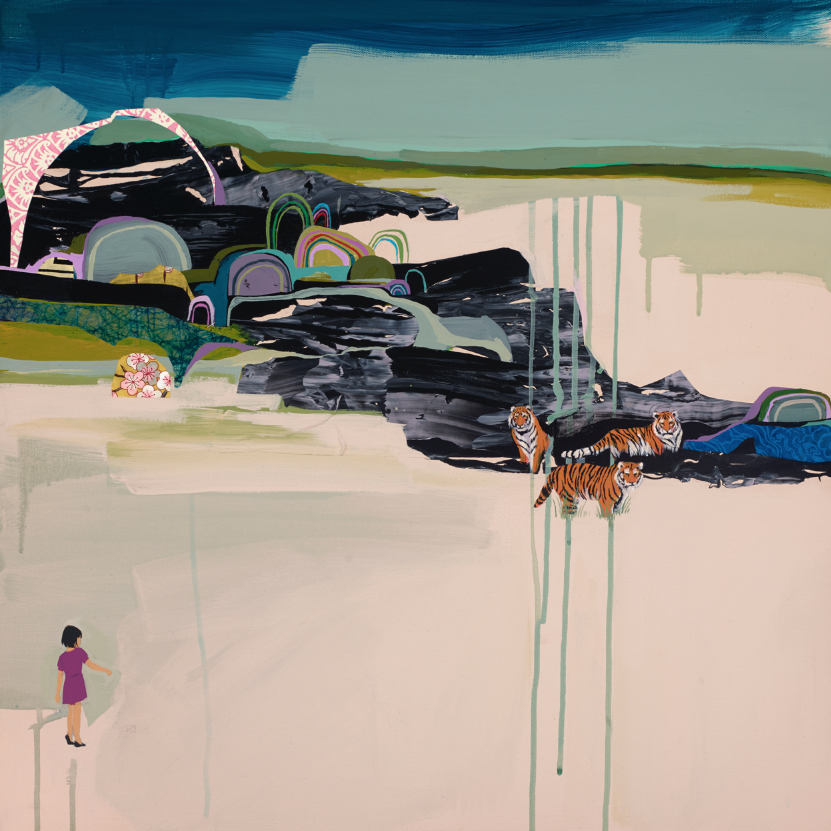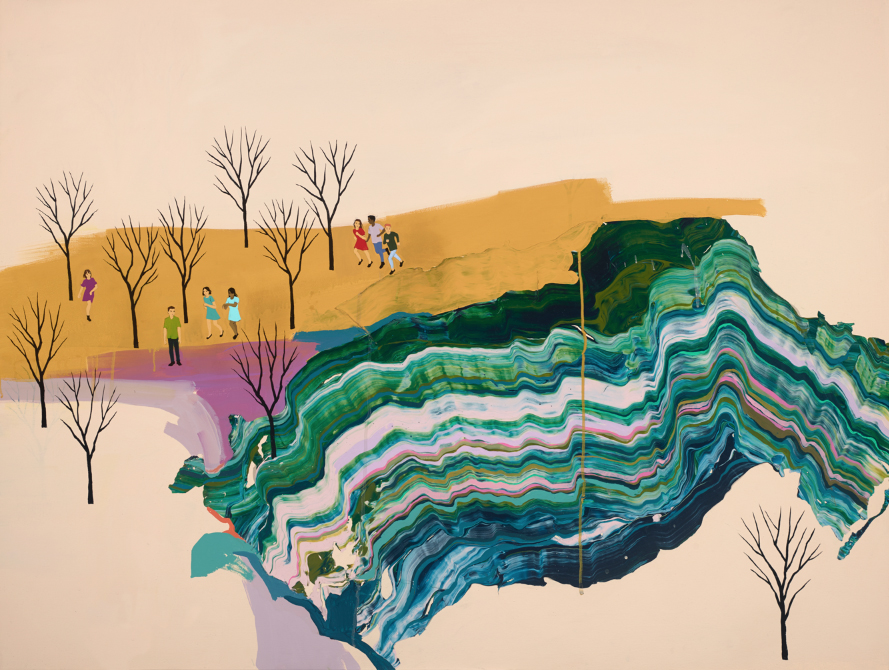 Upon graduating from California State University, Long Beach, with a B.A. in art, Hong entered the professional world as a teacher. After delving into production work on a variety of animated TV series—including Nickelodeon's My Life as a Teenage Robot, for which she won an Emmy—she gave birth to a child of her own, Tigerlily, in 2002. "I was huge when I was pregnant," she recalls. "We were working on our house at the time, and I was sleeping on an air mattress and deflating it every night, I was so big."
Hong's love for her daughter, now a teenager, is unwavering, and she fluidly weaves the topic of motherhood into responses about her life and career. Tigerlily sometimes serves as a model for some of Hong's paintings and collages, which often incorporate found materials or consist of large lettered phrases.
But while Hong is a devoted mother, her artwork hasn't lost its childlike magic and playful qualities. Her latest series of acrylics, If You Lived Here I'd Be Home by Now, toys with a limitless array of colors (she collects paint chips from a local hardware store) and animals. When humans are featured, they're usually faceless specks subsumed by sublime surroundings.
Hong's daughter sometimes serves as a model for some of her paintings and collages, which often incorporate found materials or consist of large lettered phrases.
One particularly amusing painting, A Sunny Place for Shady People, features a group of tourists gazing through binoculars but unaware of a zebra standing nearby. Another, World Without End, largely consists of a pale-colored sky, but in the corner one can spy a group of people climbing a ladder up a rock.
If You Lived Here largely focuses on landscapes—always presented with a soft touch, but sometimes flourished with long lines of paint drips—which is a shift from the figurative drawings that defined Hong's early career. Among her accolades, Hong received the Joan Mitchell Foundation grant in 2006, while Takashi Murakami picked her in 2008 as the first American to have a solo exhibition at Japan's reputed KaiKai Kiki gallery.
New pieces like Drought Tolerance, Sea Level, and Continental Drift even suggest a strain of environmentalism—perhaps spurred by a mother's concerns over climate change impacting her daughter's future? She nods. "I like that theory."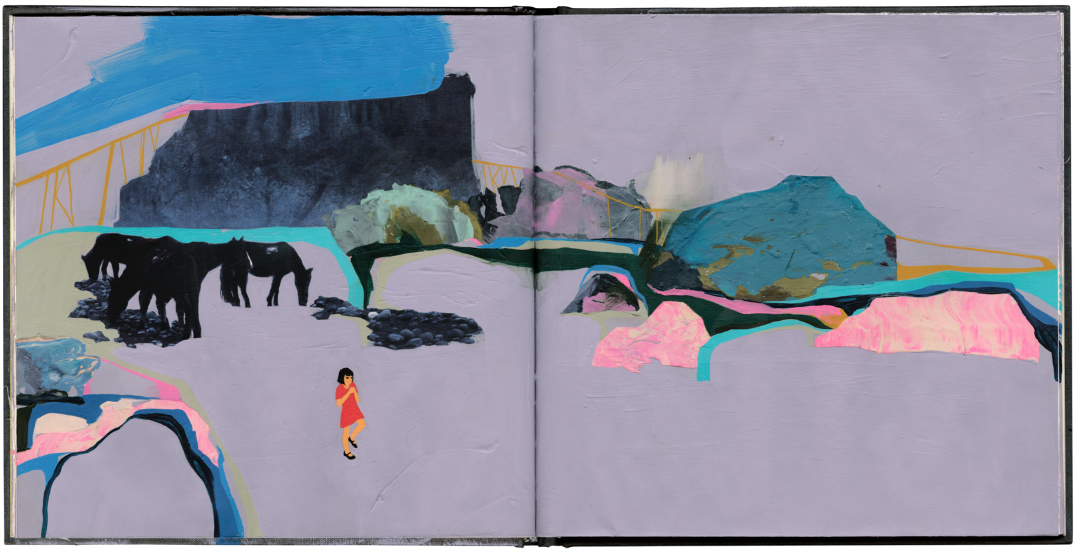 For her landscapes, Hong sometimes works on regular canvases, but other times she opts for wood. "With raw wood surfaces, I'll look at the wood grain and see water swirls and land masses, so some of the elements are already there," she says.
Hong, ever resourceful and experimental, also peels layers of paint from canvases, cuts them into pieces, and pastes them onto new canvases. She says the idea came to her when she was a kid, peeling layers of sunburned skin off her arms. "Jackson Pollock worked this way, too," Hong points out. "His pieces look like total chaos, but he deliberately cut out parts of larger pieces that he then put on the canvas. I like having the energy of splatter or scrubs from another surface."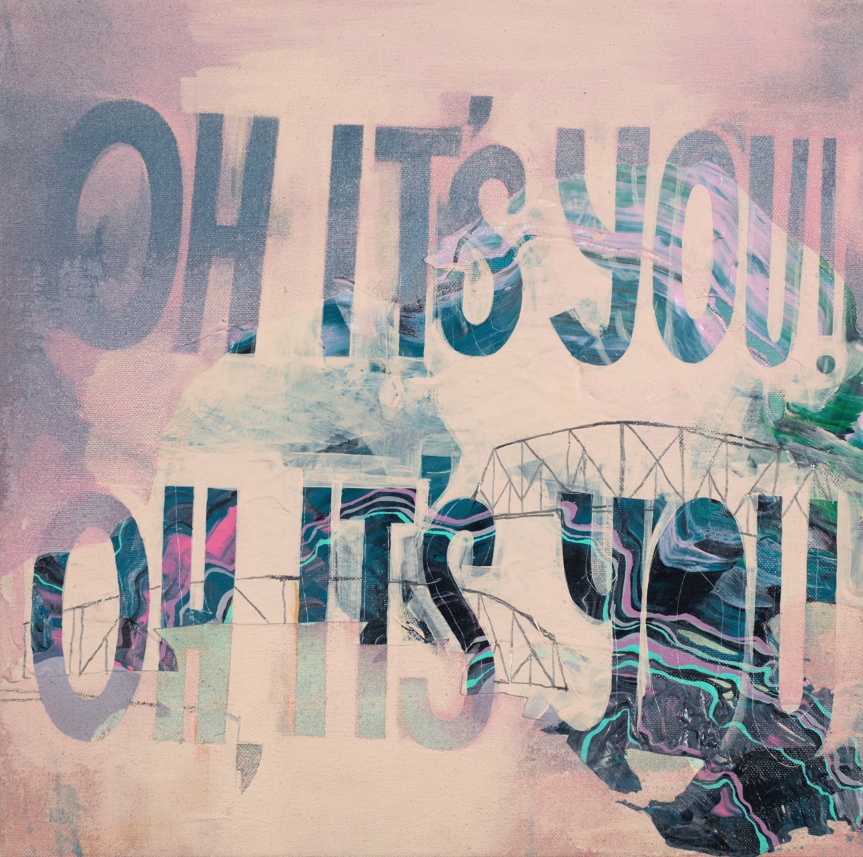 The abstract nature of Hong's landscapes and collages stands in contrast to her lettered pieces, which scream messages like "Oh It's You! Oh, It's You" (from Punctuation Is Everything) and "If You Lived Here I'd Be Home by Now." The messages are more clear in the lettered pieces, which Hong says are based on song lyrics: "The Way We Fall" and "One in the Morning" were inspired, respectively, by Yo La Tengo and longtime friend Sara Lov. The latter artist is a singer/songwriter who performed at "In This Together," a night of art, music, and film that Hong curated at FLOOD's Los Angeles gallery. The event—intended to celebrate the city's diverse art community—also featured works by Broken Social Scene co-founder Kevin Drew, who is friends with Hong's partner, Paul Watling.
Hong says Watling—an artist, director, and animator—will play an integral role in her next project, in which she plans to take photos of Los Angeles building facades and use their layered logos as collages. "I love the geometric nature and the unintentional beauty of paint swatches on buildings here in Los Angeles," she muses. "LA will always be my touchstone." FL