The Lemon Twigs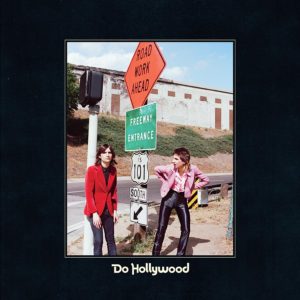 Do Hollywood
4AD
8/10
Brothers Michael and Brian D'Addario of The Lemon Twigs do so much to invoke the sounds of the past that at times you feel like Do Hollywood, their debut LP, must have spent the last forty years filed behind your older brother's copy of Todd Rundgren's Something/Anything? or Bay City Rollers' "Saturday Night" 45. These kids (and indeed they are barely adults) are absorbed in the glimmering shimmy of glam rock, churning out melodic progressive rock and bubblegum confections in fits and starts.
It's fitting that Foxygen's Jonathan Rado produced this debut, as his band is probably the closest in modern stylistic proximity, but unlike Foxygen, there is very little Stones in The Lemon Twigs' stew—it's much more of the Badfinger and ELO variety. Theatrics, yes, but it's not tiresome. Things start off with the mid-paced doo-wop of "I Wanna Prove to You," which has a touch of Sha Na Na in its '50s-via-the-'70s approach. "Those Days Is Comin' Soon" quickly follows with an oompa-oompa rhythm that will make you either see Sparks or Harry Nilsson. So yes, there is pastiche here, there, and everywhere—in fact, you could see the harmony-heavy, temp-shifting Laserium vaudeville sounds of "Haroomata" driving certain elements of the population insane.
But it's worth noting that the brothers' father, Ronnie D'Addario, has made a career off music that is similarly rich in melodic structure and layering, and the aesthetic similarities between the father and the sons is hard to deny. They practically have glitter in their blood.
But is Do Hollywood more than the sum of its influences? Most certainly. For those who fetishize the music of the '70s or the more kaleidoscopic aspects of organic guitar pop, these boys have nailed the flowery bombast and should be saluted for wearing so many unfashionable influences so proudly and flagrantly.
https://www.youtube.com/watch?v=TJFCc_ijwH0