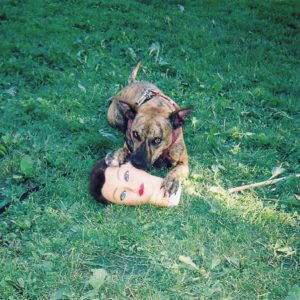 Joyce Manor
Cody
EPITAPH
7/10
There was something special brewing in Torrance, California, in 2014. That summer, Joyce Manor released Never Hungover Again, their third LP and first on the venerable Epitaph Records. I rounded up a few friends to go to the free Amoeba Records release show, where we waited in a line that serpentined around the block only to reach capacity when we got to the front. Our initial disappointment was almost immediately changed to excitement. Though we had no connection to the four-piece, aside from going to the same shitty high school (albeit five years after they'd graduated), they filled up the most famous record store in Hollywood. The album itself proved a classic of the snotty pop-punk form, to be remembered amongst Milo Goes to College and Dude Ranch. Not bad for fellow experts of the 232 bus line.
Two years later, Joyce Manor has returned with Cody. Opener "Fake I.D." is the record's youthful melodic punk single, with a jubilant guitar riff that simmers over a line about the death of a friend. The next two tracks follow with emotional vocals woven into similarly chipper pop-punk melodies. But there's a sudden twist in the somber one-minute acoustic track "Do You Really Want to Not Get Better." It's a subdued, introspective moment as Barry Johnson harmonizes with the Los Angeles singer/songwriter Phoebe Bridgers, seemingly asking themselves and each other the titular question. On a previous release this may have been replaced by a thrashy post-hardcore spurt of anger, but here it's a quiet moment of self-care, a turn from the dichotomous extremes of youth.

It's a clearly marked shift in not only the tone, but also in the structure of the band's songwriting on Cody's second half; there's a new texture and flavor to the raw, pouring-salt-on-a-wound sadness of before. "Last You Heard of Me" and "Over Before it Began" arrive at a more nuanced melancholy, with Johnson delivering, on the latter, silky sweet croons of "Even though I have always loved you / It was over before it began" rather than the coarse shouts of earlier. The album closes with "Stairs," the story of a twenty-six-year-old manchild emerging into devastating self-consciousness, followed by the two-minute-plus anthemic kicker "This Song Is a Mess But So Am I." Through jangly guitars and fast-paced, cymbal-heavy drumming, Johnson assures us that he has yet to figure things out. Everything is still in turmoil, the sense of loss hasn't left, and he still "wants to sleep away the hour." This is apparently true when Cody ruminates on self-deprecating and darker moments when you "see everything" and are overwhelmed. But positive changes are there, it's just difficult to function when they're so frustratingly incremental—I guess this is growing up.