Weyes Blood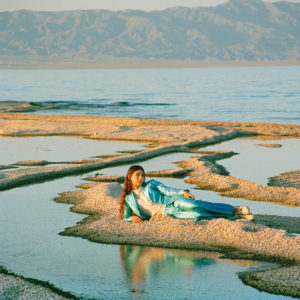 Front Row Seat to Earth
MEXICAN SUMMER
7/10
Somewhere between the mystical spirituality of Patti Smith and the ethereal lightness of Kate Bush is where you'll find New York's Natalie Mering, better known in musical spheres as Weyes Blood. Although she's collaborated with Ariel Pink and Jackie-O Motherfucker in the past, she's been establishing herself as a truly intriguing and exciting musical talent in her own right. Her latest album, Front Row Seat to Earth, confirms that, as well as her place in the in-betweens—these nine songs straddle the world we inhabit and the marvels we imagine beyond it. As such, intensely personal songs take on an elevated status that transcends Mering's own emotions and experiences.
Take opening track "Diary," for instance. In turns dark and operatic, yet also brimming with hope and wonder, its lilting piano-led melody is bolstered by a rich and deep production that elevates it beyond the realm of earthly things into another dimensional sphere. At the same time, Mering's haunted, fragile vocals keep things within the sphere of human emotion. That same opposition occurs throughout these songs, whether in the dreamy melancholy of "Used to Be," the alien longing of "Can't Go Home," or the graceful "Away Above"—except on the final track, "Front Row Seat," a dramatic, cinematic instrumental that's almost Lynchian in nature and which, in just under two minutes, amplifies and emphasizes the otherworldly nature of this album.
To that extent, Front Row Seat to Earth serves as something of a statement about humankind, one made both from deep within our hearts and from an outside perspective. It's at once strange and familiar, an unsettling yet unsurprising take on the world as we know it that merges romanticism with dystopia and deepens our understanding of our place here, if not our purpose. It's a record that bridges the divide between the past and the future, but still isn't really to be found in the present.