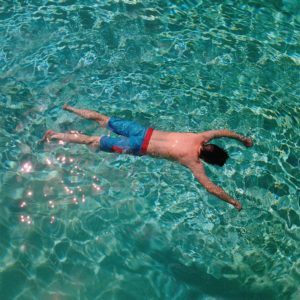 Conor Oberst
Salutations
NONESUCH
7/10
Conversation starter: Which songs do you like better, the ones on Conor Oberst's Ruminations or the ones on Salutations? The reason I ask is that they are largely the same set of songs. Ruminations, which appeared in the back half of 2016, was a stark, haunted set of home recordings reminiscent of Bruce Springsteen's Nebraska, performed on little more than piano and harmonica, and marked by Oberst's pained warble (and recorded in Nebraska, to boot!). Mere months later, he's released the same material again—with a handful of new compositions fleshing things out—only this time, he's opted for lush, full-band arrangements. And what a band: That's The Felice Brothers you hear behind Oberst, along with legendary session drummer Jim Keltner, who also co-produced the set, with guest contributions coming from the likes of M. Ward, Gillian Welch, Jim James, and Pearl Charles.
You could call this move an interesting creative dichotomy—a glimpse into Oberst's process—or you could point out just how treacherous it really is. After all, he is literally inviting a comparison between the two albums. Will these beefy arrangements make Ruminations feel, in hindsight, rather unfinished? Or will they obscure the rough, ragged charm that made these songs compelling in the first place?
Nothing's quite so simple. To return to my original question, I think the answer is a little of both. Never a fan of austerity for its own sake, I nevertheless find the spooky, bare-bones soul of Ruminations to be moving. But these florid arrangements—which, with their heavy emphasis on fiddle, accordion, and harmony vocals, take Oberst's Dylan fixation into new territory—are often winsome. There is joyful catharsis in "Overdue," which swells into a full-throated drinking song, and a string section makes the bittersweet melody of "Barbary Coast (Later)" all the sweeter.
But there are some drawbacks, too. He still tries to shoehorn ten-dollar words, feverish passages of imagery, and off-the-cuff literary references into all of his songs, something that felt appealingly raw on Ruminations but wears a little thin here; there are, after all, seventeen tracks on Salutations, all of them dense and wordy. Someone with a bit more formal control could have made this a record worth getting totally lost in, but Oberst's litany of savage imagery—he's having napalm for breakfast here, sleeping with jailbait there, wondering in one song if he's too late and two songs later if he's overdue—rambles a little too much, and the jokes are usually too strained and bitter to be particularly funny.
It's just a bit much, but there are keepers that make the whole thing worthwhile—albeit for different reasons. Listening to "Napalm" has a certain trainwreck appeal to it, Oberst aping Dylan's thin mild mercury mayhem so brazenly—right down to the snarl and the cadence—that you almost wonder if it's parody. Meanwhile, a fleshed-out version of the mournful "Tachycardia" works for all the right reasons: It maintains the tattered humanity of its unaccompanied counterpart, but somehow makes it all go down a little smoother.