Charly Bliss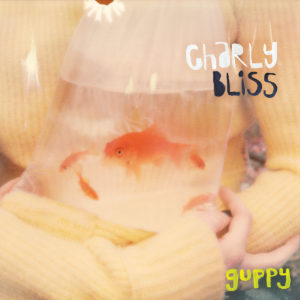 Guppy
BARSUK
8/10
In 1992, Ice Cube released his third album, The Predator. Much of it was a direct response to the LA Riots earlier that year, which were a direct response to the acquittal of the officers who beat Rodney King while he lay in the street in 1991. Tracks like "We Had to Tear This Mothafucka Up" and "Who Got the Camera?" unfortunately remain evergreen—but so does "It Was a Good Day," as a matter of necessity. Ice Cube takes four and a half minutes to acknowledge the simple joy of twenty-four hours that began with a smogless LA morning during which he, for once, wasn't jolted awake by his barking dog.
"People forget sometimes that expressing joy is just as important as examining despair," says Dan Shure, bassist for Brooklyn four-piece Charly Bliss. "People need joy, especially right now." He's not kidding. The music on their debut LP, Guppy, was written collaboratively, with all lyrics by singer and guitarist Eva Hendricks, and is joy personified It's instantly reminiscent of the punchy pop-rock of Letters to Cleo, Weezer's Blue Album, and Veruca Salt (for whom they've opened), with hooks that'll stick for days. Both "Westermarck" and "Glitter" are unforgettable by the one-minute mark—and the opener, "Percolator," is perfect pop. The material is elevated by Hendricks's voice, which makes Kay Hanley sound like Eddie Vedder; she hits pitch-perfect notes hidden up high in cotton-candy clouds.
Charly Bliss, which includes Eva's older brother Sam on drums and Spencer Fox on guitar, has known each other since they were kids. Those deep roots mean they have nothing to prove. They know what they're capable of, and it couldn't work more in their favor. There's no bullshit in the way of their much-needed good time; consider Guppy a sure way to a good day.