Big Thief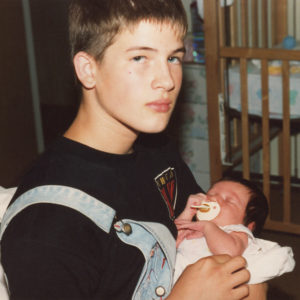 Capacity
SADDLE CREEK
8/10
Comprising eleven downtrodden, sunken-hearted, minor-chord songs, Big Thief's sophomore album Capacity traverses the dark side of humanity, but pairs the despair with a ragged beauty; the melodies here are graceful but distorted, gentle but unsettled.
The title track floats like an ethereal lullaby, but there's also the near-constant presence—however subtle and underplayed—of squalling guitars in the background that deliberately prevent the record from being entirely easy on the ears. In fact, "Coma" almost sounds like a demo, more a rough idea than a fully finished song, but that imbues it with an extra dimension of vulnerability—frontwoman Adrianne Lenker's voice sounds so close you can practically feel her breath on your cheek as she half-sings, half-whispers her forlorn words. It's an unexpectedly heart-stopping moment, but one that's born precisely out of the song's skeletal structure.       
These songs aren't all about quiet minimalism, however. On the surface, "Objects" is a gentle folk song, but its lilting (though choppy) melody also has an almost math-rock-y feel to it. Elsewhere, first single "Mythological Beauty" is defined by its incredibly lush and rich texture, while closer "Black Diamonds" is a dreamy ode to both the trap of nostalgia and the uncertainty of the future.
Though there are intricate flourishes imbedded within the frameworks of these tracks, what makes them truly work—and work wonders—is their simplicity. From the very beginning it feels like Lenker is truly baring her soul and offering up her heart, but there's an element of bare-boned reality here, too. Take, for instance, the quiet, tip-toeing magnificence of "Pretty Things." Beyond its gorgeous, innocent tune lies an admission of culpability and experience, an admission that—in stark juxtaposition to the music—we, as humans, as lovers, as friends, "don't always do the pretty things."
It's a subtle message that's easily missed, but therein lies the joy of this record. To truly get the most of it, you have to actually pay attention. You have to concentrate. Only the jaunty, restless rhythm of "Great White Shark" falls somewhat short, but it's a mere blip, though, because on the whole this is a fine, well-crafted and wonderfully intriguing record.