Perfume Genius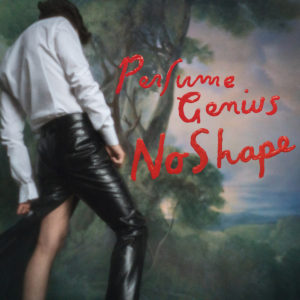 No Shape
MATADOR
8/10
The title of Perfume Genius's fourth album, No Shape, implies a certain degree of nebulousness in what Mike Hadreas has to offer—and in that sense, it's not an entirely accurate moniker. In the last seven years, each album the thirty-five-year-old Seattle native has released has been a small piece of the greater Mike Hadreas puzzle, building upon itself and adding more flesh to the skeletal structure. With the help of producer Blake Mills (Fiona Apple, Alabama Shakes, John Legend), No Shape is ironically Hadreas at his most complete.
While Hadreas made a name for himself with sparse piano ballads and tenderhearted, emotionally raw confessionals, on No Shape he's fully embracing his capacity for bright-eyed optimism. The first single from the album, "Slip Away," is a booming, earnest tale of forbidden love: "Don't hold back, I want to break free / God is singing through your body / And I'm carried by the sound / Every jump, every single beat / They were born from your body / And I'm carried by the sound." His voice, which at times has been a delicate trickle of rainwater, is more akin to the bursting of a dam now.
Still, Hadreas's ability to deliver sometimes brutal lyrics in a genteel voice remains unparalleled. Even on simple, folksy songs like "Valley," he recounts seeing a woman he recognizes from his stint in rehab on the street. "How long must we live right / Before we don't even have to try?" he sings.
No Shape also finds Hadreas exploring the sultrier side of Perfume Genius; the breathless sensuality of songs like "Die 4 You" (which uses erotic asphyxiation as a metaphor for commitment) channels the feverish magnetism of Sade, smooth jazz and all. "Each and every breath I spend / You are collecting / Limit every second left / 'Til I'm off balance," he sings, as if whispering directly into the ear of his lover.
Hadreas's greatest talent has always been his willingness to lay himself completely bare for his audience; his insecurities and traumas, from his battle with Crohn's disease to his violent encounters with homophobes, shaped his image as a waif with a tragic past. On No Shape, we see him embracing a newfound lightheartedness and confidence—proof that there is power to be found in vulnerability.