JAY-Z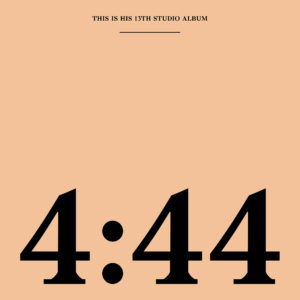 4:44
ROC NATION
7/10
Struggling to relate to his fans any longer as a near-billionaire married to Beyoncé, and with the emotionally distant braggadocio of Magna Carta Holy Grail marking his greatest critical failure, Shawn Carter was at a creative crossroads. His rollout of TIDAL and its "plutocratic" model only made matters worse, and by the time Beyoncé implicated his infidelity on Lemonade, he was left with but one option: Kill Jay Z.
"Kill Jay Z" is the first song on JAY-Z's thirteenth studio album, 4:44, and notice: Carter officially eliminated the hyphen from his moniker shortly after the release of Magna Carta Holy Grail, and later reinstated it some time before the release of 4:44, back to the way it'd been since the beginning of his career. The grammatical Easter egg is clear—in this past four years as hyphen-less Jay Z, he's done things he wishes to leave behind forever. It's an electrifying song, with a Clockwork Orange–esque instrumental and some of the most panicked lyrics imaginable from the smoothest man in the world, confessing regrets from shooting his brother as a young man to losing the trust of "the baddest girl in the world" herself. It's the perfect index of what's in store for 4:44.
On this album, Carter answers every question he used to elude—"Family Feud" refutes the idea of being "too old" for the rap game, and accepts that his fans aren't getting any younger either; "Smile" unveils his mother's history as a closeted lesbian; the title track takes on the task of apologizing for his infidelity. "Took me too long for this song / I don't deserve you," he laments, revealing that even couples that co-headline stadiums grow cold. That's why the lyrics throughout 4:44 are so beautiful; sometimes all we need from the people we look up to is for them to tell us they feel lost too.
On "Marcy Me," he's at his most lyrically untouchable, with lines like, "Hold a uzi vertical, let the thing smoke / Y'all flirtin' with death, I be winkin' through the scope," a clever bit of shade from an OG toward Lil Uzi Vert and the mumble rap scene. It's an ode to his home neighborhood with a theme of staying true to one's roots. With lo-fi filters on all Jay's vocals and No I.D.'s production consisting almost solely of brilliantly chopped soul samples, it has a murky texture that embarrasses the sterile sheen of previous albums.
But in all, the raw emotion and vulnerability of 4:44 wouldn't have been possible without the Ozymandian Magna Carta era and the public accountability born from Lemonade. Or as Jay says in the album's closer, "Legacy"—"See how the universe works? / It takes my hurt and helps me find more of myself / It's a gift and a curse."
4:44 is named after the exact time in the a.m. that Carter woke up to write the title track, but what exactly about that number so compelled him to make it the name of the album? As mentioned earlier, it may be due to his reflection on the past four years specifically; it may bear significance to the perils of a forty-something; but if JAY-Z's three undeniable classics are currently Reasonable Doubt, The Blueprint, and The Black Album, 4:44 can certainly be argued as his fourth.