Queens of the Stone Age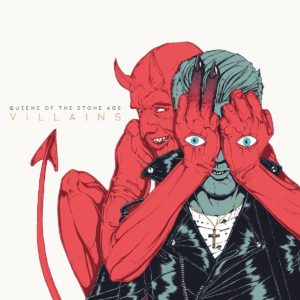 Villains
MATADOR
8/10
Josh Homme and his Queens of the Stone Age have always been proudly tasteless and happily out of time, churning out big, brutish riff-rock in an age where they might as well be using rotary phones or abacuses. So what's a listener to make of their seventh album, Villains, being produced by Mark Ronson, the hit-making wizard-in-residence for Lady Gaga, Adele, and the late Amy Winehouse? Or, for that matter, with Homme's stated admiration for "Uptown Funk" (another Ronson joint) and his desire to make a dance record?
Ronson has certainly hauled the band's hooks to the surface, which isn't as big a change-up as you might think; there have always been dynamite tunes just below the thunderous drums and layers upon layers of sludgy guitars in QOTSA's song. And on at least one track, "The Way You Used to Do"—a tune that's as chilly and efficient as disco, as menacing and sleazy as the best hard rock—he's given them a single you actually can dance to.
But rest assured that this isn't a sell-out or a crossover, two things this long-running and highly principled band clearly has no interest in doing. It's really a streamlining of what makes Queens of the Stone Age great. Following the density and murk of 2013's … Like Clockwork (which was also great), they've made a record here that's fleet-footed, limber, and lived in, its melodies and lyrics landing with greater immediacy, its brutal riffs and defiant attitude riding on the surface rather than being buried in the din. It's sort of a stripped-down Queens record, which makes it a bit of a companion piece to 2007's Era Vulgaris—but while that album was mechanically precise, this one is appealingly loose.
Speaking of things that are tacky and out-of-time, it's worth noting that Homme's songwriting is as eerie and as sinister as ever, with songs like "Head Like A Haunted House" mirroring Alice Cooper's penchant for the macabre. Yet these songs also open up in some surprising ways: "Villains of Circumstance," the epic closer, begins as a crawling blues but explodes into something resembling pure pop. "The Evil Has Landed" moves from metallic riffs into loose-limbed funk. And "Feet Don't Fail Me Now" is wah-wah boogie-woogie, topped with booming drums.
Past Queens of the Stone Age records have boasted big-name collaborators, ranging from Dave Grohl to Mark Lanegan to Elton John—but truthfully, it's always seemed like Homme's show through and through. The paradox of Villains is that no such guests are advertised, yet Ronson leaves more of a footprint as producer than any honorary Queen of the past. Crucially, he does so not by trying to make the band in his own image, but by focusing Homme's vibe into something that's lean and hard-hitting, heavy and hooky at the same time. It's another great Queens of the Stone Age record that's simultaneously of a piece with the others and distinct in its character and identity. Plus: It's got a beat you can dance to.