The National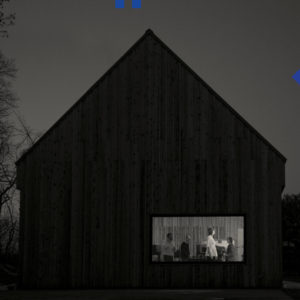 Sleep Well Beast
4AD
8/10
"You wouldn't want an angel watching over," sang Matt Berninger on The National's breakout album, Boxer. "Surprise, surprise, they wouldn't want to watch." With every album the band has made since then, that line has seemed more and more like a trick of self-characterization, as Berninger floats through his band's catalog like one of the angels from Wings of Desire—alternately bemused and dismayed by the transcendent follies of human behavior, but never quite breaking beyond his air of detachment.
His role as field reporter—narrating songs from right in the thick of them, yet never quite sounding like he's an active participant—makes sense given the increasingly ornate production of The National's albums. They've long given up on the recklessness of rock and roll's teenage daydream, instead settling into stately middle age, perfecting their take on luxuriously simmering ballads that often get loud but never sound fast or out of control. On "Turtleneck," a bit of clenched, aggressive rock from their new album, Sleep Well Beast, they get the closest they ever come to careening; for the most part, though, the album is built on mood and good manners, buttoned-down and as immaculately constructed as any given frame from a Wes Anderson movie.
So maybe The National doesn't offer typical rock and roll thrills—but that's not to say they don't offer pleasures aplenty. Sleep Well Beast exudes not just confidence in craft, but the belief that craft can be viscerally thrilling in and of itself. There's really no other way to characterize the rush of hearing how they puzzle-piece all the elements of these songs together—strings, electronics, thunderous drums, buzzing guitars, hazy atmospherics—so that each sound conjures pleasure and catharsis. Even the album sequencing seems designed with keen emotional logic: The haunted "Nobody Else Will Be There" opens things with a whisper before the album hits a gallop on "Day I Die," settling back into fog for the noir-ish "Walk It Back" and ratcheting up the group's itch for anthems on "The System Only Dreams in Total Darkness."
As a sign of their confidence—of just how good they are at these precise and appealing constructions—they actually downplay the anthems that have marked their past few albums, and Sleep Well Beast is better for it: By keeping it low-key, the stakes somehow seem even higher, with so much of the drama resting in the rumbling authority of Berninger's voice, its sheer physicality still one of The National's most powerful tools of seduction.
Of course, he remains a bit of a sad sack, holding his own in songs that push against him but never mustering the strength to push back. These songs are scattered with broken relationships, references to death and addiction, and some oblique politics—or at least, one assumes that's what "The System Only Dreams in Total Darkness" is supposed to conjure. That one's more than a little reminiscent of latter-day U2, both for its awkward title and its political vagueness, but The National's music is powerful first and foremost for how it makes you feel—and they've arguably never been better than they are here at making melancholy feel romantic, loneliness inviting, quiet desperation oddly comforting.