Wolf Parade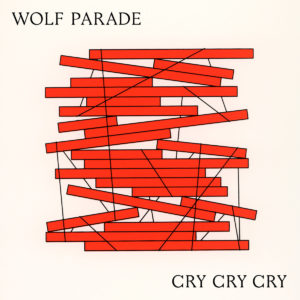 Cry Cry Cry
SUB POP
7/10
It's been a long seven years since Montreal's Wolf Parade released a full-length, having gone AWOL in 2011 after the release of their third full-length, Expo 86, the year before. Whatever may have transpired in the intervening years for the four-piece—who reunited in 2016 for a series of shows and an EP—it seems to have done them a hell of a lot of good. Co-frontmen Spencer Krug and Dan Boeckner lead the charge of these eleven songs with a renewed confidence and spark. Mixing futuristic electronics with good old fashioned rock and roll riffs, the pair—with drummer Arlen Thompson and guitarist Dante DeCaro in tow—trade their only slightly dissimilar voices and styles with each other to create, thankfully, a record very much worth the wait.
Proving their sense of humor is still intact after all these years, Wolf Parade kick off their rebirth with an apocalyptic song called "Lazarus Online." Yet while the lyrics and the title recast the biblical character in a modern day setting of e-mails and online existence, the gloomy, piano-laced song itself treats the idea of death—and mourning—with the reverence and beauty it deserves. It's about as strong a beginning as possible—perhaps one of the best songs of their career to date—and the pace picks up from there.
The jittery nerves of "You're Dreaming," the somber yet playful stadium-esque rock of "Baby Blue," and the catchy melancholy and surreal nostalgia of "Am I An Alien Here"—which at times summons the spirit of the late David Bowie in a wondrous flourish of space-age morbidity—can stake claims to be near the top of the band's repertoire. Similarly, "Artificial Life" and "King of Piss and Paper" end the album with a highly dramatic one-two punch of emotion that recalls exactly why this band were so revered to begin with and why their hiatus was such a loss. Only the Doors-esque "Who Are Ya" falls short of the expectations, its whimsical '60s-style posturing feeling more like an insincere tribute than an actual Wolf Parade song.
It's a small misgiving, however, and one that can be easily forgiven in the context of what surrounds it. Because this is a truly triumphant return, an ominous soundtrack to an Armageddon that seems to be getting closer with every damn day. Hopefully, we'll have a bit more time to soak this up, revelling in the damage we've all done to ourselves before we all flicker, fade, and then explode in one final blast of nuclear regret that not even Lazarus would be able to return from. Make the most of it while you can.