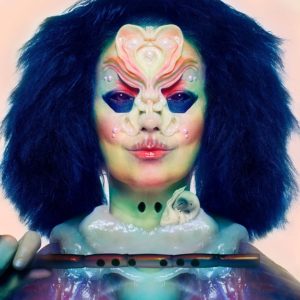 Björk
Utopia
ONE LITTLE INDIAN
8/10
In the final days of the dismal Bush era, Björk screamed "Declare Independence" over a snarling industrial death march, a cry one couldn't forget if witnessed live. Of course, Björk is not an American musician, but don't for a second take her for the type to ignore the US and UK's current political situations when making an album. Now a year into the new Cold War, one could only imagine the potential political inferno she'd unleash as a follow-up to 2015's grim Vulnicura—wait, it's a collection of delightful, DayGlo love songs called Utopia?
The avant-garde superstar's tenth LP begins with what sounds like the utterances of some species from the Dagobah system, followed by a full-spectral rainbow of chordal glory, over which Björk sings, "Just that kiss / Was all there is / Every cell in my body / Lined up for you." "Arisen My Senses" is a consummate portrayal of new love, and subsequent songs depict the commencing of winter with icy hi-hats, winds and hisses, and lyrics like "This fucking mist! / These cliffs are just showing off!" It's total ecstasy, but make note, there is a focus on beginnings here.
We're not getting temporal hooks or beats here, but rather an intricate call-and-response between Björk's poetry and the deft harmonic sequences. In the same way that 2004's Medúlla made exclusive use of human voices and 2011's Biophilia centralized the harp, Björk's latest infatuation is the flute, making it the instrumental base of almost every Utopia song. There have been few major albums this flute-heavy in all of modern music, and there lies the great virtue of Björk: to always—even in a time for art so fraught with entrepreneurial pandering—do the undone. Apart from all the flute, the album's mystical sonics are produced entirely by Björk and electronic wizard Arca once again (with the addition of Rabit on "Losss"), yielding a palette that begs the question of why more albums don't sound this futuristic in the digital age.
Of course, the paradise doesn't last for all fourteen tracks, as seventh song "Courtship" suddenly deals with the "paralyzing juice of rejection," and Björk's laments are slowly drowned out by an ominous IDM breakbeat on "Losss." But eventually, by the start of the magnetic arpeggio of "Claimstaker," we find her in good graces again, closing with the poignantly optimistic "Future Forever." Björk's utopia is not born without pain.

It's a Bildungsroman, a journey from libidinous bliss down to chaos and back up to a wiser bliss based more in resilience. It's not the theme one might expect from one of music's bravest voices in 2017, but perhaps it's the one we need; still recovering from a divorce, in the wake of this latest ebb in progress for women, immigrants, and artists of the world, she's chosen to feel joy.