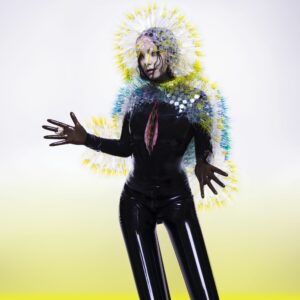 Björk
Vulnicura
ONE LITTLE INDIAN
9/10
After Björk literally (and awesomely, intellectually) deconstructed the sound of the universe on Biophilia in 2011, it is a surprising, stinging disappointment to discover that this, her ninth record, is…a breakup album? There could hardly be a subject possessed of greater relative insignificance, and yet so endlessly splayed out across the artistic universe.
But, of course, Björk would never do anything so insipid as whine about a broken heart. And over the majestic and forcefully hopeful symphonic sweep of opener "Stonemilker," she courageously declares as much: "I wish to synchronize our feelings," which hardly smacks of someone who is sitting around feeling sorry for herself. On "Lionsong," she further affirms, "Somehow, I'm not too bothered," observing how it all simply "reached its peak and then transformed." As it does, of course.
The enormous visceral power of Vulnicura lies perhaps in its utter lack of pity play; rather, Björk transforms every emotion into a monumental sonic peak or valley. String arrangements dominate, appropriately so, for their ability to convey such a panorama of feeling. And on shuddering tracks like "Mouth Mantra" and "Quicksand," she employs savagely fractured beats to represent the emotional chaos that apparently inspired this record.
As the MoMA exhibition dedicated to her work nears its opening in March, one wonders as to the possibility of it publicly stoking her media-hyperbolized "magical goddess" image—as such exhibitions are wont to do. But, no bother. As this stunningly affecting work once again proves, nothing, from monogamy to museum walls, could ever contain her tremendous spirit.