No Age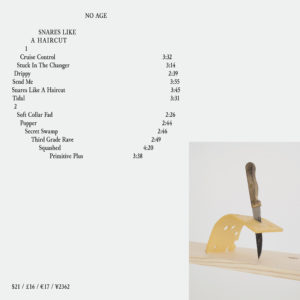 Snares Like a Haircut
DRAG CITY
8/10
Don't call it a comeback, but nearly five years after their last record, LA duo No Age has returned with its fifth full-length. Since 2005, guitarist Randy Randall and drummer/vocalist Dean Spunt have toyed with the idea and the definition of punk, always redefining it in terms of their sound but never wavering from the ethos underpinning it. With 2013's An Object, for example, the pair physically made ten-thousand copies of the record themselves, despite the fact that it was being released on Sub Pop, a label more than capable of manufacturing those copies itself.
Of course, the world has changed a lot since then, and it seems that No Age are poised to confront it with these twelve songs. That said, this album doesn't rage against the machine with visceral aplomb, but given that this is No Age, that's perhaps not surprising. Instead, the pair provide a disturbing and unsettling soundtrack to reflect these disturbing and unsettling times—a fuzzy, fizzling backdrop to the chaos and trauma that surrounds us at the moment.
The record begins on a somewhat antagonistic note, with the rambunctious and frenzied surge of "Cruise Control." But even in that rush of buzzsaw guitars and charged feedback, there's an unavoidable warmth, one that both reflects but then transcends any problems at hand, be they personal or political or a combination of the two. This is the case for many of the rest of these songs—"Stuck in the Changer" is wistful but forceful, "Popper" doom-laden but also optimistic, and the instrumental title track a soothing flood of comfort. It's both a non-song—an interlude, an afterthought—and the most important track on the record, offering, as it does, some time to reflect, a moment of near-meditative calm.
There is—as there always has been on No Age records—a sense of almost naïve innocence. This is a band continuing to make music the way it wants to make music with no concerns for how other people will perceive it, and that approach serves them just as well here. Because this is a record that—subtly, subconsciously—offers some kind of solace while also invoking the unnerving and disquieting times we live in. A song like "Squashed," for example, with its nod to The Velvet Underground, simultaneously puts you on edge and gets you through it. For better or worse, it's the perfect backdrop to life in 2018, and for as long as we need it, this album will be here to help.